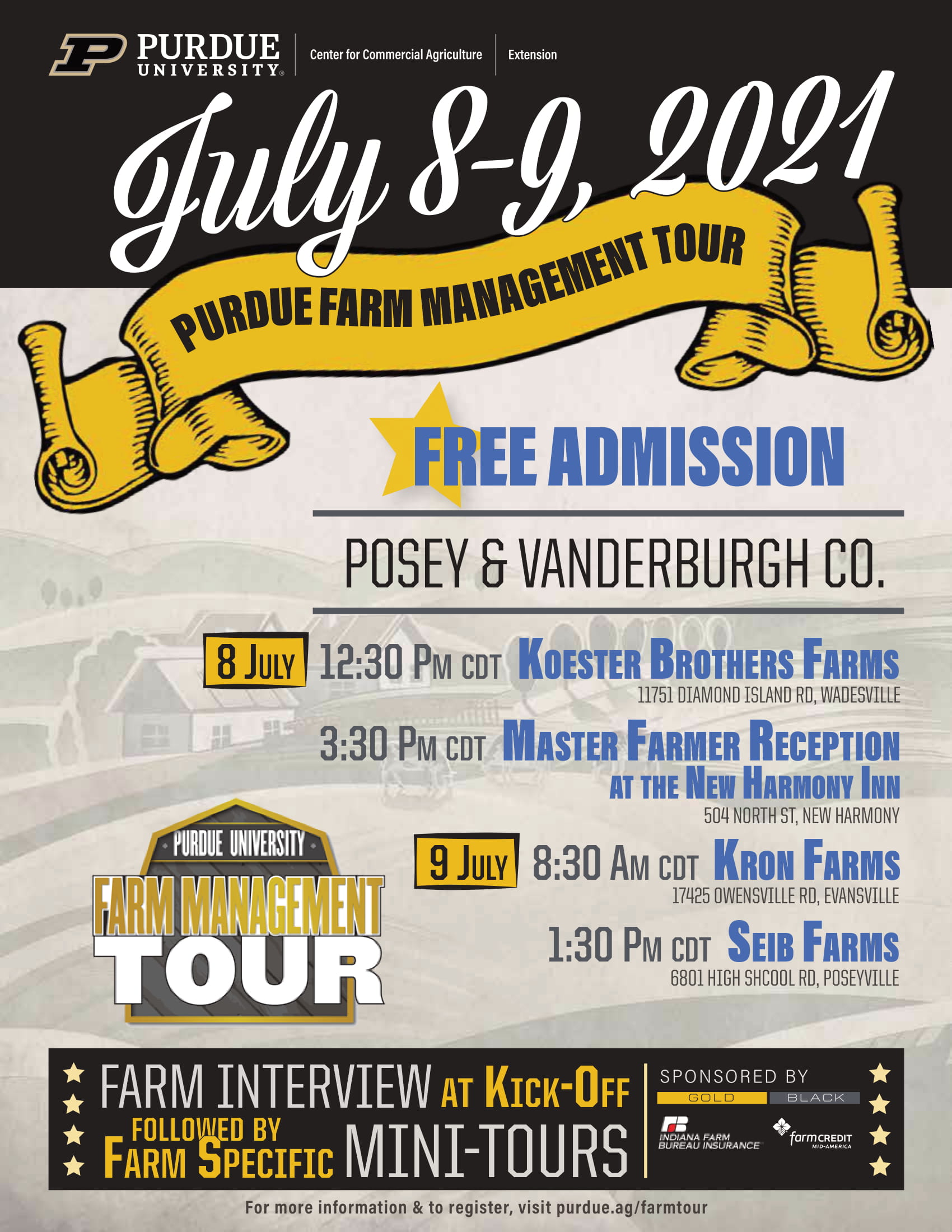 The Purdue University Farm Management Tour returns in grand form for 2021. Three outstanding farms will host visitors wanting to learn about farm and crop management on July 8 and July 9. The tour begins at 12:30 p.m. CDT at the Koester Brothers Farm near Wadesville in Posey County. Note that all times for the tour are central daylight, local time, one hour behind EDT.
The late afternoon program on July 8th will honor the 2021 Master Farmers. The Master Farmer program is a long-standing tradition in Indiana and honors individuals who have contributed heavily to Indiana agriculture and demonstrated success in farming efficiency, stewardship of natural resources and community service. The Indiana Master Farmer program is sponsored by Purdue University's College of Agriculture and Indiana Prairie Farmer.  The reception will begin at 3:30 p.m., and will be held at the New Harmony Inn in historic New Harmony, Ind. James Mintert, director of the Purdue Center for Commercial Agriculture, will moderate a panel discussion with all awardees after the presentation of awards.  It's your chance to learn more about their operations and farm management strategies from a group of Indiana's outstanding farm managers. All are welcome and the reception is free.
On Friday morning, the tour continues at Kron Farms near Evansville at 8:30 a.m. It concludes at 1:30 p.m. at Seib Farms near Poseyville. COVID-19 protocol will be followed at each stop. It's a driving tour, and you can attend any or all tour stops, including the Master Farmer event.
There is no charge for the tour or the Master Farmer program. However, registration is required; please register by Monday, July 5, 2021 at: https://purdue.ag/farmtour.
If you have questions about the tour or Master Farmer event, email: comagctr@purdue.edu or call 765-494-7004.  A block of rooms for Tour attendees has been reserved at the New Harmony Inn, mention "Purdue Master Farmer Event" when registering to receive a discounted rate.
Here is a brief look at each of the three host farms:
Koester Brothers Farms, 11751 Diamond Island Rd., Wadesville. Four brothers, Ray, Duane, Dale and James, currently head this crop and dairy farm. The brothers are poised to soon transition the farm's leadership to the next generation of family members. Four robotic milkers were installed in 2012. Koester Brothers prides itself on having a diversity of enterprises to maximize profitability and hedge against risk.
Kron Farms, 17245 Owensville Rd., Evansville. Randy and Joyce are first-generation farmers, although they credit both sets of parents for supporting them in their efforts. Their son, Ben, is now a partner in the operation. Joyce, Ben and long-time employee Steve Glazer handle day-to-day operations. Since 2016, Randy has served as president of Indiana Farm Bureau. Their farm features a recently built shop and various types of precision technology.
Seib Farms, 6801 High School Rd., Poseyville. Mark and Wayne Seib provide senior leadership to this farm, which dates back to 1898. This farm is also in the process of transitioning to the next generation of family members through a comprehensive transition plan. Mark has served off the farm in leadership positions at the state and national level for soybean associations. Also, Seib Farms has long cooperated with agribusiness suppliers and others to conduct on-farm research. Recently, Seib Farms started using cover crops to help sequester carbon on their farm.
For more information about the tour see this Indiana Prairie Farmer article.