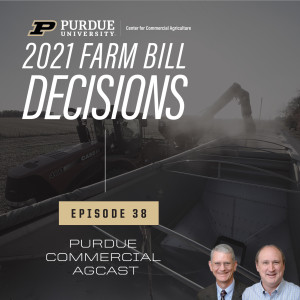 Crop producers need to make their 2021 farm program choices at their local Farm Service Agency (FSA) office (or online) by March 15, 2021. Producers have the option of choosing either the Agriculture Risk Coverage (ARC) or the Price Loss Coverage (PLC) program.
Purdue Center for Commercial Agriculture's ag economists Michael Langemeier and James Mintert review how the most commonly chosen program options during the last sign-up period played out for the 2019 crop and are likely to play out for the 2020 crop. They conclude with a discussion about how to go about making your 2021 program elections.
Available as episode 38 in the Purdue Commercial AgCast podcast, and the accompanying pdf document of this discussion are available for download at the Center's website (https://purdue.ag/2021farmbilldecisions).