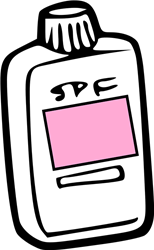 If you get sunscreen on your clothes, floors or car seats, don't worry! There are some easy ways to clean it off. Below are some pointers, and you can visit www.cleanandhappynest.org for the full guide.
Clothes
            Suncreeen can leave grease stains or an orange, rust-like stain. Either way, remove any excess sunscreen, then pretreat the stains with a prewash stain remover. Launder, using the hottest water that's safe for the fabric.
Floors
            Spray-on sunscreen can stain your floor and make it slippery. Fill a bucket with warm or hot water and add a small amount of soap or detergent. Dip a sponge or soft cloth into bucket, then gently scrub the affected area. Rinse thoroughly with clean water and let dry.
Upholstery
            Don't let sunscreen stain your car seats or furniture! Fist, blot with paper towels then dab with foam from a mixture of soap and water.
BONUS: Hand Sanitizer
            This summer, the hand sanitizer will probably be right next to the sunscreen in your bag. It usually won't cause an issue if it gets on your clothes but be sure to wipe it quickly off of wood or anything where the alcohol can ruin the finish.