What is 4-H?
4-H - the largest youth organization in the country!  4-H is a non-formal, educational program which stresses "Learning By Doing".  There are nearly 900 youth from Grant County involved in 4-H! 4-H is for youth in grades 3-12.  Mini 4-H is for youth in K-2.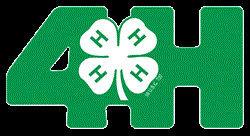 Why be in 4-H?  
The mission of today's 4-H is to help youth and volunteers in their development through experiential educational programs, using the knowledge and educational base of Purdue University and the United States Department of Agriculture.
Does it Cost to Join 4-H?
There is a $20 materials fee per 4-H member, with a maximum $60 for a family. There is not a cost for mini 4-H.
When can I enroll?
The enrollment period is October 1st—January 15th so don't miss it!!  You must re-enroll every year.
How do I enroll?
Online:  v2.4honline.com 
In person: Purdue Extension - Grant County
Phone:  765.651.2413
How do I learn more?
Online: coming soon
Download the "Top 4-H FAQ's" provided at the bottom of the page (coming soon)
Other ways to learn more and connect:
Call or visit the Extension office:  Grant County Office Complex, 401 S Adams Street, Suite 422
Marion, Indiana 46953 (765.651.2413)
Important Information:
Clubs & Projects – what are they and do I need to choose one or more?
Clubs: The purpose of a 4-H club is to provide positive youth development experiences. Some clubs focus on one project, while others focus on multiple projects depending on the members' interests.  Club leaders can be contacted directly for additional information.
Projects:  Members have the opportunity to learn more about a subject matter that they choose to study through completing hands on activities. We refer to these as projects. In order to enroll in a project, members must sign up for them at the time of enrolling in 4-H. Each project has a manual that guides the youth through the learning process as well as a set of guidelines that helps them meet the project requirements. We recommend taking only 1 - 3 projects the first year.  Almost all projects have a specific activity workbook.  These can be picked up at the Extension office.  
4-H Family Resource Guide (coming soon)
The 4-H Family Resource Guide is packed with information such as Online Registration, Club and Project Information, 4-H Definitions, Parent Information, FAQ's, and more!  The information is found in multiple places on the website.  The guide streamlines the information for new parents navigating the world of 4-H.