~by Michael Wilcox
Assistant Director and Program Leader for Community Development / Purdue Extension
Associate Director / North Central Regional Center for Rural Development (NCRCRD)
Creating Connections at Every Crossroad: Purdue Extension Community Development Program Supports the National Association of Community Development Extension Professionals (NACDEP)
The National Association of Community Development Extension Professionals' annual conference was held from June 5-8th in Indianapolis, Indiana. Appropriately themed, "Creating Connections at Every Crossroad," the conference provided an opportunity for approximately 230 Community Development Extension professionals and their partners from across the nation to convene, learn, and network.
Purdue Extension's Community Development program (CDExt) partnered with the Purdue Center for Regional Development to serve as co-hosts of the conference. This year, the CDExt was a Platinum Sponsor and played a key role in several workshops and sessions. For example:
Piloting the Beginner's Guide to Grant Writing workshop in your state pre-conference workshop: Purdue Extension Regional Community Development Educators Kris Parker and Steve Yoder delivered this workshop to provide an opportunity for participants to adopt Purdue Extension's award-winning Beginner's Guide to Grant Writing (BGGW) workshop for their state. At the end of the workshop, participants were positioned to host and co-teach the two-day BGGW workshop alongside a Purdue Trainer. BGGW is targeted to novice and intermediate grant writers from nonprofit and local governmental entities, who draft, review, and pitch a proposal during the workshop.
National Community Development Program Leaders' annual meeting: After a nearly three-year hiatus due to the pandemic, program leaders from across the country met for two hours to network, offer updates and discuss critical issues, including core competencies and skills, specialization and professional development and opportunities for collaboration with the National Institute for Food and Agriculture (NIFA) and the Regional Rural Development Centers (RRDCs). Purdue Extension Community Development Program Leader Dr. Michael Wilcox led the facilitation effort with a national cohort of facilitators and cleaned, collated, and categorized the qualitative data generated at the meeting for future use by program leaders and partners.
Land Use Community of Practice Post-conference: Purdue Extension Community Development Assistant Program Leader Kara Salazar helped organize the Land Use CoP post-conference and recruited guest speaker Britt Redd Principal Planner for Land Use Strategy at the City of Indianapolis Department of Metropolitan Development. During the post-conference, participants learned how Indianapolis is using an innovative public training to educate historically underrepresented communities about city planning and equip them with tools to participate in upcoming land-use decisions.
In addition to supporting the conference through sponsorship and pre- and post-conference workshops, the CDExt supported the conference as CDExt staff (in bold below) presented their work. For example:
Connecting Community Resources to Create Effective Paths to Recovery: The critical role of DEI principles and practices (Courtney Cuthbertson, Elisa Worland)
Economic Impact of Indiana Grown: The outcome of a statewide agricultural branding and marketing program (Zuzana Bednarikova, Tanya Hall, Michael Wilcox, Alejandra Armesto, Claire Baney)
Facilitating Career Pathways for Low-Income Rural Students: Cooperative Extension as a Community Connector (Sheila Martin, Tanya Hall, Michael Wilcox)
How is Your Community Connected? Assessing Community Readiness and Social Dynamics to Address Substance Use Disorder in Communities (Aiden Berg, Elisa Worland, Anne Silvis)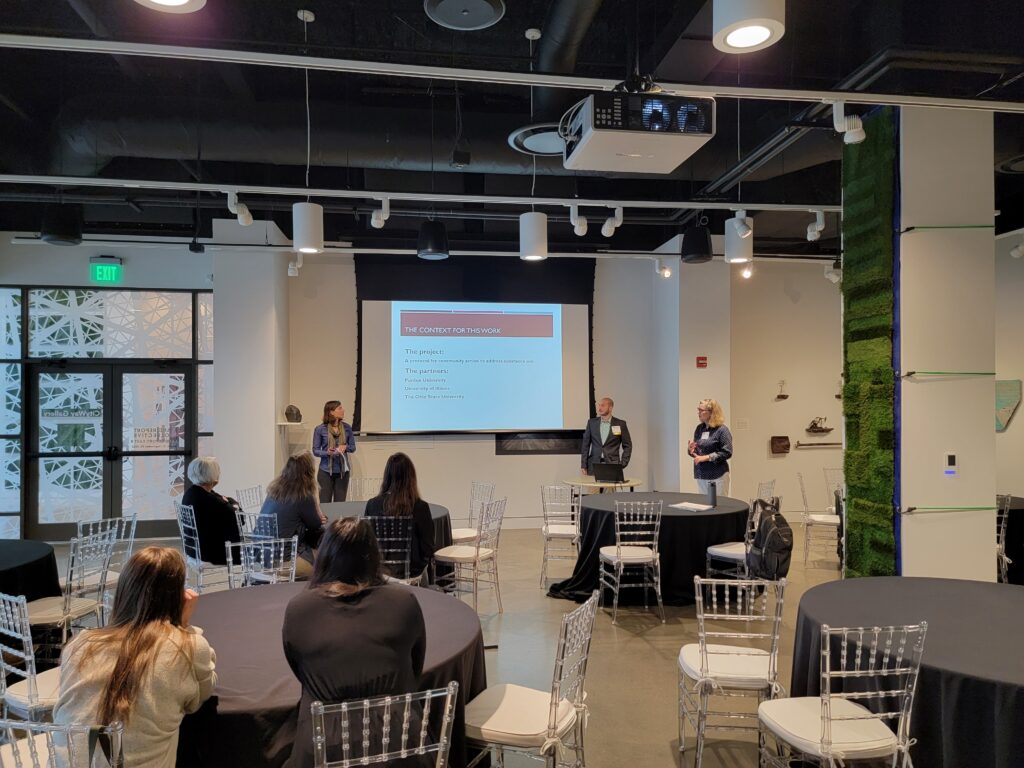 Indiana Residents' Perception of and Willingness-to-Pay for Indiana Grown (local) Labeling for Sweet Corn and Barbecue Sauce (Mario Ortez, Kevin Thompson, Nicole Widmar, Michael Wilcox)
Pathways Mapping: A Hands-on Learning Event to Diagram Individual Experiences within a Community (Nicole Adams and Michael Wilcox)
Renewable energy and climate change community planning: A state-wide look at renewable energy ordinances (Kara Salazar, Tamara Ogle)
Using the online CD EXT Library (Zach Kennedy, Tanya Hall, Tamara Ogle)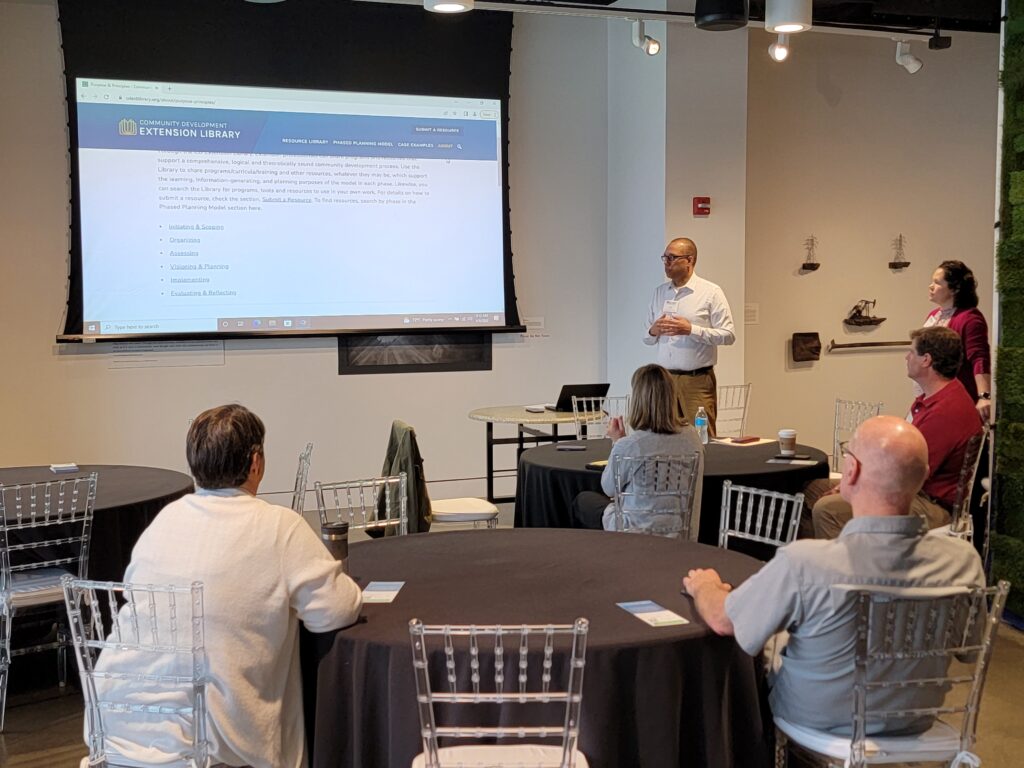 Our entire Purdue Extension Community Development Team (all 29 of us!) attended, participated and played an important role in making the 2022 NACDEP Conference a success! From volunteering in a myriad of ways to leading high-impact mobile workshops, our CDExt staff was ever-present. We were very thankful for the support of Purdue Extension Director Jason Henderson and his excellent welcome on Sunday night before some fantastic homegrown jazz music kicked things off in a soulful way. From beginning to end, whether it was the plenary speakers, engaging concurrent sessions, or the incredible Mexican musical and dance troupes, NACDEP had something for everyone.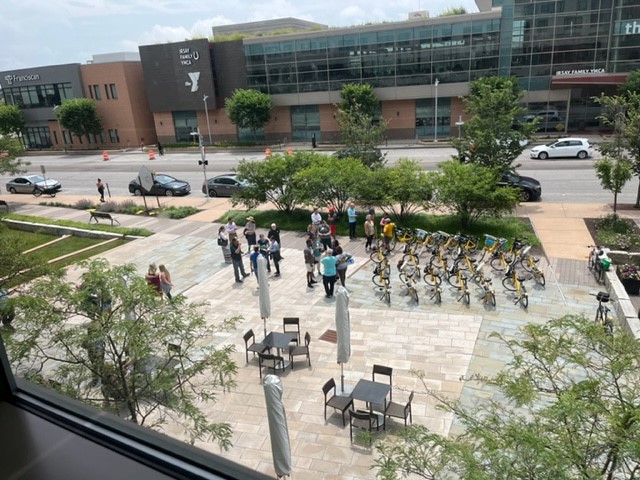 The result?
Here are a few comments that we received after the conference concluded:
From two Program Leaders:
"Congratulations to you and your team for organizing and hosting an outstanding NACDEP annual meeting/conference. I knew that Purdue would organize a good event, but your team absolutely hit a home run. One of the best professional conferences I have ever attended. Now that you're catching your breath, I wanted to extend my sincerest congratulations."
"I want to compliment you and the Purdue team on a wonderful conference. Everything was so well organized and done so professionally. My compliments to you and your team."
From a first-time participant:
"I just wanted to say thank you! I've been to a lot of conferences, and this seemed to be the kindest/most inclusive group I've ever met."
This was my sixteenth NACDEP conference. I am a past NACDEP president. Professionally, NACDEP is the highlight of my year. Every year.
This year?
The Purdue Extension Community Development team, along with our friends and colleagues at the Purdue Center for Regional Development and the North Central Regional Center for Rural Development, made this year one that I will remember for a very long time.
A close colleague summed it up this way when I asked her what she thought of attending NACDEP for the first time.
No words. Just a very, very big smile.
A sincere thanks to everyone that made this year's NACDEP conference a success. Let's reflect on and apply what we've learned, follow up on all of the connections we've made, and start preparing for 2023 in Coeur d'Alene, Idaho!