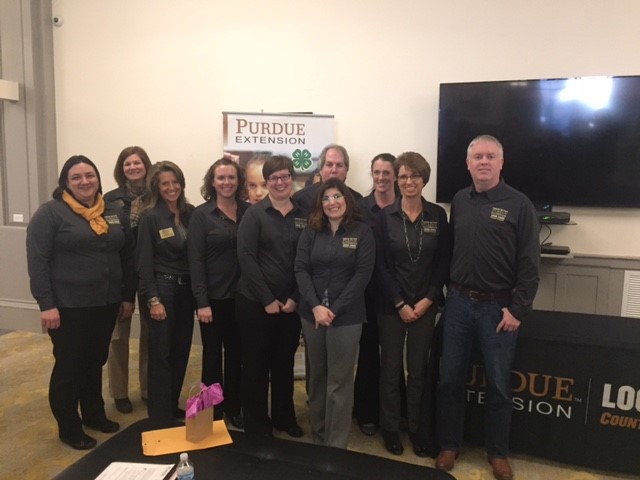 Congratulations to the inaugural class of Leadership Vigo County, a program provided by Purdue Extension Vigo County, who graduated earlier this month! The graduation ceremony was held at Launch Terre Haute in The Deming and included an inspirational leadership message from Richard Payonk, United Way of the Wabash Valley Executive Director. Payonk encouraged the group to remember PSA: Passion, Servant Leadership, and Action as they are considering expanding their leadership roles in our community.
Julie Hart, Purdue Extension District Director, spoke to the group about the importance of expanding Indiana's leadership capacity. Kristi Whitacre, Purdue Extension Community Development Educator and Leadership Vigo County Program Leader, congratulated each participant as she passed out their certificates.
The class members spoke to the group about a community project they have started to provide artistic bike racks in the downtown Terre Haute area. Each graduate also spoke about what the program meant to him or her. Participant comments in the evaluation of the program included:
"I liked the accessibility to community leaders that are experts in their fields and being able to talk with them in the panel discussions."
"I really did learn a lot about myself and how to lead more effectively which was my goal."
"I feel honored to have gone thru this program. I loved every minute, and have learned so much about a community I have lived in for years."
Leadership Vigo County has a successful curriculum of 11 sessions and a Statehouse visit. The sessions in the program are: Getting to Know My County, Identifying My Leadership Style, Interpersonal Communication, Exploring Diversity in My County, Managing Conflict, Getting Involved in My County, Serving on Nonprofit Boards, Economic Development in My County, Exploring Education in My County, Learning How County Government Works, and Building a Healthy Community.
The participants learned from their personal experiences and self-assessments, small group activities and discussions, current community leaders, online leadership webinars, and real-life applications during the six-month program.  Each participant had more than 100 hours of time invested into the program. The program collaborated with more than 20 local organizations to provide guest speakers, different locations, and valuable perspective for the classes.
Photo: Left to Right: Holly Curtsinger, Kristi Whitacre, Allison Finzel, Abby Desboro, Lisa Moseley, Danny Wayne Beemer, Hilda Andres, Julie Davis, Amanda Solesky, and Brendan Kearns. Not pictured: Andrew Akers