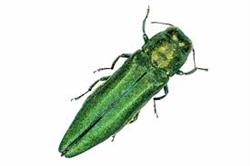 The invasive insect Emerald Ash Borer (EAB) is old news for much of Indiana, including White County, and it has already done extensive damage to the state's ash tree population. While much of the harm has been done to trees, the threat posed by EAB has not ended, as ash trees killed by EAB are very brittle, pose a serious threat if in an exposed area, and are extremely difficult to cut down.
Given the way that EAB has spread aggressively, odds are that if you do have an ash tree that has not undergone any treatment it is likely infested with the bore and should be removed. If the tree is of value to you, it can still be saved as long as approximately 70% of the tree canopy remains in good health. If the canopy coverage is below 70%, it is likely too late the salvage the tree.
Around White County and the rest of the state however, there are several ash trees still standing that are completely dead. These trees should be removed as soon as possible, especially if they are along a street, in a yard, or next to buildings. Due to the expense of hiring out tree removal, many people attempt to cut down trees on their own, but given the situation I highly advise against this, as there have been several reports around the Midwest of serious injury and even death related to limbs of ash trees falling while being cut down. Therefore it is advised to hire a professional company with proper tools and equipment to perform the removals.
Before hiring a tree removal business, be sure and obtain estimates from a few different places, and always request proof of insurance. If there are several ash trees remaining in a neighborhood, you might consider joining with neighbors to hire a single company that may offer a bulk discount.
If you have one of the few remaining ash trees, the good news is that products have now been developed to save these trees. If the tree is under 20 inches around at waist height, you can treat the tree yourself; however, if it is over 20 inches, you will need to hire a professional arborist to treat the tree. There are a handful of products intended for homeowners that can help save ash trees including: Bayer Advanced Tree & Shrub Insect Control, Optrol, and Ortho Tree & Shrub Insect Control. Some treatment options for EAB are expensive and may need multiple applications; however, they often times will be cheaper than having the tree professionally removed.
For more information on EAB including: details on ash tree identification, EAB infestation, treatment options, and a list of tree care professionals in the area, please visit the website: https://extension.entm.purdue.edu/EAB/.