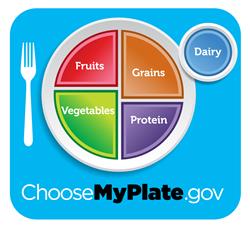 A wonderful and easy way to consume fruits and vegetables is a MyPlate Snack platter. Load up a large plate or tray with your favorite fruits, vegetables and dips and enjoy until your hunger is satisfied. Note: A healthy, yummy fruit dip is vanilla greek yogurt and a deliciously healthy vegetable dip is plain greek yogurt with a little dry Ranch Dips powder mixed in. Find the Ranch Dips mix in the salad dressing aisle – add about 1 teaspoon per cup of plain yogurt.
Snack Platter (Makes 6 servings)
3 cups assorted vegetables, such as: bell pepper slices, broccoli florets, carrot sticks, cauliflower florets, celery sticks, cherry tomatoes, cucumber slices, snap peas, zucchini slices.
3 cups assorted fruits, such as: Apple slices, blueberries, raspberries, strawberries, cherries, dried fruit, grapes, kiwi slices, mandarin orange slices, cantaloupe, watermelon, pineapple chunks
6-12 ounces of grains, such as: Pita chips, pretzels, tortilla chips, whole grain bread or crackers.
4-8 ounces protein, such as: 1 cup hummus, ½ cup almonds, cashews or peanuts, 8 ounces sliced chicken, ham or turkey or 8 ounces tofu.
8 ounces dairy such as: cheese cubes or slices, Greek yogurt
Wash hands with soap and water.
Wash fruits and vegetables by gently rubbing soft fruits or vegetables under cold running water or scrub firmer fruits or vegetables with clean vegetable brush under running water.
On a platter, baking sheet or plate, arrange desired vegetables, fruits, grains, protein and dairy options to create a delicious snack platter.
Feel free to include other foods not listed.
Store leftovers in a sealed container in the refrigerator for up to four days.