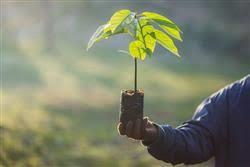 On October 1st, the Indiana Department of Natural Resources (DNR) will begin accepting orders for their annual tree seedling sale. Tree seedlings are generally between just a few inches to about 2 feet tall, and come in bundles of 50-100 trees. They are available in a wide range of species of both conifer and deciduous varieties. The DNR also offers specialty packets for people looking to plant a variety of trees for a specific purpose such as attracting wildlife, producing nuts, or generating fine hardwoods. These packets are also available for specific planting locations such as upland and bottomland. Prices for bundles of individual varieties range from approximately $30 to $40, with specialty packets going between $40 and $60, which is a great deal when you consider it could one day equate to having 100 established trees on your property.
The DNR offers this sale each year to promote conservation throughout the state, as these seedlings can function as: timber production, windbreaks, and wildlife habitat. Planting trees will also improve soil, air, and water quality, as well as add value to a property. When ordering these tree seedlings, consider which of these goals you desire when making your selection as different tree species will provide different outcomes. Also, think about where these seedlings will be planted. What type of soil is present, is it well drained, wet or especially acidic there? How much light will the trees be receiving? How much room is there for the tree to grow, are there any obstructions in the way once the tree is full size? How quickly are you looking to fill in the desired area? Each tree variety will have a slightly different preference when it comes to soil type and light needs, as well as variable mature sizes and time to which it will reach that size.
Tree seedling order forms are available on the web at: http://www.in.gov/dnr/forestry/3606.htm. or by stopping by the Purdue Extension Office located at the fairgrounds in Reynolds. The website also features an excellent breakdown of each available tree species that will help answer some of the questions mentioned above, such as size, preferred soil types, light needs, and years it takes to mature. Information is also available on which species will provide you with the best options for timber, wildlife attraction, and wind breaks among others. It is also important to note some of the special instructions such as proper seedling planting, and proper storage if you are unable to plant the trees the day of receiving them. If planted correctly and cared for properly, these trees have the potential to add an immeasurable value to a property over time.