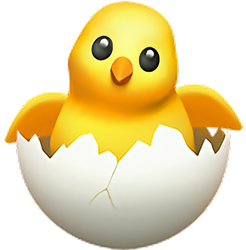 4-H Embryology: The Study of Embryo/Chick Development
 Eggs take exactly 21 days to hatch, and the process of chick development is an exciting opportunity for your students! We are working to create lessons, videos and resources for you to use in your classroom. This page will be the "home" of all the embryology info - so make sure to bookmark this page and check back often for new additions!
Incubators will be set at each school following spring break in the following locations:
Throop: Library
Valley: Kindergarten Commons
Orleans: Library
Schedule:
Day 1: Eggs set on April 1st
Day 21: Eggs Hatch on April 22nd
Lesson Videos:
 Lesson 1: The Incredible Egg - Uses Parts of the Egg Worksheet - https://youtu.be/lXsR08fj5_w
 Lesson 2: Chicken Habitats - Draw a Picture & Write a Story - https://youtu.be/KjZhtrZhMEs
Resource Guide:

Chick Development Video: https://www.youtube.com/watch?v=PedajVADLGw
American Egg Board - Virtual tours and videos: https://www.incredibleegg.org/professionals/k-12-schools/eggs-in-the-classroom/eggs-101-videos
4H36800 - University of Florida Embryology Curriculum: This is the entire embryology unit, you may find additional lessons and resources here as well as details about temperatures and incubator settings.
CAUTION - NOW ENTERING: This is a printable sign for you to place on your door (or near the incubator)
Coloring Pages: Printable coloring pages
Egg Word Search: Printable Word Search Worksheet
Embryology Safety: Printable sign to place near incubator
Parts of the Egg Worksheet: Used in Lesson 1 Video
Related Files