The Purdue Extension Martin County weekly column is provided to help all learn
about programs & opportunities. We highlight events from Purdue University & Extension
where we hope you will choose to be part of Extension…..  where there is Opportunity4All! 
DEDIDICATED TEXT NUMBER FOR PURDUE EXTENSION MARTIN COUNTY
You now have an option to text with Extension staff. 
Text 812-653-2089 to reach Purdue Extension Martin County.
All are invited to send a text with your name and in return a full detailed contact card will be texted back for you to save in your device contacts. The contact card will include helpful links will be easy for you to save in your contacts for future use. Then, going forward, you may text as a straight communication option for you Purdue Extension needs!
Congrats to both Martin County 4-H Members Skill-A-Thon Teams who competed September 12th at the Area III 4-H / FFA Career Development Event at The Vanderburgh 4-H Center.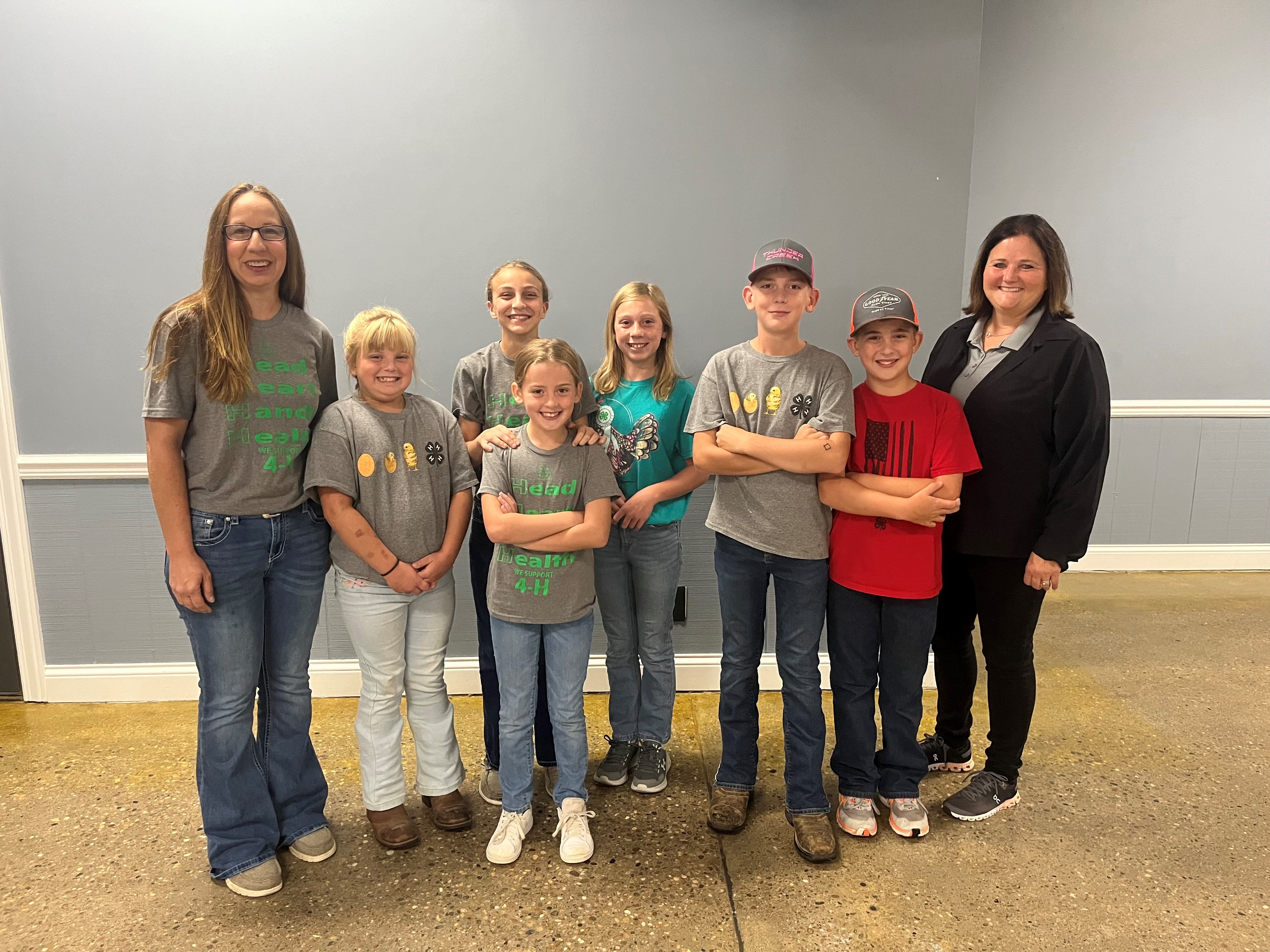 Pictured are: Erin Bateman, coach; Lily Phillips, Brylee Bateman, Addy Richer, Ivy Phillips, Jack Richer and Harry Richer, Dena Held, Extension Educator.
NATIONAL 4-H WEEK IS OCTOBER 1 THROUGH OCTOBER 7
Fore more than 100 years, 4-H has inspired families, shaped careers, and impacted communities. From October 1-7, we will celebrate the impact of 4‑H during National 4‑H Week and we need you to celebrate to!
The theme of this year's National 4-H Week is "I 💚 4‑H." As you plan ahead for how you will celebrate National 4-H Week in your family and places and spaces, here are some ideas of you can celebrate 4-H and show all the ways you 💚 4‑H:
Wear green or the 4-H Clover
Post pictures on social media and celebrate
Share 4-H ideas and encourage other 4-H professionals, alumni and 4-H'ers to participate in wearing 4-H clothing! Share pictures of this by text 812-653-2089
If you are Kindergarten to 12th grade – enroll in 4-H during 4-H week at v2.4honline.com
As an adult – help youth enroll
As an adult – become a 4-H volunteer
Speak to elected officials on how 4-H has impacted you and why their support is needed and appreciated
TWENTY DAYS OF TERRIFIC: INDIANA 4-H ENROLLMENT IN MARTIN COUNTY
4-H is open to all youth in grades 3 to grade 12 ($20 enrollment fee)  and Mini 4-H is open to grades Kindergarten through 2nd (no enrollment fee.) 
Here is the great opportunity:  Enroll from October 1st to October 20th and the $20 enrollment fee is paid by the Martin County 4-H Council.
How to enroll?  enroll at v2.4honline.com starting October 1st.  The 4-H Program year runs from October 1st to September 30th annually.  Enroll early to take advantage of all the projects, trips, and experiences Indiana 4-H offers!
4-H JR. LEADERS HOST 2ND COOKIES AND CANVAS FUN OPPORTUNITY
WHEN:  Sunday, October 1, 2023
TIME:  2:00 pm
WHERE:  Martin County 4-H Fairgrounds Community Building,  2668 US 50, Loogootee
COST:  $10.00 – includes all painting items and refreshments
RESERVATIONS:  Due by Friday, September 22 4:00 pm by calling the Extension Office at 812-295-2412
Please include any special accommodations or special dietary needs at the time your reservation is made.
There will be a 4-H enrollment station for K – 12 grades from 2:15 pm to 4:00 pm.
This event is sponsored by the Junior Leaders and was well attended last year so be sure to get out your names on the list as soon as possible.  Walk-ins may be accepted on the day of the event as long as enough supplies are available - no guarantees, so please RSVP.
MARTIN COUNTY 4-H TURKEY DINNER
Sunday, November 5, 2023
Martin County 4-H Fairgrounds & Event Center, Community Building
2023 4-H FALL ACHIEVEMENT AWARDS
Sunday, November 5, 2023 12 noon EST to 12:30 pm EST
Martin County 4-H Fairgrounds & Event Center, Community Building
2024 martin county 4-h fair 
July 11-16, 2024
JUNIOR AND SENIOR BOILER VET CAMP
Applications will be accepted for the 2024 Junior & Senior Boiler Vet Camp until February 1st, 2024. 
The Junior Camp will run from June 2-8 and Senior Camp will run from June 9-15.
The only camp of its kind in Indiana, Boiler Vet Camp gives want-to-be veterinarians or veterinary nurses the chance to live out their dreams. This camp is designed for students who are interested in becoming veterinary healthcare professionals and provides a preview into the real and vast fields of veterinary medicine. Students who attended a previous camp cannot repeat the same camp.
Through presentations, demonstrations, laboratories, visits and in-depth, hands-on activities, students will discover what modern veterinary medicine is all about. Students will gain personal experience of what it is like to attend vet school and what it takes to become a veterinarian or veterinary nurse through this seven day on-campus experience at one of the premier veterinary schools in the country. Students entering 8th and 9th grades are eligible to attend Junior Camp and students entering the 10th, 11th, or 12th grades are eligible to attend the Senior Camp. The minimum age required to attend Vet Camp is 12 years of age.
Many partnering organizations have joined with the College of Veterinary Medicine to provide financial assistance for both camps. Partial scholarships are available. Camp fees are all-inclusive for the hands-on in-residence camps.
Learn more and apply now at https://purdue.vet/boilervetcamp.
STOCKMANSHIP with CURT PATE
From Ryegate,  Montana. Curt Pate uses his personal experience incorporating effective stockmanship principles, supports a "for profit" mindset and focuses on highlighting the increased economic benefits of handling stock correctly.  In addition,  Curt recognizes the growing public scrutiny surrounding livestock production and the impact that improved livestock handling practices create for the sustainability of the cattle industry.
WHERE:  Southern Indiana Purdue Ag Center, Dubois, IN
WHEN:  Friday, September 29, 2023 – Beef Focused Program
               Saturday, September 30, 2023 – Sheep & Goat Focused Program
DETAILS AVAILABLE AT:
www.indianaforage.org – www.indianasheep.com – www.indianabeef.org
92nd IBEP PERFORMANCE TESTED BULL SALE & SPRINGVILLE FEEDER AUCION HEIFER & COW SALE
More bull for your buck – performance tested; ranch ready
When:  Saturday, October 14, 2023
Where:  Springville,  Indiana - Visitors are welcome at any time
For more information:  Indiana Beef Evaluation Program,1117 State Road 458, Bedford, IN  47421      (812) 249-4330
Visit: https://ag.purdue.edu/department/ansc/idep/2023-summer-test.html
MARTIN COUNTY PESTICIDE APPLICATOR RECERTIFICATION COURSE
Monday, November 6, 2023 10 am – 12 Noon EST
Martin County 4-H Fairgrounds & Event Center, Community Building
RSVP by calling 812-295-2412, texting 812-653-2089, or e-mailing heldd@purdue.edu. 
VOLUNTEER opportunities
Have you ever thought about a talent you have or a talent you want to develop alongside youth in the 4-H Program?
Purdue Extension & Martin County 4-H is seeking adults to work to MAKE THE BEST BETTER through 4-H programs. Contact Dena to explore how to work together in this way.  No matter how much time you have, volunteering with 4-H makes a difference by helping youth explore and discover the skills they need to lead for a lifetime. There are lots of ways to get involved! Currently, 4-H Club Leaders are needed for All Terrain Vehicle Program and STEM/Robotics. Various content specialist and general volunteers are also needed. Looking to help with the 4-H Fair and have some ideas?  Join one of the committees. Wonder how we can continue to bring fun and learning to youth through 4-H all year long? Do you have ideas?  NOW IS THE BEST TIME TO GET INVOLVED!
Parents, family and adult friends of 4-H members are often a natural fit to help with programming and is one way to spending quality time with the youth in your lives!
INDIANA 4-H PROGRAMS LEAD TO POSITIVE YOUTH DEVELOPMENT
4-H began over 100 years ago and has since grown into the largest youth development program in the nation. 4-H prepares young people to be leaders in their community and around the world through hands-on experiences alongside their peers and caring adults. Backed by a network of more than 6 million youth, 540,000 adult volunteers, 3,500 professionals, and more than 60 million alumni, 4-H delivers research-based programming around positive youth development. 4-H is delivered through America's 109 land-grant universities and the Cooperative Extension Service, reaching every corner of our nation.
In Indiana, 4-H can be found in all 92 counties delivered through Purdue Extension. Community clubs, afterschool programs, school enrichment, camps/workshops, and special interest programs are all ways youth across Indiana can be involved with the 4-H program. The impact of 4-H for life skill development providing college & career pathways is proven.  Volunteer leadership in 4-H provides a part of the critical competencies required for 4-H programming. Thank you to all volunteers! 
We invite all youth, kindergarten to twelfth grade, to join 4-H! The program provides opportunity for all!
DIVERSITY, EQUITY, INCLUSION & BELONGING IN 4-H
Adapted from https://4-h.org/about/impact-areas/equity-and-inclusion/
Diversity, equity, inclusion and belonging must be more than words to be effective in addressing the widening opportunity gap affecting young people. Lack of access to positive relationships and the sense of belonging young people need to thrive through challenge is negatively affecting them in various ways, including a teen mental health crisis that encompasses loneliness, depression and anxiety. For more than 100 years, 4-H has given youth voice to express who they are and how they make their lives and communities better. Today, 4-H strives to reflect America and celebrate the diverse population from all beliefs and backgrounds. 
How 4-H is making an impact: Research shows that two key elements help young people thrive in life: a sense of belonging, and a caring adult beyond a parent or guardian. Through positive youth development (PYD), 4-H educators throughout the Cooperative Extension System provide hands-on learning experiences that cultivate inclusion, diversity and belonging. From youth-led summits that promote best practices about inclusion to trainings providing guidance for 4-H professionals and volunteers, 4-H is creating with care adults. 4-H camp programs give nearly half a million youth the opportunity to participate research-backed, positive youth development.
One such program is the National Program True Leaders in Equity Institute. This training and leadership opportunity challenges participants to work together to ideate and champion equity-related projects that will grow 4-H in their communities. True Leaders in Equity Institute produces a well-trained cadre of youth who function as ambassadors within a growing network of change agents in the 4-H system. To continue to grow the critical work being done in local communities every day, 4-H is also working to build a True Leaders in Equity Hub to maximize reach and develop an opportunity for all youth to participate in DEI activities. 4-H will train a DEI Ambassador Corps of teen leaders from all over the country with the goal of reaching 1,000 communities by 2025. To learn move visit: https://4-h.org/programs/true-leaders-in-equity/
REMOTE WORK PROFESSIONAL CERTIFICATE COURSE
To help entrepreneurs, freelancers and employees enhance their remote work skills, the Purdue Center for Regional Development (PCRD) and Purdue Extension have partnered to offer the Remote Work Professional Certificate course. Grant funding allows Indiana participants to complete the certificate for $50 compared to its regular price of $199.
The Remote Work Professional Certificate course equips individuals with the skills needed to excel in a remote work environment. The course covers topics such as time management, communication, collaboration and strategies for staying focused and productive while working from home. Participants will learn about the latest tools and technologies that are essential for remote work success.
"Remote work is the future of work, and we are thrilled to offer this course to help individuals thrive in this new environment," said Emily Del Real, PCRD engagement specialist. "With grant funding, we are able to make this course accessible, regardless of financial circumstances."
The online certificate course consists of nine self-paced core modules and four interactive workshops. The modules will cover how to set up a virtual office and communicate professionally, as well as understanding task management and project tracking, the legal precautions of working online, problem solving, and remote professional development. Participants will need reliable access to broadband, a web camera and microphone, and basic computer proficiency. Program coaches will be available throughout the course to answer questions and guide participants through the modules. 
To register for the online course and take advantage of the grant funding program, visit https://pcrd.purdue.edu/remoteworkcertificate/ and enter discount code RBDG_Grant22.
About the Purdue Center for Regional Development
The Purdue Center for Regional Development (PCRD) seeks to pioneer new ideas and strategies that contribute to regional collaboration, innovation and prosperity. Founded in 2005, the center partners with public, private, nonprofit and philanthropic organizations to identify and enhance the key drivers of innovation in regions across Indiana, the U.S. and beyond. These drivers include a vibrant and inclusive civic leadership, a commitment to collaboration and the application of advanced data support systems to promote sound decision-making and the pursuit of economic development investments that build on the competitive assets of regions. Learn more at https://pcrd.purdue.edu/. 
2024 Indiana Watershed Leadership Academy
Learn to be a Leader in Watershed Management & sign up now to improve your watershed management skills. If you're interested in water quality and watersheds, consider applying for the 2024 Indiana Watershed Leadership Academy.
The Academy, organized by Purdue University with support from the Indiana Department of Environmental Management and other Indiana conservation agencies and organizations, gives participants the chance to:  
Engage with watershed topics covering leadership principles, watershed science, organization and communication, technology and GIS, stakeholder involvement techniques and policy skills
Meet, learn from, and engage with others who work in watershed management
Interact with topic experts
Gain strategies, skills, and resources for successful watershed management
Earn a Professional Certificate in Watershed Management 
Enrollment deadline: November 3, 2023
Web site: For the online application and information about the Academy, visit https://engineering.purdue.edu/watersheds/academy.html
Format:  The program includes three face-to-face group sessions, plus distance learning and online networking (approximately 2 hrs/week). The Academy will run from January to May, 2024, with workshops on January 3-4, March 27-28, and May 22, 2024.
Recognition: Participants who complete all requirements earn a Purdue University Continuing Education Professional Certificate in Watershed Management.
For more information, please contact Sara Peel, speel@purdue.edu, or see the Academy Website https://engineering.purdue.edu/watersheds/academy.html to fill out the registration application.
USDA CLIMATE SMART PROJECT
Climate-Smart Grasslands – the Root of Agricultural Carbon Markets
Farms implement up to six specific practices, each of which has previously documented potential increase soil organic carbon storage, reduce greenhouse gas (GHG) emissions, and enhance system resilience, all while making a positive contribution to profitability, drought resiliency, soil and water quality, and habitat for at-risk grassland birds and pollinators. For more information contact Abby Heidenreich at aheidnr@purdue.edu
INDIANA ORGANIC GRAIN FARMER MEETING
SAVE THE DATE:  February 28, 2024
Beck Agricultural Center
West Lafayette,  IN
The Indiana Organic Grain Farmer meeting increases participant understanding of organic transition, certification and cropping systems through peer learning and networking.  This annual event includes education and workshops on transitioning to organic grain, breakout sessions, farmer panels, networking time and an industry trade show.
For more information contact:  Ashley Adair - Extension Organic Agriculture Specialist  Email:  holmes9@purdue.edu
PURDUE EXTENSION:  FARM STRESS TEAM
You can't take care of your farm, your livestock or your family if you don't first take care of yourself.
The Purdue Farm Stress team is part of a 12-state collaborative effort that was awarded the Farm and Ranch Stress Assistance Network grant administered by the USDA National Institute of Food and Agriculture.  The goal is to create/expand stress management and mental health resources and services to agricultural producers/stakeholders in the North Central region.  Listen to the podcast!  Tools For Today's Farmer.   Featuring interviews with leaders in the agriculture industry.  Find it anywhere you listen to podcasts or simply google search "Tools for Today's Farmer Podcast" 
Resources for Farm Families:
Need help and don't know where to start:
Call:  211 OR www.211.org
988 Suicide & Crisis Lifeline
Call: 988 OR https://988lifeline.org/
Be Well Indiana
Call: 211 OR 1-866-211-9966 OR https//www.in.gov/bewellindiana/
Concern Line for Farmers (Hosted by Iowa)
Call:  1-800-477-1985
Farm Aide Hotline
Call:  1-800-327-6243
Strong Couples Project (Partnership with IL)
At:  go.illinois.edu/StrongCouples   
Check the website for more resources and information:  Extension.purdue.edu/farmstress
ONCE UPON A GARDEN FALL SEMINAR
You're Invited! Make plans to attend the Fall Seminar "Once Upon A Garden" hosted by the Gibson County Master Gardener Association with 4 Guest Speakers plus several vendor booths.
Join us October 21st, 2023 at the Toyota Event Center in Princeton, Indiana.
Doors open at 8 am Central Time, Seminar starts at 9 am.
Register online at https://www.eventbrite.com/e/once-upon-a-garden-gibson-county-master-gardeners-seminar-tickets-536141913897
DNR – INDIANA DEPARTMENT OF NATURAL RESOURCES  White-tailed Deer Hunting
 https://www.in.gov/dnr/fish-and-wildlife/wildlife-resources/animals/white-tailed-deer/?_ga
Deer Hunting Dates – 2023-2024
Reduction Zone – September 15, 2023 – January 31, 2024 (Where Open)
Youth Season – September 23 – 24, 2023
Archery: October 1, 2023 – January 7, 2024
Firearm: November 18 – December 2, 2023
Muzzleloader: December 9 – 24, 2023
A full list of season dates, bag limits, and legal equipment can be found on the deer-hunting question and answers page.
A resident youth hunt/trap, deer hunting, or comprehensive lifetime hunting license is required to hunt for deer unless you meet one of the license exemptions. All deer harvested in Indiana must be reported within 48 hours of the time of harvest at an on-site check station, online, through your Indiana Fish & Wildlife Account, or by phone at 1-800-419-1326. There is a $3 charge for the phone service, payable only by Visa or Mastercard. For more information, see our Deer Hunting Questions page.
Carcasses of deer and other wild animals that are lawfully taken cannot be dumped in streams or other bodies of water. Dumping dead deer and other wild animals in a waterway is considered littering and is a criminal offense punishable by a fine. Rotting carcasses in a waterway can also affect water quality for those downstream. Carcasses should not be burned because this can cause air pollution. Carcasses shouldn't be left in the open for scavengers and others to see without permission from the landowner. We recommend all discarded carcasses and unwanted animal parts be bagged, placed in your trash, and sent to a landfill.
More information regarding licensing and regulations all the way through recipes and harvest numbers can be found on the above website published by the Indiana Department of Natural Resources.
SAVE THE DATE: 2024 Indiana Small Farm Conference
WHEN:  Thursday, February 29, 2024 – March 1, 2024
WHERE:  Hendricks County Fairgrounds, Danville,  Indiana
The Indiana Small Farm Conference is a unique space to learn new techniques, see what works, and network with others.  Over 400 attendees, 40 + exhibitors and a vendor trade show along with several national speakers.
To learn more about the conference and the work that the Purdue team does to make your small farming program work. 
Contact Information: Amy Thompson, afthompson@purdue.edu
If you are interested in being a show vendor, contact:  Phil Cox at cox119@purdue.edu
UTILIZE SORGHUMS FOR GRAZING ANIMALS PRIOR TO FROST
By John E. Woodmansee
Adapted from: https://extension.purdue.edu/news/county/whitley/2023/09/utilize-sorghums-for-grazing-animals-prior-to-frost.html
Some forage producers and graziers may have considered a double-crop option after wheat. A Purdue forage specialist explained one of these options, and the importance of its utilization prior to a fall frost.
"If winter wheat is part of your farm enterprises, an immediate double-crop seeding of sudangrass, sorghum-sudangrass, or pearl millet after grain harvest should be considered if forage resource is limiting," said Keith Johnson, Purdue forage specialist. "These crops can be grazed, made into traditional chopped silage, or ensiled as baleage." He said that hay can be an option if an extended dry period after cutting occurs to get to a safe moisture content (less than 18 percent in large round bales).
"Consider brown midrib hybrids/varieties (BMR) if improved digestibility is ideal for the livestock being fed," said Johnson.
If you plan to graze sorghum-sudangrass or sudangrass here in the waning weeks of the growing season, make sure to utilize those crops prior to the first fall frost to reduce the fear of prussic acid poisoning.
"Members of the sorghum family have a compound called dhurrin that will release hydrogen cyanide, commonly known as prussic acid, when plants are stressed by drought or frost," said Johnson.
Although this scenario will be more common in southern Indiana, he cautions producers with Johnsongrass, a weed, in their pastures. "Historically, Johnsongrass was planted for forage purposes, but soon received the label of a prohibited noxious plant because of its ability to be where it wasn't desired because of seed shatter and rhizomes," said Johnson. "Being a sorghum, Johnsongrass has the potential to produce hydrogen cyanide and cause livestock death when plants are stressed." He said that other desirable sorghums when stressed will produce hydrogen cyanide, too.
"Johnsongrass, when damaged by severe drought or frost, has the potential to produce prussic acid (hydrogen cyanide)," said Johnson. "Producers are encouraged to utilize sorghums before a frost occurs to reduce the possibility of prussic acid poisoning."
"In the near future, dhurrin-free sorghums will be available for seeding as a result of Purdue University work conducted by Dr. Mitch Tuinstra's research group, most notably Dr. Shelby Gruss," said Johnson. "Unfortunately, Johnsongrass will remain to be a concern even when dhurrin-free sorghums are available."
Find more information in the Purdue Extension publication AY-378-W, Managing the Prussic Acid Hazard in Sorghum, at https://www.extension.purdue.edu/extmedia/AY/AY-378-W.pdf.
Find Johnson's original article, which includes a related video, at: https://extension.entm.purdue.edu/newsletters/pestandcrop/article/reduce-the-fear-of-prussic-acid-poisoning-2/.