NAtIONAL RECOGNITION FoR PURDUE EXTENSION MASTER GARDENERS DEMONSTRATION GARDEN
 All-America Selections (AAS) has recognized the Purdue Extension Master Gardeners Demonstration Garden in its annual Landscape Design Challenge naming the garden First Place in Category II; 10,001- 100,000 visitors per year.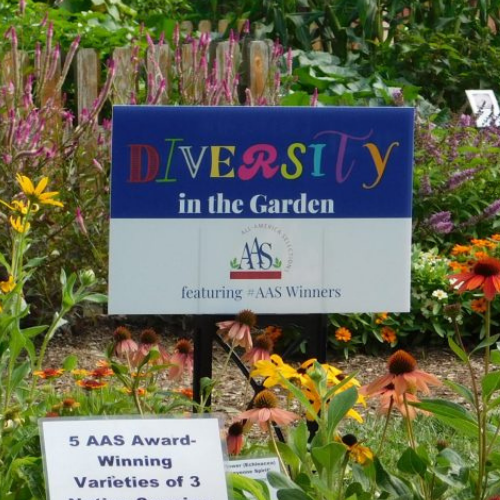 The demonstration garden included different types of sunflowers, garden beans, hibiscus, Profusion zinnias, and AAS cultivars of several native species. In addition to new AAS cultivars added to the garden, three additional raised beds were constructed: window-well raised bed with trellis structure, fiber cement (Hardie Plank) raised bed, and another bed in front of the garden using 2x6-inch cedar lumber. Ferns and toad lilies were added at the north end of the garden for screening, and a new faucet in the SW corner of the garden. The three flower towers featured Marigold Super Hero Spry in 2021. Volunteers also constructed a small melon trellis. Cover crops were planted in four beds during the fall of 2021.
 The garden was beautifully planned and executed on the grounds of the Indiana State Fairgrounds.  After meticulous preparations by volunteers with the Purdue Extension Marion County Master Gardeners the display was open to the public during and after the Indiana State Fair.  Home Horticulture Educator Carey Grable reports that over 11,742 visitors saw the garden during the 2021 fair.  
Congratulations to all of the volunteers whose hard work resulted in this recognition. You can keep up with the demonstration garden all year using the following links: 
About the  All-America Selections' 2021 Landscape Design Challenge
The  All-America Selections' 2021 Landscape Design Challenge theme was Diversity in the Garden, inspiring the AAS Display Gardens with a platform to create their own diverse garden using the resources they choose to represent the theme.
For the challenge, AAS provides the gardens with recent AAS Winner seeds and plants. The gardens have the option to incorporate older AAS Winners in their design to illustrate the theme. Gardens are encouraged to generate publicity and hold events to share the story of All-America Selections and AAS Winners. 
Gardens are divided into three categories based on the number of visitors per year:
Category I: fewer than 10,000 visitors per year
Category II: 10,001 – 100,000 visitors per year
Category III: Over 100,000 visitors per year