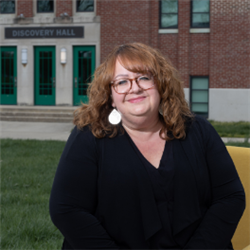 When did you start working at Extension & what is your job title?
I started in December 2020 as an Executive Assistant.
What was the "aha moment" that got you interested in working with Purdue Extension? 
During my interview, I thought to myself these would be some great people to work with.
What is the app on your phone you can't live without? 
Anything news related. I need to know what is going on in the world.
Who inspired you most in your career?
No inspirations. I wanted to find a place where I enjoy working and do my best at my job each day.
What is your favorite restaurant? 
I can't choose one. For casual dining, Dugout for the tenderloin and Kumas, the mac and cheese is amazing!
What do you tell Alexa to play most often? 
Alexa, play Classic Rock.
What is one word you would use to describe PEMC?
Positive.
It's your last dinner party on earth, you can invite 3 people that are not of blood relation to join you at your table. These people can be alive or dead. Who are they? 
Anthony Bourdain, Kamau Bell, Lisa Ling.
Last question, do you believe in ghosts?  What about Aliens? 
Not really sure about the two. I have theories.
Get In Touch With Barbara
Barbara Rusin
Executive Assistant
Rusin0@purdue.edu