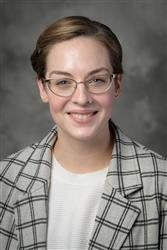 Ashley is one of our three 4-H Youth Development Educators! She focuses on volunteer recruitment, marketing and communications, civic engagement, diversity and equity, and Spark Clubs and Agriculture for 4-H. Read more to learn about Ashley's introduction to PEMC, favorite restaurants, and dream dinner party!
When did you start working at Extension and what is your job title?
I started working as a 4-H Youth Development Educator at Extension in November 2019 - just a few, short months before the pandemic turned life upside down!
Where did you go to college and what was your major?
I majored in English with a concentration in poetry at IUPUI, and am one semester away from my Master of Public Affairs with a concentration in public policy. Big language & words nerd.
What was the "aha moment" that got you interested in working with Purdue Extension?
Former ANR Educator Emily Toner found me.  I was overwhelmed at a farm school with chickens, sheep, pigs, goats, rabbits - oh, and children too. She helped me build community connections, including with 4-H, and it all clicked in for me!
What is the app on your phone you can't live without?
The Mood Meter. It's an app created to build language and awareness around emotions and feelings. It helps me to appreciate, reflect, & name my feelings every day!
Who inspired you most in your career?
Gotta be Mr. Rogers. I grew up loving him without understanding why, and now that I understand I want to bring the same affirming & uplifting values to all young people.
What is your favorite restaurant?
For a quick lunch & great atmosphere - Tea's Me Cafe. For my favorite nearby dinner spot - El Puerto de San Blas or India Sizzling II. Yum.
What do you tell Alexa to play most often?
Leon Bridges & Kings of Leon. I must like Leons.
What is one word you would use to describe PEMC?
Growing!
It's your last dinner party on earth, you can invite 3 people that are not of blood relation to join you at your table. These people can be alive or dead. Who are they?
Mr. Rogers, Lucille Clifton, Kurt Vonnegut. I am not convinced all of these people would get along, but the conversation would be amazing.
Last question, do you believe in ghosts? What about aliens?
Ghosts - yes! I was not a believer and then I encountered
something unexplainable...
Aliens - also yes. I just hope they don't look like Vonnegut's Tralfamadorians.
Get in Touch with Ashley 
Ashley Shufflebarger
4-H Youth Development Educator