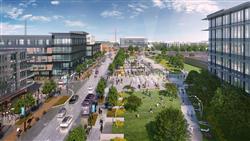 Information provided by 16 Tech Press Release
Purdue Extension Marion County (PEMC) is excited to team up with 16 Tech in their newest project, a makerspace called Machyne. 
Machyne officially opened last week and soon, PEMC will occupy one of Machyne's eight private studio spaces, and utilize the makerspace's 15,000 square feet of space. This space features cutting-edge tools, digital prototyping resources, and a media lab. 
PEMC will utilize this space to focus on workforce training opportunities in the core disciplines of science, technology, engineering, arts, and mathematics (STEAM). Programs will engage youth ages 13 and up and will expand to include multi-generational programming for adults.
Our County Extension Director, Laura Dodds, said, "We are thrilled to offer innovative STEAM programs in a safe and supportive environment for teens and their families. Our programs are designed to spark interest in the college, career, and military pathways that are vital to filling Indiana's in-demand talent needs." 
Machyne's community-based mission is focused on empowering the local students and residents of the 16 Tech Innovation District neighborhood.
"As a makerspace, Machyne can be many things to many people," said Dr. Alex Bandar, Executive Director at Machyne. "We're a prototyping lab for startups; experiential education space for students; a place to fine-tune new skills for people exploring new career opportunities; an art studio for creatives seeking to bring amazing things to life. We will be able to empower people of all backgrounds and interests through a combination of Machyne's resources and PEMC's incredible knowledge, experience, and network."
PEMC is ready to get to work in Machyne with 16 Tech and continue to extend our impact in Marion County. 
Read more about this partnership https://bit.ly/3kVqrG4! 
###
ABOUT MACHYNE
Machyne is a 21st-century makerspace, located in the 16 Tech Innovation District of downtown Indianapolis, that features high-tech tools, flexible work spaces, and customized programming. Machyne supports makers of all kinds. Machyne members are diverse in skill and united by a common mission; to bring new products to life in a fun and collaborative environment. Machyne is a place to learn new skills, share resources, and dream big with over 15,000 square feet of flexible space, customized programming, events, and seminars.
ABOUT 16 TECH INNOVATION DISTRICT 
The 16 Tech Innovation District is one of the largest talent attractions, retention, and development opportunities in Indianapolis's history. Located in the historic Riverside neighborhood of Indianapolis, 16 Tech leverages its proximity to top academic, corporate, and healthcare institutions. There is a growing network of spaces, programs, and talent that foster the cross-industry convergence and collaboration that make world-changing innovation possible. The nonprofit 16 Tech Community Corporation oversees the development of the district and ensures benefits of economic growth. There will be new investment and job creation that extends to nearby neighborhoods as well as the city, region, and state. More information can be found at www.16tech.com.