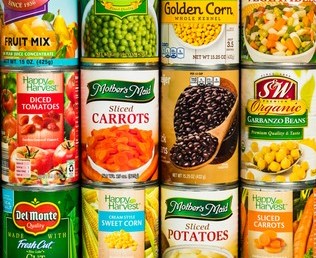 Put away your candy and break out the canned goods! Lawrence County 4-H Jr. Leaders will be trick-or-treating the neighborhood near Bedford Middle School on Saturday, October 16 starting at 10 am. Please help us stock the L.I.F.E. food pantry with your donations for one of their biggest single donations for the year. Items may be left on your porch for pick up. You will know we are stopping by your house if you receive a flyer on October 12.
This year's event will be contact-less, and we will be leaving flyers but not knocking on doors. We will only pick up items left out on the porch. 
If you are not in that area, we would still love your help. Donations can be dropped at the Purdue Extension- Lawrence County Office until October 15.  
If you have questions, please call the Extension Office at 812-275-4623. Thank you!
Donations
We will gladly accept any donation, but the pantry is in special need of several items, and would like your assistance in offering healthy options for their patrons. You can help Lawrence County families receive good nutrition. While donating, please consider the "FOOD DRIVE FIVE."
High protein foods (canned nuts, seafood, poultry)
Canned low sugar fruits (packed in 100% fruit juice)
Whole grain pastas and cereals
Colorful veggies and
Low sodium soups with protein & veggies
Current Needs as LIFE Food Pantry
Peanut butter/jelly               
Pancake mix/syrup               
Tuna/Hamburger Helper
Chunky Canned soups                       
Dish soap                           
Deodorant                       
Shampoo
Sanitary Pads