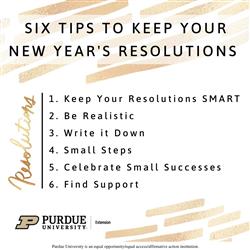 As we welcome a New Year, most of us will set a New Year's resolution to improve our upcoming year. Whether our resolution is to exercise more often, make healthier food choices, or maybe spend less time on social media. It's helpful to have a plan in order to keep resolutions for the year. According to U.S. News & World Report, 80% of individuals setting a New Year's resolution will fail to keep their resolution, with the majority failing by February. Resolutions are often easy to set, but difficult to keep. Follow the listed suggestions to keep your New Year's goals.
1. Keep Your Resolutions SMART
S - Be specific as you set your resolution.
M - Make your resolution measurable. This gives you a measurement of progress.
A - Select achievable resolutions. Consider the skills and resources needed to accomplish a goal.
R - Ask yourself, is this goal relevant to my life? Is this something you really want to achieve or is this resolution a popular trend?
T - Keep it time-bound. Set a start date and a deadline for reaching your goal.
2. Be Realistic
It's okay to set big goals, but be realistic. Before you set your New Year's resolutions, determine if the resolution is practical and attainable for your life. Unrealistic goals can quickly lead to failure and disappointment in the New Year.
3. Write it Down
Once you have selected your New Year's resolutions, write them down on a piece of paper for future reference. It's easy to say something once and then quickly move on and forget the goal you have set. Keep this piece of paper in a safe place. Display your list in a location you will visit frequently, as an ongoing reminder of your New year's resolutions.
4. Small Steps
With your resolutions written on paper, take time to break down each resolution into smaller goals. For example, if your resolution is to lose weight, break that goal down into a monthly weight loss goal. Then make a list of practices that will help you reach your goal. Ask yourself, what changes can be made in your life to make losing 50 pounds an attainable resolution. For example, the steps listed for this resolution that could be related to exercising more often or making healthier food choices.
5. Celebrate Small Successes
Creating and following New Year's resolutions is not for the faint of heart. Creating a list of goals and obtaining those goals takes dedication and practice. To maintain momentum along the way, remember to celebrate the small successes. As you accomplish small goals, recognize the progress you have made toward your resolution. Celebrate the small success by treating yourself.
6. Find Support
Gather your support team to assist you in reaching your goals. This team should consist of a variety of individuals. Consider which family, friends, and professionals you need on your team to conquer your New Year's resolutions. Support can also be in the form of resources. After setting your resolutions, consider what resources you will need to succeed.
Sarah Richer is the Health and Human Sciences Extension Educator at Purdue Extension - Lawrence County. Questions, email richer@purdue.edu or call (812)275-4623.