Mental Health First Aid
Be the Difference
UPDATE 10/13/21: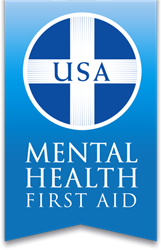 Currently scheduled courses include virtual courses November 16, 2021 and December 15, 2021.
To find a current listing of in-person and virtual classes or for registration links visit extension.purdue.edu/mhfa
_______________________________________________________________________________________________________________________________________
When does stress become more than just stress? Would you feel confident enough to approach a friend, family member, co-worker or neighbor who might be struggling and offer help?
Mental Health First Aid is an evidence-based course that teaches participants how to recognize when someone might be experiencing a mental health challenge and how to reach out to offer help and find other resources. By raising awareness and understanding of these disorders we can reduce the stigma often associated with seeking resources and care.
**Courses are still being offered virtually. We will begin transitioning back to in-person classes in early fall.**
For virtual courses you will need: a computer or tablet with reliable internet, a webcam, microphone, and speakers.
Purdue Extension offers both the Adult version (for adults who interact with other adults) and  Youth version (for adults who interact with adolescents). If you have questions about the Adult or Youth Mental Health First Aid course content or schedule, please contact Purdue Extension by e-mail at mhfa@purdue.edu.
For more details and upcoming course dates visit extension.purdue.edu/mhfa
To inquire about scheduling a closed course for your group or organization contact mhfa@purdue.edu.
Purdue University is an equal opportunity/equal access/affirmative action university. If you require special accommodations to attend this event, please contact Tessa Garrow, Purdue Extension, at 765-496-6849 or by e-mail at tgarrow@purdue.edu at least 2 weeks prior to your preferred course date. Some CEUs may be available.
Purdue University is a pre-approved provider of Category 1 Continuing Education for all of the following: - Mental Health Counselors and Associates - Marriage and Family Therapists and Associates - Social Workers, Clinical Social Workers and Associates - Addiction Counselors, Clinical Addiction Counselors and Associates Participants receive a certificate upon completion of the entire course attesting to contact hours, though it is participant responsibility to verify continuing education eligibility for their profession.
Related Files