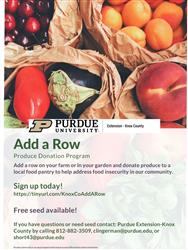 In Knox County, according to Feeding America our food insecurity rate is 15%, that mean over 5600 people in our county lack access to food. That is why Purdue Extension-Knox County is inviting local gardeners or farms to "Add a Row" and donate produce to local food pantries. If you need extra seed to add a row the Extension Office has free seed that you can use for this project.
So how do you get involved? Register at https://tinyurl.com/knoxcoaddarow, when you register you will be asked what you will likely donate and you can choose or add a pantry of your choice to donate to. We will send weekly notices where you will be able to report how much produce you have donated. You are not expected to donate weekly it will be whenever you have produce ready, so only fill the report out if you have produce to donate.
If you have questions or need seed call 812-882-3509 or email Clingerman@purdue.edu or short43@purdue.edu.
Related Files