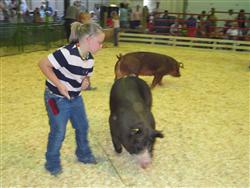 SWINE

Monday, July 12, 2021 at 9 a.m.

Committee: Jesse Posey (Chairman), Brittney Walker, Craig Gibson, Lindsay King, Brandon King, Katie Lutes, Chris Proffit, Larry White, Janet White.

RULES-
Please refer to General Livestock Rules along with the following:
1) All swine must be delivered to Memorial Park between 7 –11 am on Saturday, July 10, 2021. Swine Ambassadors will weigh-in their animals at 3:30 pm, all others at 4:00 pm by section, that evening. Tack may be unloaded after pens are assigned.
2) Pen selection will be as follows: 10-year members, then remainder will be random shuffle
3) Registration papers must be turned in as purebred gilts and barrows are unloaded, to determine correct classes. Must have members name on registration paper. Siblings names may all be on registration paper.
4) Any pig with incorrect paperwork or ear notches are eligible to show in an "Exhibition Class" if it is the exhibitor's only pig. Animals will not be part of championship drives. If pig is exhibitors only animal exhibited at the fair, it may be sold in the auction.
5) The only emailed registration copies accepted must be emailed directly from the breed association to the Extension Office. Papers may be emailed to spfaff@purdue.edu from Breed Association before 5:00 pm, Friday. These papers must be in hand before the animal shows. Paper registration copies will be checked at the scales.
6) The swine committee reserves the right to combine pigs if pens are needed. Exhibitor is responsible for dividers.
7) All swine exhibitors must be YQCA certified to sell in the 4-H Livestock Auction and to sell floor animals. Check with the Extension Office about YQCA certification.
Must have a valid YQCA certification during the fair dates.
8) All swine livestock ID's must be done online by May 15 for all animals to show at County & State fairs. All swine must have an RFID in place before the May 15 deadline. The tags must be obtained at the Extension Office. DNA hair samples are required for all swine going to state fair and collection envelopes may be obtained in the Extension Office and must be returned by the May 15th deadline.
9) All purebred barrows will be exhibited by weight and breed with classes broken by the swine committee. All crossbred barrows will be exhibited by weight.
10) Champions will be selected for each breed of barrows and gilts.
11) Crossbred gilts will be shown by weight not age, but must be January, February, or March 2020 gilts.
12) A member may make two barrow entries per breed and three gilts per breed.
13) All purebred gilts will be shown by date of birth with no more than 30 days of age within the class.
14) A swine exhibitor may be selected and awarded grand champion showman as many times as selected by the official judge.
15) Swine members must furnish their own bedding.
16) All swine must be farrowed between January 1 and March 31, 2021.
17) Only 4-H members are allowed in holding pens.
18) All animals with less than 1/2" hair, 4-H'er risks losing their floor price of animal if condemned by packer.
19) Committee reserves the right to make final judgment on all rules concerning swine.
20) Grand and Reserve Grand Champions will be chosen in showmanship.
21) Pens will be kept clean for pigs that stay until the auction. This will be checked daily at noon.
       Penalty:
      • Pen tagged for cleanup
      • 2nd tag—sells after all other species in auction
      • Will not sell in auction.
22) Pigs penned in annex and west end of swine barn must be moved to east end of swine barn and pens in annex and west end of swine barn. All pens must be cleaned out on Monday night.
23) In the Grand Champion Barrow and Gilt drive, when picking the five best, all reserve breed champions are eligible to compete after the champion of that breed is chosen.
24) Henry County Fair Purebred Bred, Born & Raised:
a. Dam must be owned by exhibitor (as defined by 4-H rules) when animal is born.
b. Exhibitor must have retained continuous ownership of animal until exhibition of Henry County 4-H Fair.
c. Champion and Reserve Champion banners will be presented.
CHECK IN RULES:
1) The office copy of the swine ID paperwork will be compared for ear notch verification.
2) Registration papers must be shown at time of unloading for all swine.

Classes for the following breeds:
Berkshire Hampshire Tamworth Chester White Poland China Duroc
Commercial Spots Yorkshire Landrace Hereford Single Barrow Gilts

Showmanship based on grade:
Grades 3-4 Grades 9-10
Grades 5-6 Grades 11-12
Grades 7-8
Members must sign up on show day to enter showmanship.

SWINE AUCTION RULES:
1. Gilts may be sold in auction as well as barrows.

LEAN MUSCLE EVALUATION
1) Animals must be identified for this contest at time of weigh-in. The pigs will be evaluated by means of a sonaray.
2) Pigs should weigh a minimum of 220 pounds to qualify for carcass awards.
3) A fee will be determined at the weigh-in time for the scan. The fee will be paid by the 4-H Swine Boosters.
4) Results will be announced when available along with printed results.
5) Sunday Night Barrow Show – any barrow entered in the County Fair may be exhibited.
6) Mini 4-Her's will be allowed an exhibitor's pig.
Related Files