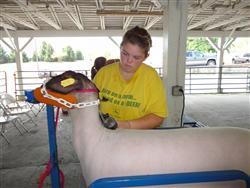 SHEEP
Wednesday, July 14, 2021 at 3:00 pm

Committee: Melanie Scott (Chairman), Tim Kendall, Shelia Martin, Jana Thomas, Jay Thomas, Carl Wooldridge, Valerie Wooldridge.

RULES
1) All sheep must be delivered to Memorial Park on Tuesday, July 13, 2021 from 8 – 10:00 a.m.
2) Fair Weigh-in will be 9:00 – 10:00 a.m. on Tuesday, July 13, 2021. All sheep must be checked in at this time. Sheep will be released 1 hour after show. The scales will be set up prior to weigh-in for everyone's use and only one weight will be taken during weigh-in. That weight will be taken for sale and show.
3) All market lambs will be slick-shorn. All market lambs will be weighed at designated time and divided into classes by the committee.
4) Ewe lambs to be shown as market lambs need to be declared at the fair weigh-in, and slick-shorn.
5) Sheep must meet breed characteristics. The committee reserves the right to move breed sheep that do not show breed characteristics, into the commercial class. Breed registration papers are not required.
6) All SHEEP to be shown at the county fair must be entered at the May weigh-in on May 8, 2021 from 8:00 – 11:00 a.m.
7) All SHEEP are to be tagged with a county ear tag and market lambs weighed on May 8, 2021 from 8-11 am. State Fair animals must have a DNA hair sample along with an RFID tag. All sheep at the May weigh-in must be designated to an individual or "family". All sheep must be entered into 4HOnline before leaving the fairgrounds. Extension Office staff will be available to assist with entry.
8) Showmanship is for any exhibitor. Each exhibitor is eligible for one showmanship class only.
        Junior showmanship - Grades 3-5
        Intermediate showmanship - Grades 6-8
        Advanced showmanship - Grades 9-12

The Grand Champion Sheep showman from the prior year must show in the next age bracket the following year, unless already in the senior division in which case the member will remain eligible and continue to show in the senior division. (Grade just finished before 4-H Fair)
9) A Grand Champion Sheep Showman will be selected from the winners of each division.
10) Each exhibitor may show in only one pair per pair class. The exhibitor must own the animal(s) they show. That pair may be made up of more than 1 exhibitor.
11) All sheep will be shown in alphabetical order with commercial animals shown last.
12) Every exhibitor is responsible for keeping his/her aisle and pens clean and neat and their animals well cared for.
13) All sheep must be bedded and fit in the 4-H Barns.
14) Halters may be used to show in individual classes. The use of halters in showmanship will be at the discretion of the judge. An announcement will be made prior to the start of the show with his/her preferences.
15) There will be no floor for sheep. Animals either need to be auctioned or taken home.
16) A Henry County Livestock Record MUST be completed and turned in with green folder.
17) Anything not covered by the above rules will be decided by the committee.

Thursday, July 8, 2021 at 6 pm
Sheep pen selection /assignments (member or a representative must be present at time of pen selection) for 10-year members and the Herdsman as follows:
1st – 10-year members
2nd– 2020 Champion Senior Mental Attitude Award winner for Sheep
3rd – 2020 Champion Junior Mental Attitude Award winner for Sheep
4th – Members present for pen set-up.
5th – All other exhibitors.

SHOW ORDER
BREEDING CLASSES:
Single Ewe Lambs/Yearling Ewes
Grand Champion Ewe
Reserve Champion Ewe
Third Best Ewe
Pair of Ewes

MARKET LAMB CLASSES:
Single Market Lamb
Grand Champion Market Lamb
Reserve Grand Champion Market Lamb
Third Best Market Lamb
Pair of Market Lambs

SHOWMANSHIP
Junior Showmanship
Intermediate Showmanship
Senior Showmanship
Champion Showmanship

Mini Sheep Show
Related Files