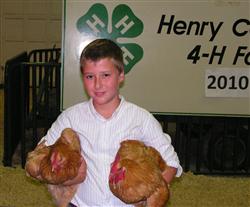 POULTRY and PIGEONS

Monday, July 12, 2021 at 9:00 am

Committee: Kris LaMar (Chairwoman), Erin Freuchtel, Bill Lowry

1) All poultry and pigeons must be delivered to the fairgrounds Sunday, July 11, between 3:00 pm and 6:00 pm or following cage set up at 3 p.m. Cage set-up will be immediately after the rabbit show; all exhibitors are expected to help with set up. All poultry and pigeons will be judged Mon, July 12, starting at 9:00 am.
2) Show order will be at the discretion of the judge.
3) Birds showing signs of sickness or external parasites are to be removed from the fairgrounds and will not be allowed to show.
4) All poultry must show proof of origination from a NPIP flock or be blood tested each year on the date to be determined.
5) A poultry record sheet MUST be turned in with your green folder.
6) Poultry and pigeons must be owned and under the care of the 4Her by May 15. Exception: Meat pens, see age requirements below.
7) 4H Fair Entry must be completed online by the published date for all 4H projects, animal and non-animal. Birds entered after this deadline will receive a completion ribbon only.
8) Cages, bedding, and cups will be furnished. Exhibitors must furnish feed and water for all of their birds, and provide all care while on the fairgrounds. *Poultry show cages are not secure from predators such as raccoons and foxes. Each exhibitor is responsible for the safety of their animal while it is on the fairgrounds. *
9) Duck, turkey, geese, and guinea classes will be added if needed. All birds must be identified by class, breed, variety and color as recognized by the American Poultry Association and/or American Bantam Association. All birds will be judged according to The American Standard of Perfection. Exception 1: Commercial classes and MEAT PENS will be judged on growth, development and production qualities. Exception 2: Pigeons will be entered and judged also using the following resources: National Pigeon Association, Indiana 4H Pigeon Projects and the National Pigeon Association Book of Standards. Breeds and varieties not recognized by these associations will be Exhibition only.
10) Birds not entered in the correct breed or variety will show Exhibition only and will receive a completion only ribbon. Birds may be moved to different classes at the judge's discretion (example: pullet to hen, pullet to cock, etc.). Some leniency will be allowed for similar colors and breeds, but EVERY attempt should be made for correct entries! There is a copy of The American Standard of Perfection in the Henry County Extension office and the above-named organizations all have websites. Particular attention should be made to bantams vs standards. The poultry committee will be glad to assist with additional advice and resources.
11) Pigeons must be banded to show at the State Fair. See State Fair rules.
12) Placing ribbons from one to six will be awarded. Best of Breed and Reserve Best of Breed will receive Champion and Reserve Champion ribbons. Best of Show Poultry and Pigeon each receive a belt buckle. Major Classifications will receive Grand Champion ribbons (Best American, Best Asiatic, Best Mediterranean, etc.) and Champion Large Fowl, Reserve Champion Large Fowl, Champion Bantam and Reserve Champion Bantam will receive plaques.
13) Placings will be placed on name cards and it will be the exhibitor's responsibility to obtain their awards after the show.
14) Showmanship: Any 4H exhibitor wishing to participate in Showmanship must register by the beginning of the show. (Preferably through 4H online.)
ENTRIES: A maximum of 10 breeds (or varieties within a breed; each variety counts as one of the 10 maximum,) may be entered, with a maximum of 2 entries per class. This includes the commercial and meat pen classes. Example: Rhode Island Red is one breed. You may enter up to 2 Hens, 2 Cocks, 2 Pullets, and 2 Cockerels for Rhode Island Reds. Pigeon entries are only limited by 2 entries per class at this time, not by number of breeds.

BREEEDING STOCK CLASSES will be divided as follows:
• Single Pullet (Pigeons: young hen)
• Single Hen (Pigeons: old hen)
• Single Cockerel (Pigeons: cock)
• Single Cock (Pigeons: old cock)
• Only Breeding stock classes compete for Best In Show Poultry or Best In Show Pigeon

COMMERCIAL CLASSES will be divided as follows (maximum 2 entries per class):
COMMERCIAL LAYERS:
• Single Pullet
• Pair of Pullets (paired birds not eligible for single classes)
• Commercial layer entries may be hybrids or purebreds and should be 1 year old or younger and actively laying.
• A Champion and Grand Champion ribbon will be awarded.

MEAT PENS
• Entry will consist of 2 meat birds per pen. 2 meat birds in one pen are one entry. Maximum 2 meat pen entries per class.
• Broilers – 2 birds not over 5-1/2 lbs. each on show day
• Roasters – 2 birds over 5-1/2 lbs. each on show day. Should not exceed 10 lbs. each.
• Banners awarded to Grand Champion and Reserve Grand Champion Meat Pens.

SHOWMANSHIP RULES:
1. Junior: 3rd, 4th and 5th grades
2. Intermediate: 6th, 7th, and 8th grades
3. Senior: 9th, 10th, 11th, 12th grades

• 4H exhibitor will be required to bring (1) bird to the judge
• 4H exhibitor must know the different parts of poultry (example: comb type, feathers, body parts, etc.)
• 4H exhibitor will be required to answer general age appropriate questions pertaining to poultry.
• Ribbons will be awarded in each division. The winner of each division will be the champion of that division. A Grand Champion and Reserve Grand Champion Showman will then be awarded.

AUCTION RULES FOR POULTRY:
• Meat pens only sold in auction. It is the responsibility of the exhibitor to sign their animal(s) up for the auction. Poultry committee may dismiss auction animals and may require that they be brought back for the auction.

Poultry Display Boards and Poultry Science Displays will have three levels for each:
Level 1 for 4-H'ers grades 3-4-5
Level 2 for 4-H'ers grades 6-7-8
Level 3 for 4-H'ers grades 9-10-11-12

All poultry display boards must be brought to the Smith Building on July7, 2021 from 5:00 to 8:00 p.m. Judging will be held on July 9, 2021 from 6:30 – 8:30 pm. One display board and one science display from each age level will be accepted at State Fair.
Related Files