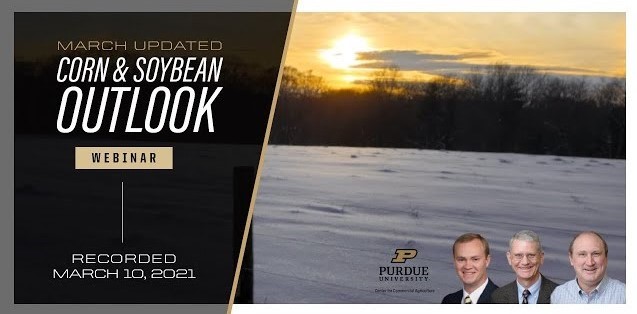 Purdue agricultural economists Michael Langemeier, Nathanael Thompson and James Mintert discussed the corn and soybean outlook following release of USDA's March Crop Production and World Agricultural Supply and Demand Estimates (WASDE) reports. With planting season around the corner, the March 10th webinar reviewed updated supply and demand information from the USDA reports for the 2020 crop year as well as what might be in store for 2021. The Purdue team discussed corn and soybean exports, ethanol demand, corn and soybean basis, and farm income projections.

The recorded version of the program is available for viewing on the Center's website, where a copy of the slides presented during the webinar are available also, or on the Center's YouTube channel (don't forget to subscribe). A companion podcast episode on the Purdue Commercial AgCast is also available on the website or any platform where you access your podcasts.
____
Mark your calendar for the Center's next outlook update webinar on Monday, April 12, at 3:30 p.m. EDT following the April release of USDA's Crop Production and WASDE reports.  Register now!
The Purdue Center for Commercial Agriculture will also have a new Purdue Commercial AgCastpodcast available late afternoon on March 31 following the release of USDA's Planting Intentions report.  Subscribe now!