When done correctly, home food preservation can produce a bounty of safe and delicious food. If done incorrectly, it can lead to severe illness. Purdue Extension's Mastering Home Food Preservation team provides the most recent, research-based information to help people safely preserve foods at home.
The team offered an eight-session virtual series this summer, which was also recorded and can be viewed on the program's website and YouTube. The videos cover equipment needs, freezing, boiling water bath canning, making jam and jelly, pressure canning, pickling, dehydration and fermentation.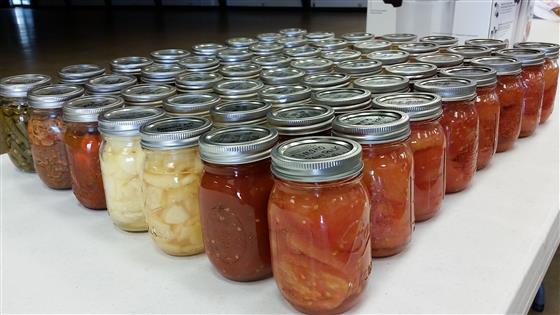 Over 500 people took one or more of the virtual courses. The series provided essential information for Hoosiers new to home food preservation, as over 80 percent of those surveyed before the course indicated they don't preserve food at home or haven't done so for many years.
Jessica Clark of Richmond, Indiana, wanted to can like her grandmother did, but the fear of endangering her family kept her from trying — until she learned food preservation techniques that are healthy, budget-friendly and safe from Purdue Extension.
A dehydrating workshop even taught Clark how to hide vegetables in her children's meals, and the fruit roll she makes in the dehydrator has become "one of my kids' favorite snacks, better than store-bought fruit roll-ups."
Clark is just one of many Indiana residents who preserve foods year-round using current, research-based information that Purdue Extension offers in hands-on events across the state.
Mastering home food preservation impact 
86% of participants surveyed in 2019 food preservation courses said they would use resources and directions provided by Purdue Extension and the USDA.
See how Extension served your Indiana community in the 2020 Purdue Extension Impact Report: extension.purdue.edu/annualreport/.