Tippecanoe County 4-H Trip and Scholarship Information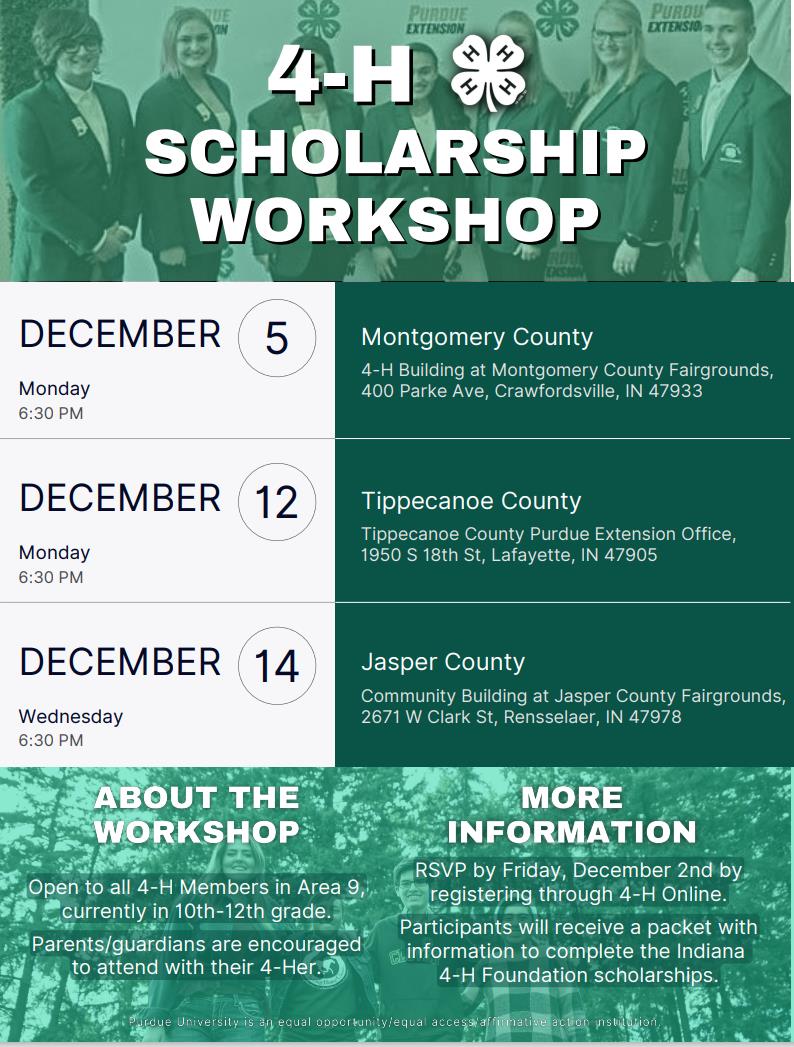 Contact Us
Purdue Tippecanoe County Extension
tippecanoeces@purdue.edu

Address:
1950 South 18th Street
Lafayette, IN 47905

(765) 474-0793
4-H Trip Information
4-H members have the opportunity to attend a variety of exciting trips and events. You can find a list of all state and national opportunities at the bottom of this page. The exhibit association provides some funding support to help 4-H members participate in these opportunities.  If you'd like to receive funding assistance for a state trip, please complete and turn in a trip application by April 1st (unless you plan to attend a trip where the deadline is sooner). The application can be found at the bottom of this page. 
Scholarship Information
There are 3 types of scholarships available just for senior 4-H members in Tippecanoe County. They include the Exhibit Association Scholarship, Kiss-a-pig scholarships, and the Junior Leader Scholarship. Any graduating senior 4-H member can apply for the Exhibit Association and Kiss-a-pig scholarships. Members only need to complete one form to apply to either scholarship. Graduating senior 4-H members that are current junior leaders are eligible to apply for the junior leader scholarship. You can find the forms for each scholarship at the bottom of this page. County scholarships are typically due in the spring.  
Indiana 4-H Scholarships are due on January 25th in 4HOnline. The forms and additional information about state scholarships can be found on the state website. To learn more about scholarship available at the state level, visit the following link: Click Here!
For tips on writing scholarships, please see the workshop recording below as well as other attached resources: 
JUNIOR LEADERS SCHOLARSHIP APPLICATION