Hendricks County Agriculture and Natural Resources
What We Do
Purdue Extension is a service tailored to meet the needs of Indiana, needs we know firsthand. Our educators, specialists, and volunteers live and work in all 92 Indiana counties. We provide the link between Land Grant research and Indiana citizens. In doing that we provide practical solutions to local issues. We provide information and expertise that's available in the form you want, when you want it. That's Purdue Extension, Indiana's home team advantage.

Meet Your Ag and Natural Resources Educator
Forest Management for the Private Woodland Owner
WORKSHOP INFORMATION
Forests cover nearly 20%of Indiana, and approximately 85%is in private ownerships
like farms and families. Less than 20% of those owners have a forest management plan to
guide them in the sustainable management of their property. Forests provide multiple
ecologic, economic, and societal benefits, but may not be realizing their potential due to poor
or no management activity, and threats like invasive plant species and pests. Indiana
forests also support an important forest products industry, employing thousands of
people and supporting many rural communities. Private forest land owners are
often unaware of the resources and assistance available to them for realizing their property
management goals.
Forest Management for the Private Woodland Owner provides 8 evening indoor sessions and
2 field tours providing information on the biology and management of Indiana
woodlands. Instruction is provided by Purdue Extension specialists and natural resource
professionals.
The workshop will be held Wednesdays, from 6:00-9:00 PM EST, from March 8 to April 26,
2023 at the
Morgan County Administration Building
180S. Main St.
Martinsville, IN 46151.

Regular registration includes all learning sessions, a flash drive containing information
supporting the sessions, handouts, and a tree measuring stick.
$50 each
Guest registration includes all learning
sessions and handouts at the sessions.
$30 each
Find more information here: https://extension.purdue.edu/events/county/morgan/2023/03/forest-management-for-the-private-woodland-owner.html
___________________________________________________________________________________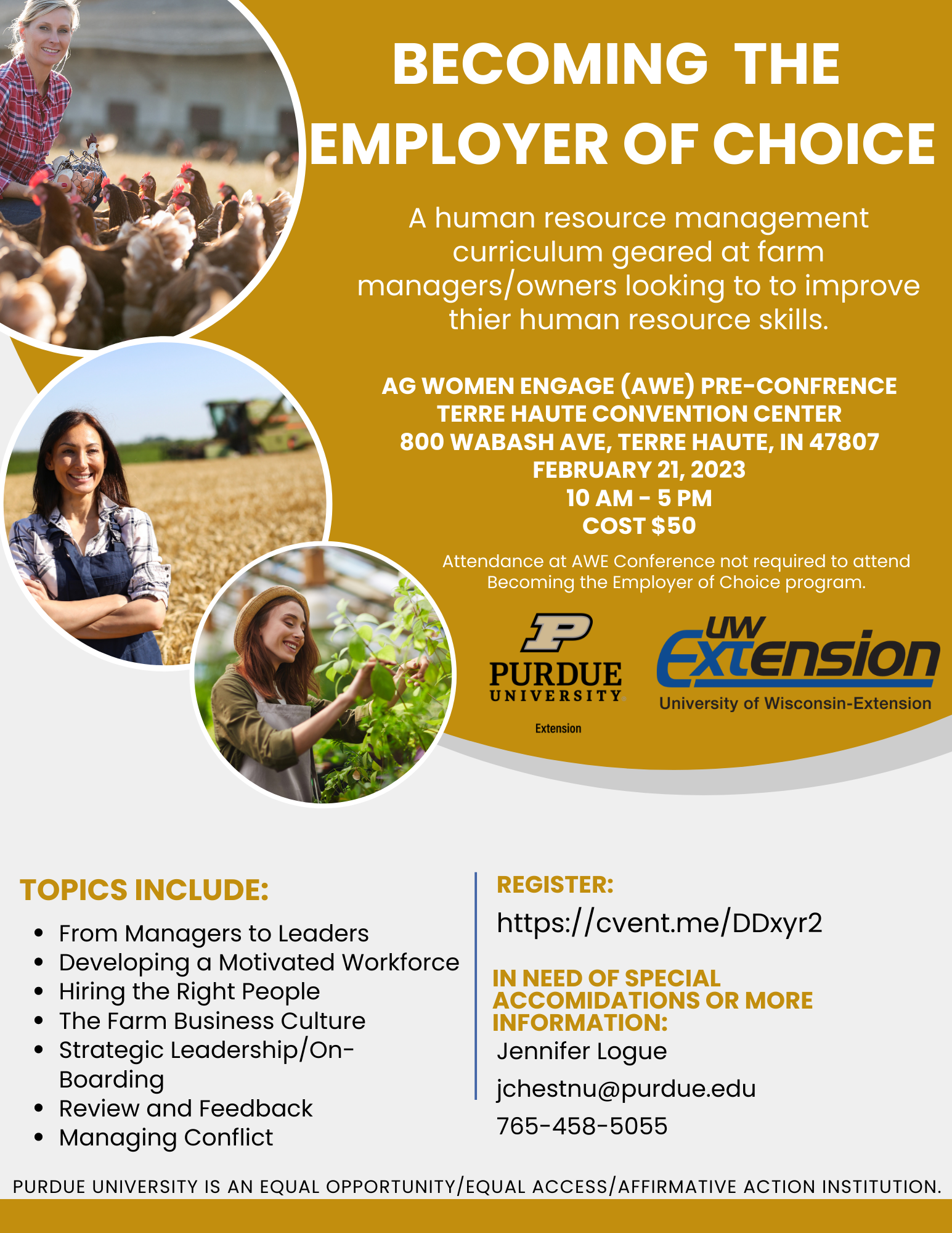 Becoming the Employer of Choice
Need help hiring and maintaining valuable employees?
Consider participating in the Becoming the Employer of Choice workshop to get answers to questions about:
Motivating a workforce;
Hiring the right people;
On-boarding;
Managing conflict; and
much more!
Date: Feb. 21st
Time: 10 am – 5 pm ET
Cost: $50 (includes lunch)
Register at: https://cvent.me/DDxyr2
Registration Deadline: Feb. 10th
*Please note that the registration site will take you to the registration for the Ag Women Engage (AWE) Conference.  Becoming the Employer of Choice program is the pre-conference session.  You are welcome to participate in the pre-conference session without attending the entire conference.
____________________________________________________________________________________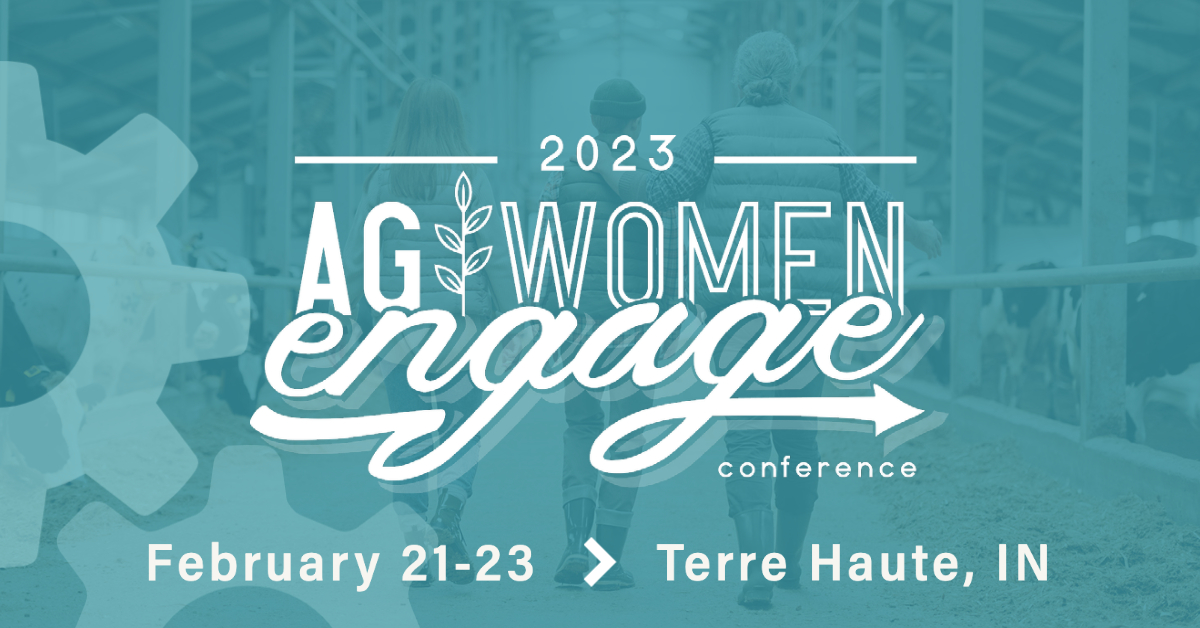 Ag Women Engage Conference
We invite you to register for the Ag Women Engage Conference (formally known as the Midwest Women in Agriculture Conference) set to take place February 21st - 23rd, 2023 at the new Terre Haute Convention Center!
We will be engaging Midwestern women in agriculture to address personal, family, and farm issues that affect their lives, their families, and their farm business.
It will be an exciting, in-person event full of speakers, networking, education, and fun!
More details can be found below.
YOUNG LADIES IN AGRICULTURE FORUM 2023
Young ladies in grades 8-12 or college are invited to participate in the 2023 Young Ladies in Agriculture Forum during the AWE conference in Terre Haute, IN on February 22, 2023. Join us to explore and engage with other young ladies while learning about financial strategies, marketing yourself, and building a strong resume. 
More details can be found below. 
Register Now: https://bit.ly/YoungLadiesInAg2023 
2023 Master Gardener Scholarship
Featured Story
Featured Story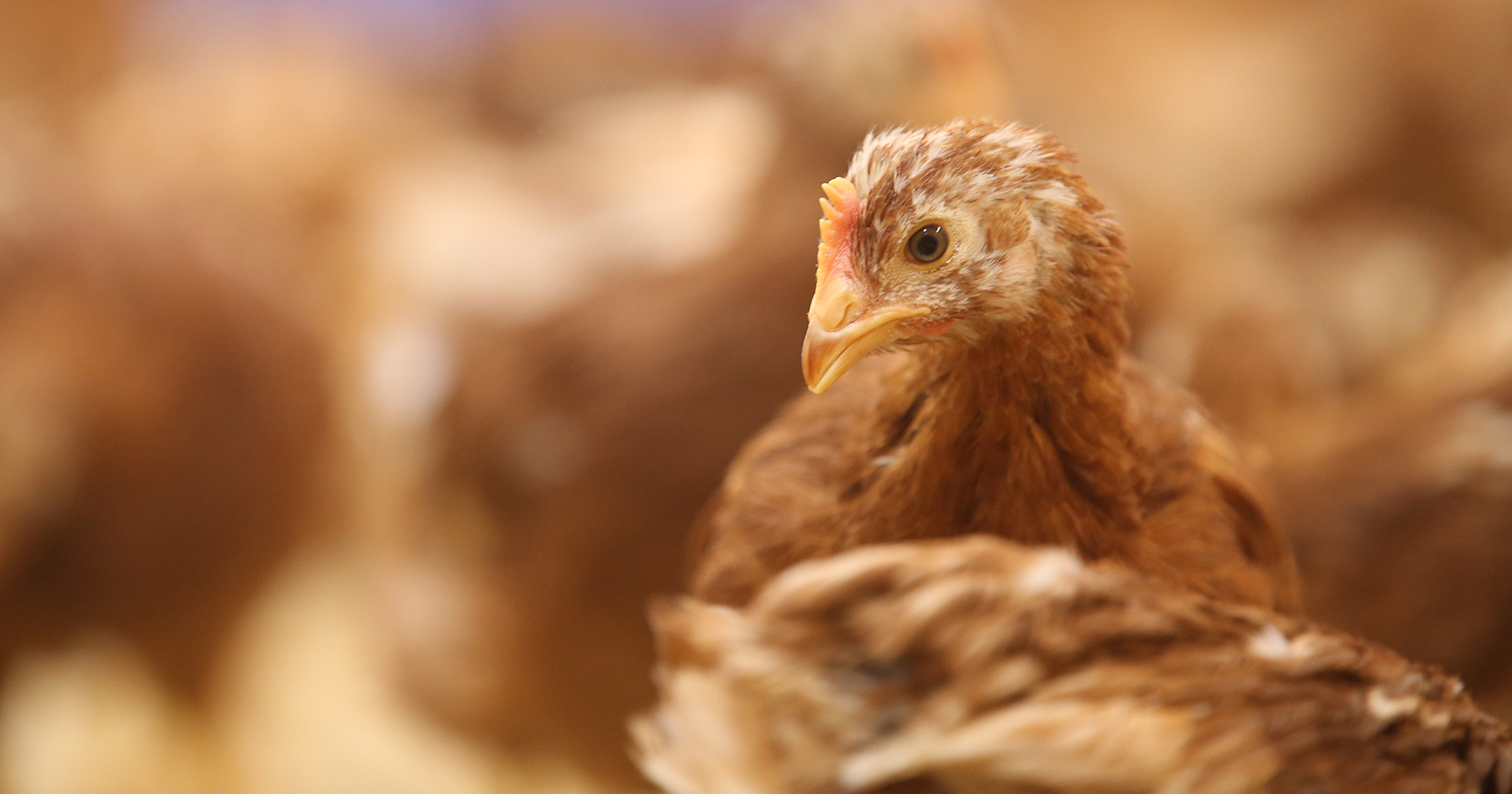 Indiana Poultry: Opportunity and Challenge Abound
Ranked as first in the nation for commercial duck production, second in production of layer and table eggs and third for turkeys raised, Indiana is home to a large population of America's poultry. That means that poultry owners, who own...
Read More