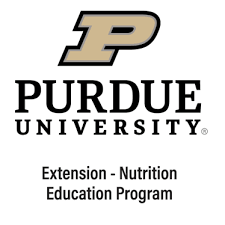 The Purdue Extension Nutrition Education Program (NEP) works to improve the nutrition and health of audiences with limited resources by helping to make the healthy choice the easy choice.  The Nutrition Education Program offers two major initiatives to communities, Nutrition Education/SNAP-Ed and Community Wellness Coordinator and are free of charge.
5 focus areas of NEP
T
a
rget audiences
SNAP/EFNEP recipients

Individuals with limited resources (youth, seniors, singles, homeless, migrants, families, single parents)

Schools with 50% or more free and reduced lunch

Communities with high poverty rates
Nutrition Education/SNAP-Ed

Our NEP Advisors provide free nutrition education to youth and adults through schools and a variety of community groups.  The highly interactive, research-based programming help participants:
Plan nutritious meals                              

Be active                                               

Handle food safely                               

Spend food dollars wisely

Improve food purchasing and preparation skills

Find out about SNAP benefits and other community resources
Community Wellness Coordinator
Our Community Wellness Coordinators help make the healthy choice the easy choice. They collaborate with community partners on broader community change that involves policy, system and environmental changes such as:
 
English Version
Spanish Version

    
For more about our program or recipes please visit, Eat, Gather, Go!
Resources
What our Program Brings to the Table