new 4-h enrollment 2023-2024
We hope you enroll in 4-H starting October 1st on https://v2.4honline.com/. Annual enrollment is the best time to review and update your contact information, the family email address you provide is our primary contact to you! It is also a great time to think about new 4-H projects or clubs you're interested in adding for the new 4-H year. Check out our website to view details about projects https://extension.purdue.edu/county/vigo/vigo-4-h.html.
4-H t-shirt design contest
Vigo County 4-H is in need of a new t-shirt design!! The contest is open to current Kindergarten-12th graders & the winner will not only win a free t-shirt, but also a free 4-H Membership for the 2023-2024 year!
Designs must be submitted to brow2269@purdue.edu by September 27th & voting will take place during National 4-H Week, October 1st-7th. For more information and entry form click HERE.
celebrate national 4-H week
National 4-H Week October 1-7!
Celebrate National 4-H Week by engaging in National, State, and County social media pages.
family learning day at vcpl!
September 23, 2023
10:00 a.m. to 1:00 p.m.
Vigo County Library ■ Parking Lot
t's that time of year! Save the date for the Library's annual Family Learning Day! Connect with community organizations for hands-on activities, games, and giveaways—including free books!
Since 1994, we've hosted Family Learning Day—a day dedicated to introducing hundreds of children and their families to new forms of art, music, and creative activities that are available to families in Vigo County throughout the year.
explore wabashiki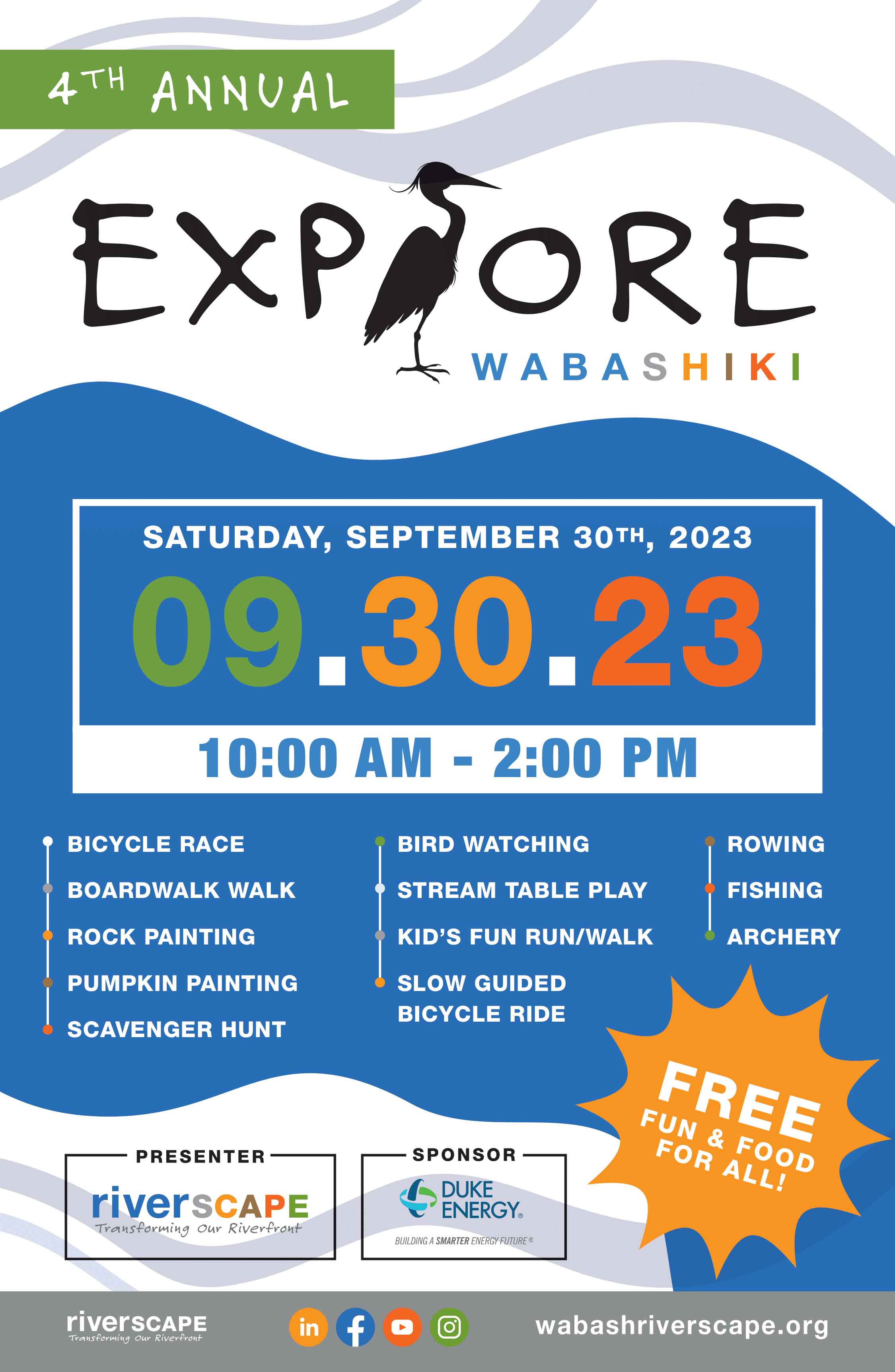 September 30, 2023
10:00 a.m. to 2:00 p.m.
Banks of the Wabashiki near 65 S Schley Pl, West Terre Haute
Join 4-H and several organizations for RiverScape's Explore Wabashiki! Kids can participate in everything from a fun run/walk/trot/bicycle ride to painting a rock or pumpkin. Kids will have the opportunity to go on a scavenger hunt and win some fabulous prizes. RiverScape will provide FREE hot dogs and water.
The day's itinerary is available online at wabashriverscape.org/explore-wabashiki.
Confirmed community partners participating in the event include: Vigo County Parks and Recreation Department, Emily's Walk, Purdue Extension, Soil-Max, Wabash Valley Crew, Indiana Bowhunters Association, Swope Art Museum, Crossroads Cyclery, Sugar Creek Fire Department, Wabashiki Turtle Research and Rescue, Hoosier Herpetological Society, West Vigo Fishing Team/ Vigo County Fishing Teams, Old 40 Farm, Camp Navigate, Indiana DNR, Indiana Department of Transportation, ISU Environment & Earth Sciences Dept, and the Vigo County Public Library.
Vigo Co. 4-H Scholarship Craft Bazaar
November 18th, 2023
9:00 a.m. to 3:00 p.m.
Wabash Valley Fairgrounds ■ Exhibit Hall
$1 Admission (Children are free)
All Proceeds go towards the Vigo Co. 4-H Scholarship Fund!
Handmade crafts, jewelry, embroidery, clothing, kitchenware, fall and Christmas decor, woodworking, artwork, home decor and much, much more!