Click HERE to download a copy of the March Vigo County 4-H Newsletter!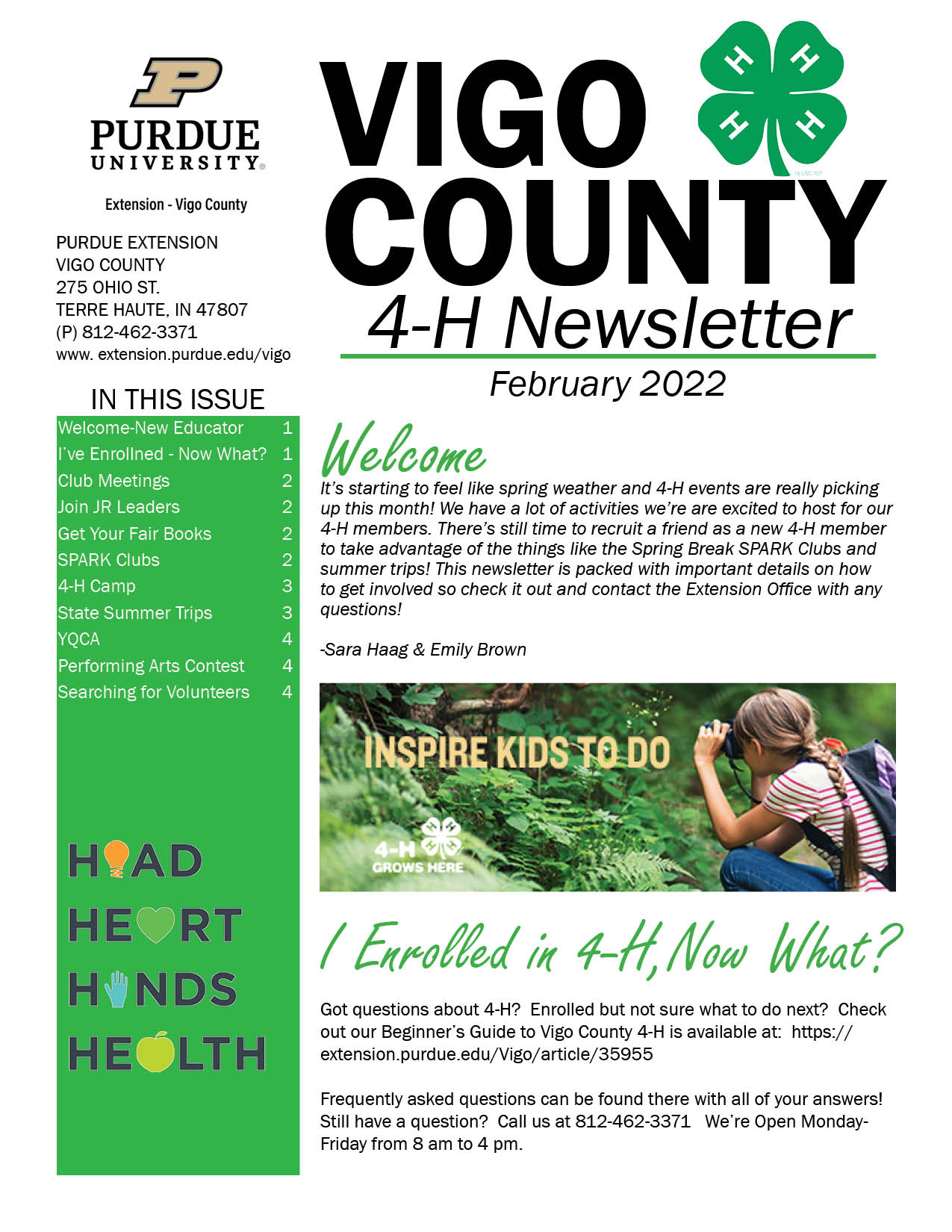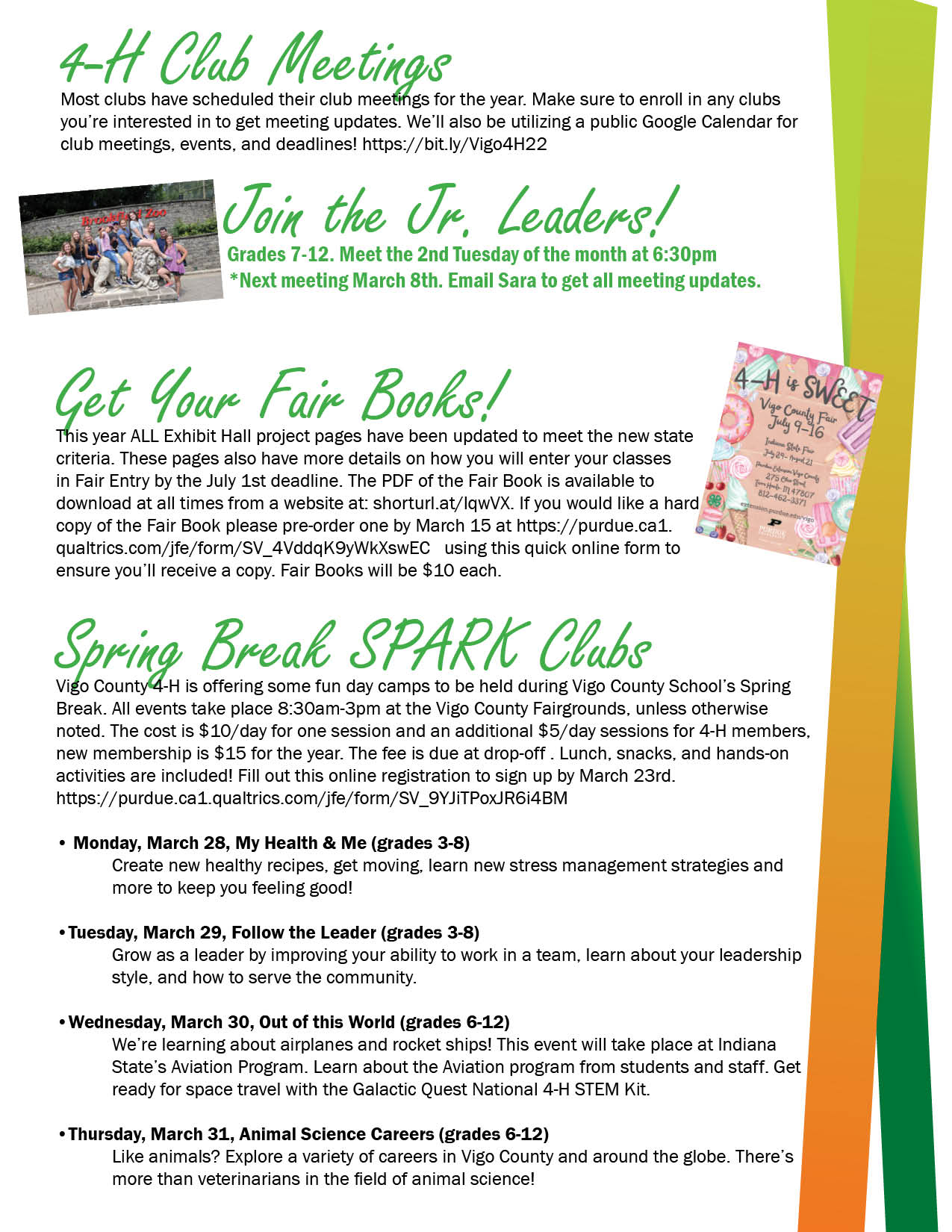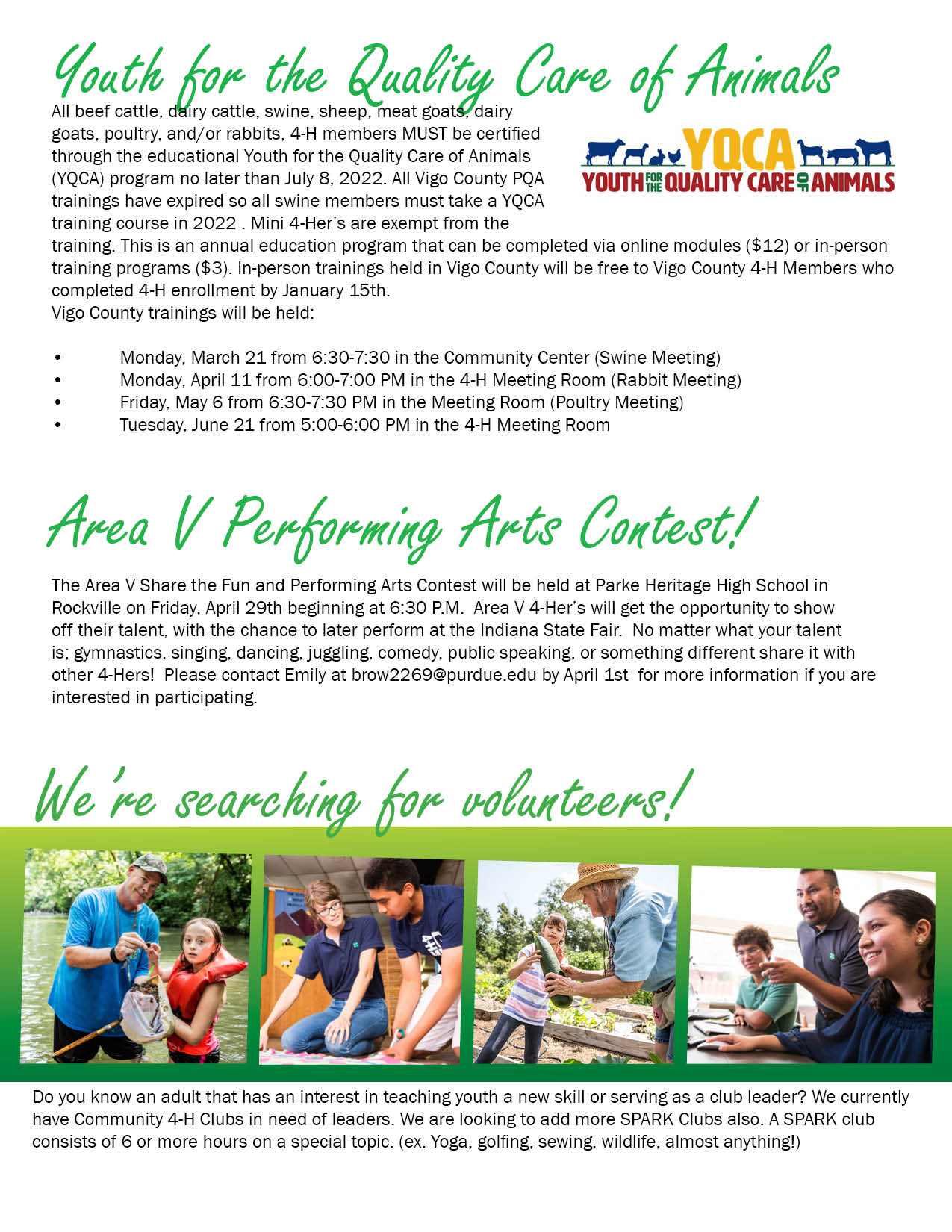 Welcome
It's starting to feel like spring weather and 4-H events are really picking up this month! We have a lot of activities we're are excited to host for our 4-H members. There's still time to recruit a friend as a new 4-H member to take advantage of the things like the Spring Break SPARK Clubs and summer trips! This newsletter is packed with important details on how to get involved so check it out and contact the Extension Office with any questions!

-Sara Haag & Emily Brown
I Enrolled in 4-H,Now What?
Got questions about 4-H? Enrolled but not sure what to do next? Check out our Beginner's Guide to Vigo County 4-H is available at: https://extension.purdue.edu/Vigo/article/35955

Frequently asked questions can be found there with all of your answers! Still have a question? Call us at 812-462-3371 We're Open Monday-Friday from 8 am to 4 pm.

4-H Club Meetings
Most clubs have scheduled their club meetings for the year. Make sure to enroll in any clubs you're interested in to get meeting updates. We'll also be utilizing a public Google Calendar for club meetings, events, and deadlines! https://bit.ly/Vigo4H22

join the Jr. Leaders!
Grades 7-12. Meet the 2nd Tuesday of the month at 6:30pm
*Next meeting March 8th. Email Sara to get all meeting updates.
Get Your Fair Books!
This year ALL Exhibit Hall project pages have been updated to meet the new state criteria. These pages also have more details on how you will enter your classes in Fair Entry by the July 1st deadline. The PDF of the Fair Book is available to download at all times from a website at: https://extension.purdue.edu/news/county/vigo/2022/03/2022-vigo-county-4-h-fair-book.html. If you would like a hard copy of the Fair Book please pre-order one by March 15 at https://purdue.ca1.qualtrics.com/jfe/form/SV_4VddqK9yWkXswEC using this quick online form to ensure you'll receive a copy. Fair Books will be $10 each.
Spring Break SPARK Clubs
Vigo County 4-H is offering some fun day camps to be held during Vigo County School's Spring Break. All events take place 8:30am-3pm at the Vigo County Fairgrounds, unless otherwise noted. The cost is $10/day for one session and an additional $5/day sessions for 4-H members, new membership is $15 for the year. The fee is due at drop-off . Lunch, snacks, and hands-on activities are included! Fill out this online registration to sign up by March 23rd. https://purdue.ca1.qualtrics.com/jfe/form/SV_9YJiTPoxJR6i4BM

• Monday, March 28, My Health & Me (grades 3-8)
Create new healthy recipes, get moving, learn new stress management strategies and more to keep you feeling good!

•Tuesday, March 29, Follow the Leader (grades 3-8)
Grow as a leader by improving your ability to work in a team, learn about your leadership style, and how to serve the community.

•Wednesday, March 30, Out of this World (grades 6-12)
We're learning about airplanes and rocket ships! This event will take place at Indiana State's Aviation Program. Learn about the Aviation program from students and staff. Get ready for space travel with the Galactic Quest National 4-H STEM Kit.

•Thursday, March 31, Animal Science Careers (grades 6-12)
Like animals? Explore a variety of careers in Vigo County and around the globe. There's more than veterinarians in the field of animal science!


4-H Camp
4-H Camp will take place from June 12-15, 2022 at Shakamak State Park. We will be camping with 4-H'ers from Sullivan, Owen, and Clay Counties. Daily activities will include leading campers and/or leading activities including boating, recreation, crafts, swimming, outdoor cooking, nature activities, and lots of silly songs and chants! 4-H camp is for members in grades 3-6. Registration will open in April.

We are looking for leaders in 8th-12th grade who are interested in being counselors and want to have four days of fun at 4-H Camp! To apply for a 4-H Camp Counselor position, fill out the application and return it to the Purdue Extension– Vigo County Office by 4 p.m. on Wednesday, March 30th. The application is available on the website and attached to the 4-H Newsletter email from 4HOnline.
State Summer Trips
Indiana State 4-H Trips are back in 2022! If you would like to attend one of the listed trips, please return the Trip Interest Form by email to shaag@purdue.edu or to the Extension Office by April 25 at 4:00 PM. The Vigo County 4-H Council is able to provide sponsorship for these trips. Funding will be dependent on the amount of interest, but priority will be given to 4-H attending a trip for the first time.

More information and the Trip Interest Form is on the website and attached to the Newsletter email from 4HOnline.
Trip opportunities include:
- 4-H Academy @ Purdue – Grades 9-12 – June 8-10
- 4-H Round-Up – Grades 7-9 – June 20-22
- 4-H Band – Grades 9-12 - June 18-20
- 4-H Chorus - Grades 9-12 - June 18-21
- State 4-H Jr. Leader Conference – Grades 9-12 – June 14-17 – DePauw University
- Citizenship Washington Focus – Grades 9-12 – June 25-July 1 – Washington D.C.
– Applications due by March 15
- National 4-H Congress– Grades 9-11 –November 25-29 –Atlanta, Georgia
- State Fair Exhibit Hall Workers – MUST be at least 14 years old at time of work–
July 25-August 23– Indiana State Fairgrounds – Applications are due April 15.


Youth for the Quality Care of Animals
All beef cattle, dairy cattle, swine, sheep, meat goats, dairy goats, poultry, and/or rabbits, 4-H members MUST be certified through the educational Youth for the Quality Care of Animals (YQCA) program no later than July 8, 2022. All Vigo County PQA trainings have expired so all swine members must take a YQCA training course in 2022 . Mini 4-Her's are exempt from the training. This is an annual education program that can be completed via online modules ($12) or in-person training programs ($3). In-person trainings held in Vigo County will be free to Vigo County 4-H Members who completed 4-H enrollment by January 15th.
Vigo County trainings will be held:

• Monday, March 21 from 6:30-7:30 in the Community Center (Swine Meeting)
• Monday, April 11 from 6:00-7:00 PM in the 4-H Meeting Room (Rabbit Meeting)
• Friday, May 6 from 6:30-7:30 PM in the Meeting Room (Poultry Meeting)
• Tuesday, June 21 from 5:00-6:00 PM in the 4-H Meeting Room

Area V Performing Arts Contest!


The Area V Share the Fun and Performing Arts Contest will be held at Parke Heritage High School in Rockville on Friday, April 29th beginning at 6:30 P.M. Area V 4-Her's will get the opportunity to show off their talent, with the chance to later perform at the Indiana State Fair. No matter what your talent is; gymnastics, singing, dancing, juggling, comedy, public speaking, or something different share it with other 4-Hers! Please contact Emily at brow2269@purdue.edu by April 1st for more information if you are interested in participating.