Current Newsletters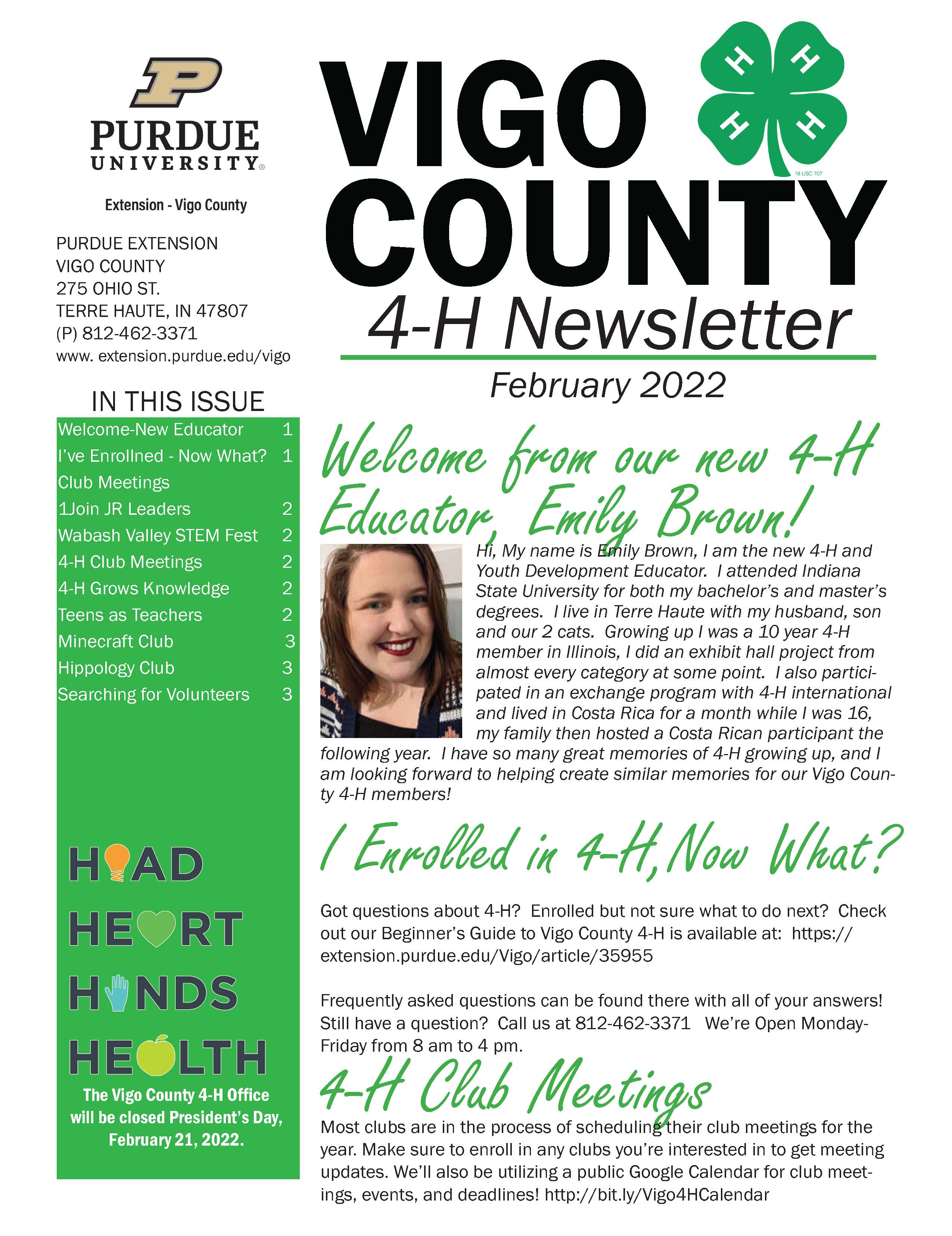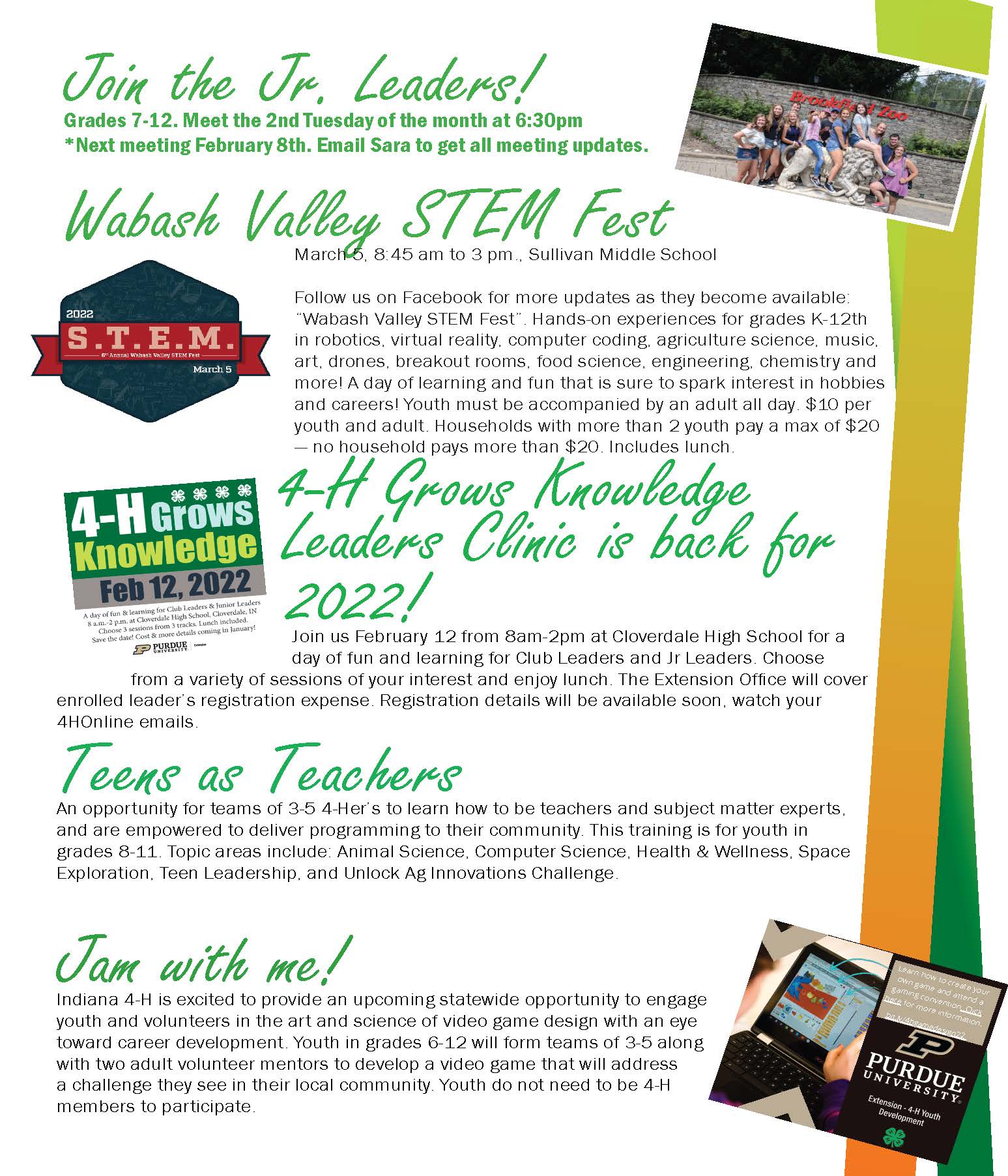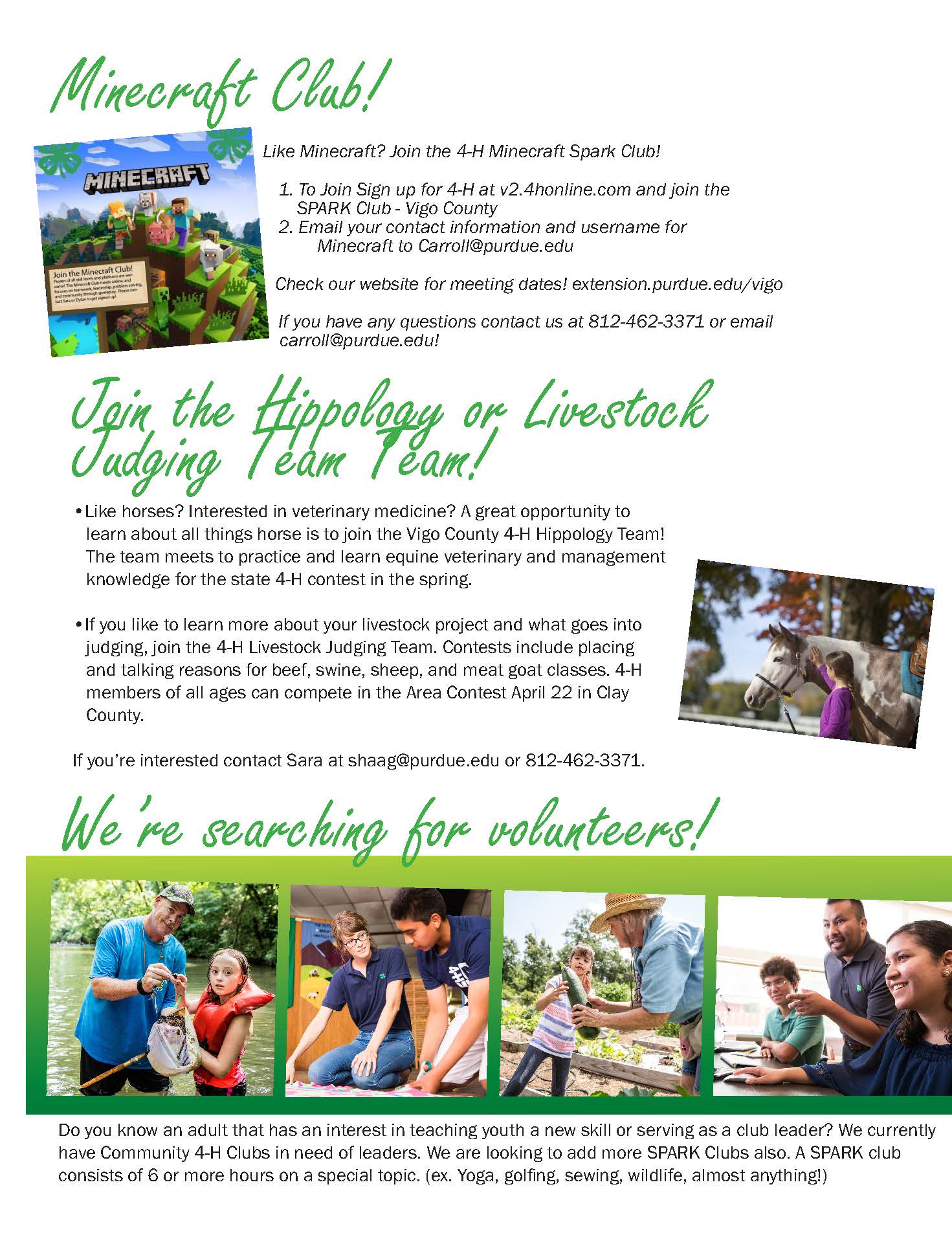 Welcome from our new 4-H Educator, Emily Brown!
Hi, My name is Emily Brown, I am the new 4-H and Youth Development Educator. I attended Indiana State University for both my bachelor's and master's degrees. I live in Terre Haute with my husband, son and our 2 cats. Growing up I was a 10 year 4-H member in Illinois, I did an exhibit hall project from almost every category at some point. I also participated in an exchange program with 4-H international and lived in Costa Rica for a month while I was 16, my family then hosted a Costa Rican participant the following year. I have so many great memories of 4-H growing up, and I am looking forward to helping create similar memories for our Vigo County 4-H members!

I Enrolled in 4-H,Now What?

Got questions about 4-H? Enrolled but not sure what to do next? Check out our Beginner's Guide to Vigo County 4-H is available at: https://extension.purdue.edu/Vigo/article/35955
Still have a question? Call us at 812-462-3371
We're Open Monday-Friday from 8 am to 4 pm.

4-H Club Meetings

Most clubs are in the process of scheduling their club meetings for the year. Make sure to enroll in any clubs you're interested in to get meeting updates. We'll also be utilizing a public Google Calendar for club meetings, events, and deadlines! http://bit.ly/Vigo4HCalendar

Join the Jr. Leaders!

Grades 7-12. Meet the 2nd Tuesday of the month at 6:30pm
*Next meeting February 8th. Email Sara to get all meeting updates.

Jam with me!

Indiana 4-H is excited to provide an upcoming statewide opportunity to engage youth and volunteers in the art and science of video game design with an eye toward career development. Youth in grades 6-12 will form teams of 3-5 along with two adult volunteer mentors to develop a video game that will address a challenge they see in their local community. Youth do not need to be 4-H members to participate.
bit.ly/4hgamedesign22 Learn how to create yourown game and attend agaming convention. Clickhere for more information.

4-H Grows Knowledge Leaders Clinic is back for 2022!

Join us February 12 from 8am-2pm at Cloverdale High School for a day of fun and learning for Club Leaders and Jr Leaders. Choose from a variety of sessions of your interest and enjoy lunch. The Extension Office will cover enrolled leader's registration expense. Registration details will be available soon, watch your 4HOnline emails.
Teens as Teachers

An opportunity for teams of 3-5 4-Her's to learn how to be teachers and subject matter experts, and are empowered to deliver programming to their community. This training is for youth in grades 8-11. Topic areas include: Animal Science, Computer Science, Health & Wellness, Space Exploration, Teen Leadership, and Unlock Ag Innovations Challenge.

Wabash Valley STEM Fest

March 5, 8:45 am to 3 pm., Sullivan Middle School
Follow us on Facebook for more updates as they become available: "Wabash Valley STEM Fest". Hands-on experiences for grades K-12th in robotics, virtual reality, computer coding, agriculture science, music, art, drones, breakout rooms, food science, engineering, chemistry and more! A day of learning and fun that is sure to spark interest in hobbies and careers! Youth must be accompanied by an adult all day. $10 per youth and adult. Households with more than 2 youth pay a max of $20 — no household pays more than $20. Includes lunch.
Join the Hippology or Livestock Judging Team Team!
•Like horses? Interested in veterinary medicine? A great opportunity to
learn about all things horse is to join the Vigo County 4-H Hippology Team!
The team meets to practice and learn equine veterinary and management
knowledge for the state 4-H contest in the spring.
•If you like to learn more about your livestock project and what goes into
judging, join the 4-H Livestock Judging Team. Contests include placing
and talking reasons for beef, swine, sheep, and meat goat classes. 4-H
members of all ages can compete in the Area Contest April 22 in Clay
County.
If you're interested contact Sara at shaag@purdue.edu or 812-462-3371.
Minecraft Club!
Like Minecraft? Join the 4-H Minecraft Spark Club!
1. To Join Sign up for 4-H at v2.4honline.com and join the SPARK Club - Vigo County
2. Email your contact information and username for Minecraft to Carroll@purdue.edu

Check our website for meeting dates! extension.purdue.edu/vigo
If you have any questions contact us at 812-462-3371 or email
carroll@purdue.edu!