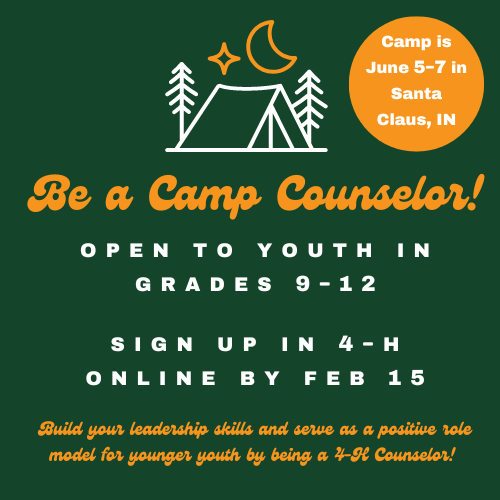 Youth in grades 9-12 are invited to apply to be a 4-H Camp Counselor! Gibson, Knox, Pike, Posey, Spencer, and Vanderburgh Counties will be camping together at the Historic Santa Claus Campground in Santa Claus, Indiana on June 5-7, 2023. Applications are done through 4-H Online and must be completed by April 15. You can find instructions here. 
Camp Counselors
Camp Counselors are expected to attend three Counselor Training sessions on April 18, May 3, and June 4. The April 18 and May 3 sessions will be held at Vincennes University - Ft. Branch campus from 4:30 - 6:30 pm CT/ 5:30 - 7:30 pm ET and the June 4 session will be during the afternoon at camp. 
Jr. Directors
New for 2023! We are recruiting Jr. Directors! Jr. Directors are 4-H Camp Counselors looking for additional leadership opportunities. In addition to Camp Counselor responsibilities, they will help plan camp and serve as the leaders during 4-H Camp.
You can find more details on the responsibilties of Camp Counselors and Jr. Directors here.