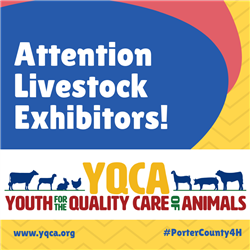 Due to protocols related to COVID-19, there will be no in-person YQCA sessions. Please review the following options for completing the requirement for 2020.
If you plan to exhibit only at the county level:
You can complete the official YQCA program at your own expense (see the section titled "If you plan to exhibit at the Indiana State Fair" for info on the official YQCA program).
-OR-
For 2020 only, as an alternative to the official YQCA program, 4-Hers who plan to exhibit only at the county fair and have not yet received their YQCA certification for the year can complete the no-cost Indiana 4-H Online Ethics Modules (four sections of content) and complete a survey to confirm their participation. The four modules that must be completed can be found under the heading "Online Animal Ethics Modules" at https://extension.purdue.edu/4-H/. Once you complete the four modules, complete the survey at the following link so we know you completed the program: https://bit.ly/2020EthicsSurvey. 
If you plan to exhibit at the Indiana State Fair:
If you will be exhibiting livestock at the State Fair, you must be certified in the official YQCA program, at your own expense, at http://yqca.learngrow.io. Log in with your 4HOnline profile and complete the training online.  
Online Option 1: An annual certification via online modules is available at http://yqca.learngrow.io at a cost to you of $12 for the one-year certification.
Online Option 2: An online test-out option is now available at a cost to you of $36 or $48. However, individuals wishing to test out must meet the following criteria: 
This is only available to youth in the first year of intermediate (age 12), senior (age 15) and young adult (age 19).  There is no test-out option for juniors.  At the bottom of the "Course List" page are the test-out options for these age levels. 
The test consists of 50 questions and requires a pass rate of 80% or better for certification. 
If passed, the certification will last through the end of a user's age level (intermediate – ages 12, 13 and 14; senior – ages 15, 16, 17 and 18; and young adult – ages 19, 20 and 21.) 
The intermediate and young adult test-out course will cost $36 ($12 x 3 years of certification) and the senior test-out course will cost $48 ($12 x 4 years of certification.)  If passed, users will receive access to online modules that correspond with the age levels indicated above, found on the user's "My Library" page. 
Users will have one chance to take the test-out option.  If they fail, they will not be provided another opportunity for that level of certification.  If the youth passes, payment for the completed test out course will be required after the completion of the test.  No payment is required to attempt the test.
Participants attempting and not passing will be prompted to take the instructor-led training or web-based training annually. 
Who has to be certified in YQCA?
To exhibit beef cattle, dairy cattle, swine, sheep, meat goats, dairy goats, poultry, and/or rabbits, 4-H members must be certified through the national educational Youth for the Quality Care of Animals (YQCA) program.
YQCA Objectives
YQCA is an important educational opportunity for 4-H livestock members. Making this an exhibition rule is how Indiana 4-H is ensuring that 4-H members learn about quality assurance (though actually, the program has nothing to do with animal exhibition). Indiana 4-H is requiring this program so youth learn best management practices with their animals. The YQCA program will: 
Ensure that youth livestock exhibitors are better prepared to be ambassadors for animal agriculture.
Ensure that animals from youth livestock programs are treated with the utmost care.
Ensure that 4-H members are contributing to a safe, wholesome food supply for consumers.
Enhance the future of the livestock industry so that today's youth producers can become more informed producers, consumers, and/or employees of the agriculture and food industry.
More information about YQCA is available at http://yqca.org.