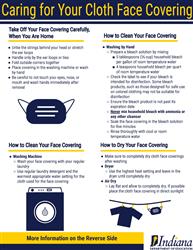 Back-to-School Face Covering Guidance for Families
As we make our way into August, many families are preparing to send their children back into classrooms. Every school district is sure to have different requirements and mandates related to COVID-19, but a common thread is the use of face coverings by students and staff in various situations. This raises many questions for families.
The Indiana Department of Education (IDOE) has provided guidance around face coverings. There are steps you can take now to ensure that this requirement will be an easier transition for your child. Their recommendations include:
Get familiar.

 

Wash your hands, and ensure the face covering fits over the nose and mouth while fitting snugly but also allowing your child to breathe easily.
Start now.

 

Have your child practice wearing a face covering now for short amounts of time.
Set rules.

 

Talk to your child about appropriate use for their own face covering and the face coverings of others such as not sharing them with others.
Reassure. Remind children that face coverings keep students, teachers, and other adults in the school healthy.
In addition to properly wearing face coverings, it is important that they be handled and cleaned correctly, and guidance has been issued by IDOE regarding proper care. See the attached image for information on mask removal, cleaning, and drying procedures. To see an enlarged version of their recommendations, click here: https://www.doe.in.gov/sites/default/files/news/face-coverings-family-guidance-updated.pdf