The Purdue Extension Martin County weekly column is provided to help all learn
about programs & opportunities. We highlight events from Purdue University & Extension
where we hope you will choose to be part of Extension…..  where there is Opportunity4All! 
 The Martin County 4-H Fall Achievement Awards were announced, celebrated and presented on November 5, 2023 in conjunction with the Annual Martin County 4-H Council Turkey Dinner
Congratulations to all 4-H Achievement Award recipients and gratefulness to all the sponsors!  Your support for the 4-H members is incredible. Pictured below are recipients with Miss Martin County 2023 Cheaney Archer.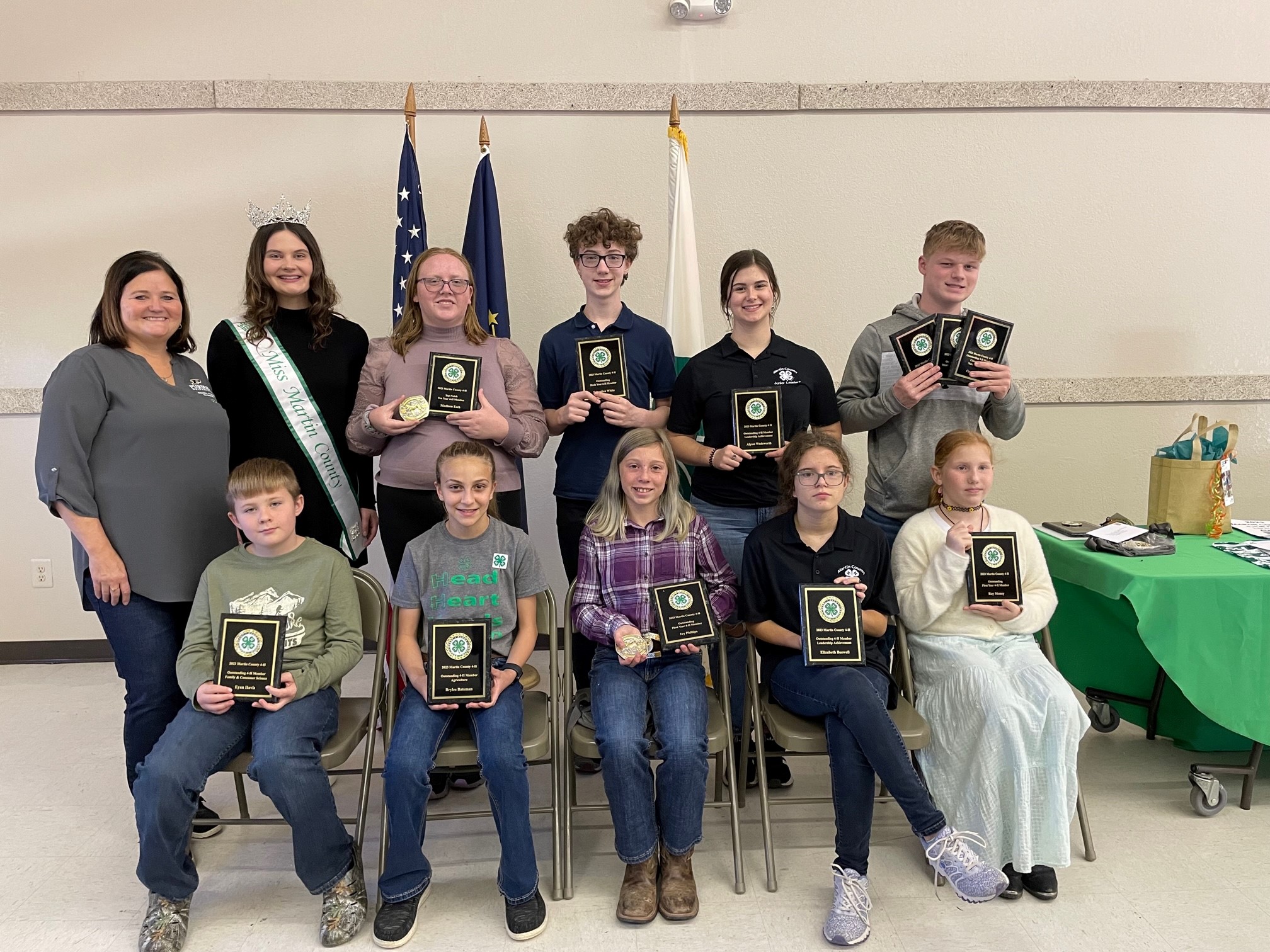 Elizabeth Boswell, Outstanding 4-H Member for Leadership, award sponsored by Loughmiller Machine. 
Alysse Wadsworth, Outstanding 4-H Member for Leadership, award sponsored by The Shoals News.
Brylee Bateman, Outstanding 4-H Member for Agriculture, award sponsored by Martin County Farm Bureau, Inc.
Ray Money, Outstanding First Year 4-H Member, award sponsored by Bateman Boer Goats.
Josie Mathies, Outstanding 4-H Member for Expressive Arts, award sponsored by Loughmiller Machine.
Eyan Hovis, Outstanding 4-H Member for Consumer Science, award sponsored by Martin County Farm Bureau, Inc.
Carter Walton, Outstanding 4-H Member for Conservation of Natural Resources, award sponsored by Hartsaw Family Farm; Outstanding Overall Member 4-H Achievement, award sponsored by Corner Café; & Outstanding Sixth Year 4-H Member, award sponsored by Terry, Renee, & Wyatt Street.
Madison Esch, Top Notch 10 year 4-H Member, award sponsored by Richard & Kathy Lingenfelter; & Outstanding 4-H Member Sr. High Point Horse and Pony, award sponsored by Richer Farms.
Russell Mauder, Outstanding Overall Member 4-H Achievement, award sponsored by Corner Café.
Ivy Phillips, Outstanding First Year 4-H Member, award sponsored by Scott & Rhonda Sanders; & Outstanding 4-H Member Jr. High Point Horse & Pony, award sponsored by Horsting Custom Window Treatments.
Phoebe Jones, Outstanding 4-H Member Horse and Pony Mental Attitude, award sponsored by Prairie Creek English Pointers.
Sabastian White, Outstanding Sixth Year 4-H Member, award sponsored by Toys Auto Parts.
Also recognized was Martin County Farm Bureau, Inc, Paul George, President, Outstanding 4-H Buyer, award sponsored by Martin County 4-H Council and Mimi Hawkins, Tenure 4-H member.
Martin County Extension Board: Accepting New Member Nominations & Annual Meeting
The Martin County Extension Board is the advisory and advocacy body of the overall Purdue University Cooperative Extension Service in Martin County. The Board provides an organized way for the county to be represented by local people in its relationship with Extension.  It is an unincorporated association serving in advisory capacities.
New member nominations, including high school youth representation, are being sought for consideration at the Annual Meeting. Please contact Dena with recommendations or if you would like to serve and become more involved with Extension! 
The Annual Meeting will be Thursday, November 16 at 6:30 pm, Martin County 4-H Fairgrounds, Community Building, 2666 US Hwy 50, Loogootee, IN.  In conjunction with the Annual Meeting, a special program regarding Artificial Intelligence will be presented. All those interested in more information may contact the Martin County Extension Office.  RSVP by November 9th is appreciated but not required: a meal will be provided. All are invited. Youth who are interested in Artificial Intelligence as a college and career pathway are particularly encouraged to attend!
BROADBAND internet SEMINAR AT LOOGOOTEE PUBLIC LIBRARY
The Purdue Broadband Team & The Loogootee Public Library has teamed up to offer a seminar to Tackle the Digital Divide. Come learn about broadband, how to complete internet connection speed tests, and why it REALLY matters NOW! 
join us on Monday, November 27th at 6 pm.
Adults & youth third grade & up encouraged to attend.  #helping the state of Indiana close the #digitaldivide
Indiana is receiving close to $870 million for broadband. How much Martin County gets is up to us and our neighbors!
A huge investment is underway to make sure rural and underserved communities have equal access to broadband. Where the money goes will be based on data collected.
We need as many people as possible to submit information about their internet in order for Martin County to get the most funds possible.
You may have completed similar speed tests over the past year or two – but this is the one that will determine where the most need is and where the money will go.
Here's what to do to make sure your location is counted:
If you do not have internet, email you address to Indianabroadband@iot.IN.gov (Updated as of 11-1-23) In Martin County, you may call 812-295-2412 and provide your address and we will email the information in for you. 
If you do have internet of any kind (excluding cell data):

Visit https://connectingindiana.com/ to submit a speed test

Make sure you are connected to your home (or business) internet and not to cellular data.
It is important to do this multiple times at different times of the day

Visit https://broadbandmap.fcc.gov, enter your address and look to see which internet providers are listed as available for your address

Make sure the "fixed broadband" tab is selected
If your address comes up at the wrong spot, click on the dot that is closest to the address pin and verify that it is the correct address. If it is not, click location challenge on the right
If your provider availability list is incorrect, click availability challenge on the right
A couple of important notes:
If your tested internet speed is less than 100Mbps download and 20Mbps upload (aka 100/20) you are considered underserved
If your only internet option is satellite – you are considered
If you have dedicated wireless (not cell phone data) that is considered served.
This is not for cellular data. However, you can follow step 2 above and select the "mobile broadband" tab to see which services are listed as available for your address.
For step by step instructions with screen shots visit: https://pcrd.purdue.edu/3-steps-to-bring-better-broadband-to-indiana
IF YOU DO NOT HAVE ACCESS TO INTERNET OR YOUR SPEED IS LESS THAN 100/20, you should also visit https://www.in.gov/ocra/broadband/icp/ and click at the top where it says "click here to register" This will allow you to call special attention to your address. If you don't know all the questions, that is ok. What is most important is your name, phone number, physical address, email address if you have one, and county. The rest can be left blank if you don't know the answer.
Financial assistance is available to those within certain income levels. Visit https://www.fcc.gov/acp to learn more and apply for assistance.
Purdue Extension staff are here and happy to help, if you need assistance, please call 812-295-2412 or text 812-653-2089.
calling all 4-H members:  become an Indiana Broadband Influencer
Do you want to help bring broadband to every person in Indiana?
Indiana will be receiving $870 million dollars to bring broadband to areas where connectivity is low or non-existent. The FCC will use the map https://broadbandmap.fcc.gov/home to determine what areas will be prioritized. Our job is to make sure that the map is correct.  
Will you help correct that important map?  If you choose to report your help, you will receive a broadband influencer pin and enter your essay in the contest to win an iPad. 
Go to https://connectingindiana.com/ enter your address and answer the questions. It is a good idea to take a screenshot of your results, especially if you are unserved.
Then verify your address at https://broadbandmap.fcc.gov/home.  If it is incorrect, or if the information about your speed is incorrect, please submit a challenge. If you do need to issue a challenge, it helps to have multiple screenshots of speed tests over time to upload. 
Next, write one paragraph explaining why ensuring that everyone in your community has broadband internet will help your community and make it a better place to live. 
Once you have done these three things, go to 4-H Online and register for the Indiana Broadband Influencer event. You will find instructions attached. Then, just wait for your pin. They will be sent after the first of the year, so make sure you do this early.  
TEENS AS TEACHERS IN STEM: APPLICATONS OPEN NOW
Martin County Extension is accepting applications for youth 8-12 grade to serve on the Martin County Teens as Teachers STEM Team.  This team will present the Power Protectors curriculum to younger students.
How to apply: Express interest via email to heldd@purdue.edu or via text 812-653-2089 by answering these five simple questions:
Name
Grade
School attended
Why is STEM important?
Where might the Power Protectors activities be taught at?
Power Protectors is a National STEM curriculum developed by 4-H educators from Cornell University, University of Illinois, Utah State University and West Virginia University and a collection that teaches kids how to address real-world issues and explore careers in energy.  The Power Protectors STEM Challenge kit includes three activities designed for individuals or groups and are adaptable for after-school programs, 4-H clubs, classrooms, home use, and more. The activities are:
Superhero Hideout–  Kids will learn about renewable energy and design an electrifying Power Protector hideout!
Amped Up Engineering– Acting as engineers, kids will design and build a model of a renewable energy source to help Energy Island survive and thrive!
Energy Island Adventure– Playing this collaborative board game, kids work as a SUPER team using solar, wind and hydropower to save endangered Energy Island!
DEDIDICATED TEXT NUMBER FOR PURDUE EXTENSION MARTIN COUNTY
You now have an option to text with Extension staff.  Text 812-653-2089 to reach Purdue Extension Martin County.
All are invited to send a text with your name and in return a full detailed contact card will be texted back for you to save in your device contacts. The contact card will include helpful links will be easy for you to save in your contacts for future use. Then, going forward, you may text as a straight communication option for your Purdue Extension needs!
2024 4-H Scholarships 
4-H Accomplishment Scholarship –Available to 4-H members in grade 10-12 and the year immediately following high school graduation. Selection is based on the member's life skill development resulting from their 4-H participation. Awards range from $1,000.00-$2,000.00. Categories include Animal Science; Citizenship; Communications; Engineering and Technological Science; Healthy Living, Food, and Nutrition Science; Leadership Development; Plant and Environmental Science; Premier Achievement; Premier Citizenship; and Premier Leadership.
4-H Senior Year Scholarship – All Seniors are eligible to apply.  Available to 4-H members in their senior year of high school. Selection is based on the member's overall 4-H achievement. Awards range from $250.00-$1,000.00.
4-H Club Scholarship - Available to 4-H members entering Purdue University, as a freshman or transfer student, majoring in the College of Agriculture or select majors, listed on the application, in the College of Health and Human Sciences. Selection is based on the member's overall 4-H achievement and financial need as determined by Purdue's Division of Financial Aid.
2024 4-H scholarship applications must be uploaded & submitted through 4-HOnline by January 25, 2024.  If you would like review assistance, provide by January 12, 2024 via email to heldd@purdue.edu or schedule appointment. 
4-H Scholarship Questions?  Call or email Dena Held.
For scholarship forms please visit this website:
https://extension.purdue.edu/4-H/get-involved/scholarships.html 
SAVE THE DATES: 2024 4-H TRIPS
4-H Day at the Indiana Statehouse: February 13, 2024.  Open to grades 7-12.
4-H Camp Counselors:  TBA
Southern Indiana 4-H Camp: TBA
4-H Academy @ Purdue: June 12 – 14, 2024. Open to grades 9-12.
State 4-H Junior Leader Conference: June TBA, 2024. Open to grades 7-12.
4-H Band Workshop: June 22 - 24, 2024 Open to grades 9-12.
4-H Chorus Workshop: June 22 - 25, 2024.  Open to grades 9-12.
4-H Round Up: June 24 – 26, 2024. Open to grades 7-9.
SERVSAFE MANAGER AND FOOD HANDLER COURSES
ServSafe Manager Certification is an approved training in the state of Indiana to become a certified food protection manager.
ServSafe Food Handler is for anyone else who needs basic food safety and food handling training, including home-based vendors, food service workers, volunteers, or others who work with food who only need the basic training. This course is NOT intended for food service managers.
Here are upcoming classes scheduled in our area. For more information including registration links visit www.purdue.edu/servsafe/workshops or https://extension.purdue.edu/county/knox/ServSafe.html
ServSafe Manager Class June 7, 2024 in Washington, Contact Jennifer 812-254-8668

 

 

ServSafe Food Handler Class, March 12, 2024 in Vincennes, register at https://cvent.me/0xKynD

 

 

 

 

 
2024 martin county 4-h fair 
July 11-16, 2024
2024 INDIANA STATE FAIR
The 167th Great Indiana State Fair will be Friday, August 2nd to Sunday, August 18th, 2024; closed on Mondays.
JUNIOR AND SENIOR BOILER VET CAMP
Applications will be accepted for the 2024 Junior & Senior Boiler Vet Camp until February 1st, 2024. 
The Junior Camp will run from June 2-8 and Senior Camp will run from June 9-15.
The only camp of its kind in Indiana, Boiler Vet Camp gives want-to-be veterinarians or veterinary nurses the chance to live out their dreams. This camp is designed for students who are interested in becoming veterinary healthcare professionals and provides a preview into the real and vast fields of veterinary medicine. Students who attended a previous camp cannot repeat the same camp.
Through presentations, demonstrations, laboratories, visits and in-depth, hands-on activities, students will discover what modern veterinary medicine is all about. Students will gain personal experience of what it is like to attend vet school and what it takes to become a veterinarian or veterinary nurse through this seven day on-campus experience at one of the premier veterinary schools in the country. Students entering 8th and 9th grades are eligible to attend Junior Camp and students entering the 10th, 11th, or 12th grades are eligible to attend the Senior Camp. The minimum age required to attend Vet Camp is 12 years of age.
Many partnering organizations have joined with the College of Veterinary Medicine to provide financial assistance for both camps. Partial scholarships are available. Camp fees are all-inclusive for the hands-on in-residence camps.
Learn more and apply now at https://purdue.vet/boilervetcamp.
PURDUE EXTENSION:  FARM STRESS TEAM
You can't take care of your farm, your livestock or your family if you don't first take care of yourself.
The Purdue Farm Stress team is part of a 12-state collaborative effort that was awarded the Farm and Ranch Stress Assistance Network grant administered by the USDA National Institute of Food and Agriculture.  The goal is to create/expand stress management and mental health resources and services to agricultural producers/stakeholders in the North Central region.  Listen to the podcast!  Tools For Today's Farmer.   Featuring interviews with leaders in the agriculture industry.  Find it anywhere you listen to podcasts or simply google search "Tools for Today's Farmer Podcast." 
Resources for Farm Families:
Need help and don't know where to start:
Call:  211 OR www.211.org
988 Suicide & Crisis Lifeline
Call: 988 OR https://988lifeline.org/
Be Well Indiana
Call: 211 OR 1-866-211-9966 OR https//www.in.gov/bewellindiana/
Concern Line for Farmers (Hosted by Iowa)
Call:  1-800-477-1985
Farm Aide Hotline
Call:  1-800-327-6243
Strong Couples Project (Partnership with IL)
At:  go.illinois.edu/StrongCouples                                                         
Check the website for more resources and information:  Extension.purdue.edu/farmstress
INDIANA ORGANIC GRAIN FARMER MEETING
February 28, 2024
Beck Agricultural Center, West Lafayette,  IN
The Indiana Organic Grain Farmer meeting increases participant understanding of organic transition, certification and cropping systems through peer learning and networking.  This annual event includes education and workshops on transitioning to organic grain, breakout sessions, farmer panels, networking time and an industry trade show.
For more information contact:  Ashley Adair - Extension Organic Agriculture Specialist  Email:  holmes9@purdue.edu
2024 Indiana Small Farm Conference
WHEN:  Thursday, February 29, 2024 – March 1, 2024
WHERE:  Hendricks County Fairgrounds, Danville,  Indiana
The Indiana Small Farm Conference is a unique space to learn new techniques, see what works, and network with others.  Over 400 attendees, 40 + exhibitors and a vendor trade show along with several national speakers.
To learn more about the conference and the work that the Purdue team does to make your small farming program work.  Contact Information: Amy Thompson, afthompson@purdue.edu
If you are interested in being a show vendor, contact:  Phil Cox at cox119@purdue.edu
FREE SOIL SAMPLING TO HOOSIER FARMERS
Adapted from: https://www.in.gov/isda/divisions/soil-conservation/indiana-soil-sampling-program/
The Indiana State Department of Agriculture is seeking applicants for a new soil sampling program. The program called, Indiana's Mississippi River Basin Soil Sampling program, is free to applicants. This seeks to encourage famers to include soil sampling in their plans for nutrient management.
This program will provide soil sampling and analysis at no cost to the producer along with lab recommendations for nutrient applications based on yield goals and soil test results.
Producers will work with ISDA staff to coordinate soil sampling and to provide the best available information for the most accurate recommendations. Soil sampling will take place prior to fertilizer application.
Samples will be submitted to contracted labs for routine soil fertility testing.
This program includes row crop fields, pastures, and specialty crops located within Indiana's portion of the Mississippi River Basin.
Participating growers will be prioritized by:
Fields that have never been sampled before, or
Fields that haven't been sampled regularly (i.e., not sampled within the last 3-4 years), and
New program enrollments.
Further prioritization may be implemented based on interest in the program.
Producers can register via the online form, by reaching out to their Resource Specialist, by reaching out to the Program Manager at soilsampling@isda.in.gov or 317-605-0701.
REGISTRATION FORM CAN BE FOUND AT:  https://in.accessgov.com/isda/Forms/Edit/soil-conservation/5d381020-354a-43a8-89cd-0a9ce90081e7/2
KNOW YOUR NUMBERS – KNOW YOUR OPTIONS - WORKSHOP FOR WOMEN
This is a four-week course offered virtually November 28, December 5, 12, and 19 from 10:00 a.m. to 12:00 p.m. EST. This is a discussion-based workshop to connect women and subject-matter experts in the areas of financial records and interpreting results.  Participants should plan on attending each of the four workshop dates. The course requires participants to have an internet connection.  Women will find many opportunities for questions, sharing, and connecting with the presenters and other participants.  Upon completion of this program, participants will have a better understanding of how financial records can be used to make decisions.
Session highlights:
Week 1 - Balance sheet construction and interpretation
Week 2 – Cash flow and income statement fundamentals
Week 3 – Ratios, lease evaluations and negotiations
Week 4 - Know Your Numbers Know Your Options
Registration is $20 per participant and class size is limited to 20.
Register by November 22 at: https://cvent.me/WPkAML .
Class material is based upon work supported by USDA/NIFA under Award Number 2020-70028-32728 (Cooperating with University of Nebraska Extension). For more information, or if you need a reasonable accommodation to participate in this program, please contact Mathias Ingle atrmingle@purdue.edu  or 765-456-2313 by November 22, 2023.
REGIONAL AG FORUM
 Please join us for the 2023 Regional Ag Forum Wednesday, November 29th at the Toyota Events Center 709 N Embree Street Princeton, IN 47670.
Good information and great opportunity for networking with other producers in the region.  Panel of regionals farmers discussing relevant topics as well as up to date information on climate smart funding.  Adam Daughtery will speak on beginning cover crops, followed by a farmer panel.  At 11am, there will be climate smart funding speed talks.  Lunch is provided free of charge, but registration is required.  After lunch, Adam Daughtery will speak again on a more advanced topic.  The day will start at 7:30am CST with registration, doughnuts, coffee and networking and should wrap up around 2pm CST.  Registration  https://www.ccsin.org/event-details/regional-ag-form