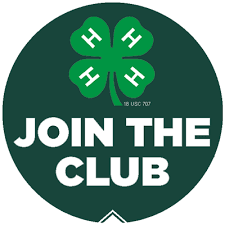 There are over 20 4-H Clubs in Hancock County.  Each club has at least one leader.  4-H clubs meet once or more each month, from January or February until the Fair.  4-Hers may belong to any 4-H Club in the county.   Families can choose which 4-H club they want to belong based upon the activities, requirements, meeting times, and location that best suits their needs. Many clubs have yearly dues, no more than $2 to $5 per member.  Dues vary by club. Each club elects officers from the club membership.  The officers conduct the business portion of the club meeting.
4-H clubs serve as a vehicle for 4-Hers to receive guidance on how to complete their 4-H projects and to receive pertinent information on 4-H.  4-H Club leaders provide a nurturing atmosphere for youth to learn and develop leadership skills.  4-Hers will not complete their 4-H projects at 4-H Club meetings.  Some clubs work on skills that will help them complete their project but they will not complete their 4-H exhibit at 4-H club meetings.  4-H projects are to be completed by the 4-H members at home with assistance as needed by parents, relatives or other caring adults. Parents are invited and encouraged to attend club meetings with their child.  Clubs are non-gender based.
4-Hers may change membership to another club if they wish.  It is important to notify the Extension Office (317-462-1113) and the leaders of both clubs (the one you are leaving and the one you are going to).
Contact information for each club can be
 

found here.

 
We are adding information to this page as clubs schedule their meetings- please check back for updated information regularly! 
Blue Ribbon Bunch- Dawn Wallace
Location of meetings: Club Leaders house, email drwfarms@myninestar.net for the address.
March 1st via Zoom
April 18th at Dawn's House, 2:00pm
Cool Clovers - Laura Phares, Sarah Kelley, Lucinda Blair, Molly Elsbury
Location of meetings: Currently meeting virtually via Zoom but in-person meetings will be at Mohawk United Methodist Church, 2045 N 400 W, Greenfield, IN 46140 when the church begins allowing rentals to meet.
February 21st
March 21st
April 18th
May 16th 
June 13th
All meetings are at 4:00pm. Zoom links have been emailed to enrolled 4-H members, contact Sarah Kelley at sarah_kelley@sbcglobal.net if you need the link! 
Lucky Clovers - Erika Matthews and April Arts-Grass
Location of meetings: Meetings will be held virtually via Zoom. Club members should receive the links through email from the leaders but contact Erika if you need the link! 
January 24th
February 21st
March 28th
April 18th
May 23rd

Meetings are held at 4:00pm
Sugar Creek 4-H - Laura Haeberle, Jim Buist, & Susan Buist
Location of meetings: Purdue Extension Hancock County, 802 Apple Street, Greenfield
February 21st
March 14th
April 18th
May 2nd
May 16th
All meetings begin at 2:00pm. Masks are required to attend. 
Kickin' Clovers is what we consider our "Independent 4-H Club". You can select to not be involved in a club- however, the 4-HOnline system requires you to enter a club. Please select Kickin' Clovers if you want to be a 4-H member but not participate in a club. 
Mini 4-H has it's own club! Some club leaders allow Mini members to attend their meetings if they have older siblings involved in the club. You can learn more about Mini 4-H by visiting this page on our website. 
**Please keep an eye out for emails from your club leaders about upcoming meetings. We do our best to keep this page updated but meetings are subject to change and are determined by each club leader!  
Related Files