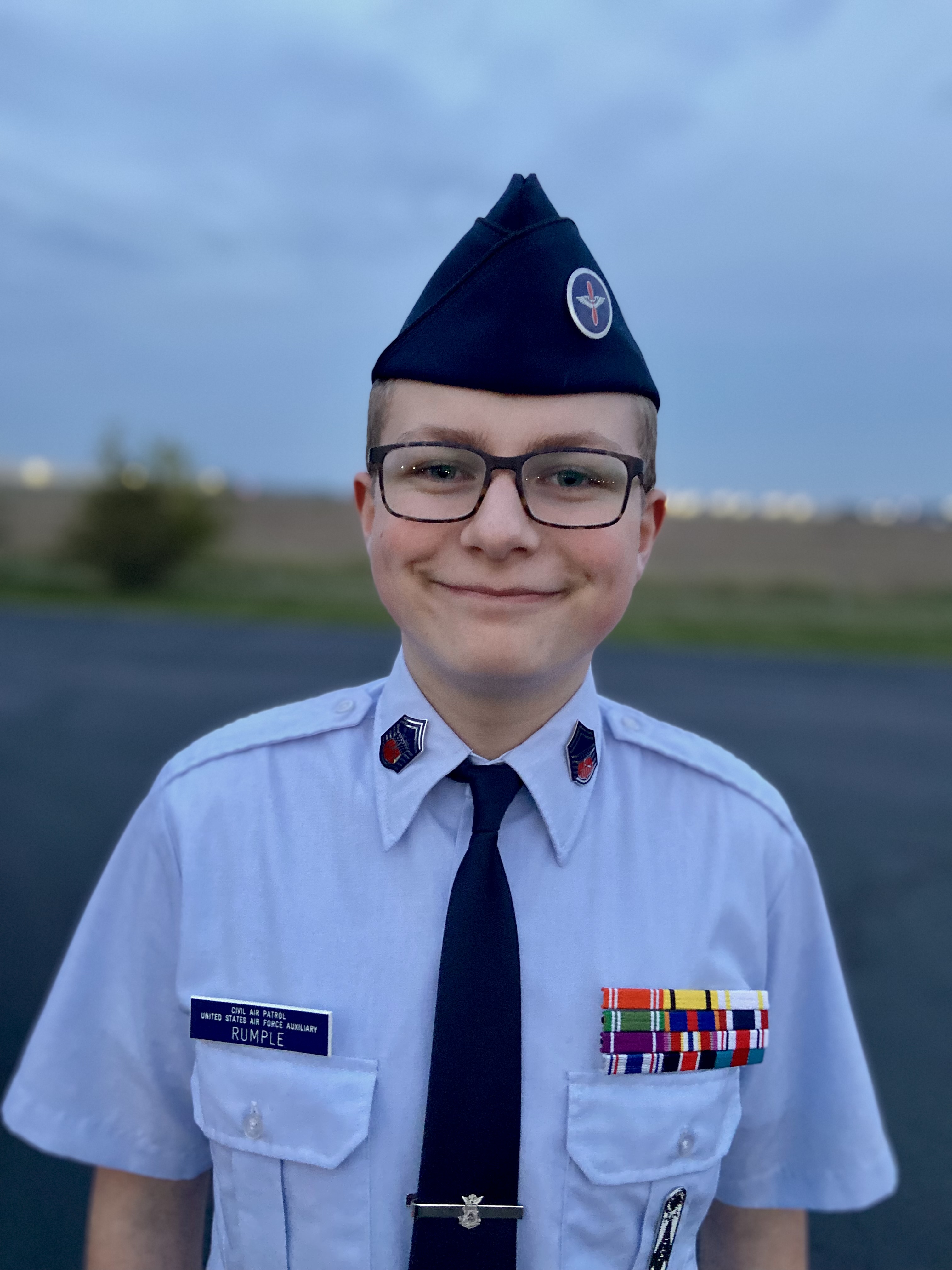 Wyatt Rumple is reaching for the skies.
A homeschooled student with Rumple Academy, Wyatt Rumple, 15, is putting his 4-H Aerospace expertise to the test as a member of the Civil Air Patrol. Rumple learned about CAP through a friend, and was very interested in the program due to the emphasis on STEM activities.
Civil Air Patrol is the auxiliary branch of the United States Air Force. It provides support in times of natural disasters and other emergency situations such as missing persons and search and rescue. Youth ages 12 and older who choose to participate in this cadet program have the opportunity to study and learn about STEM, emergency services and leadership.
When Rumple joined his squadron at age 12, he immediately saw that there was an aerospace program and he wanted to get involved. Rumple was surprised to learn that the Model Rocketry badge was not a well-known achievement and that there were no other youth currently pursuing that line of study. That didn't stop him. He became the only cadet in his squadron to tackle the Model Rocketry badge, continuing a learning experience that started out with a 4-H Aerospace project manual and a simple model rocket.
 Fast forward to today. There are now 14 cadets in Rumple's squadron who are working toward their Model Rocketry badge. Rumple is now an Aerospace noncommissioned officer, which is the second phase of leadership for his squadron. He helps teach Aerospace lessons once each month for the cadets in his squadron, answering questions and supporting other youth who are testing to achieve their Model Rocketry badge. Completing this achievement includes three phases of learning, testing and launching model rockets.
"I enjoy helping other cadets earn this award. With my 4-H Aerospace experience I was already well on my way to being qualified when I started. In 4-H you learn how to follow through and that is helpful. I know how to get things done," said Rumple.
 In addition to his role supporting cadets completing their Model Rocketry badge, Rumple is also a Cadet Senior Master Sergeant. He helps lead his squadron in carrying out the orders of the day, such as drill, which is moving in formation and making sure all cadets can perform the exercises properly. He says his 4-H club meetings definitely helped prepare him for this role.
"Leading a club meeting and giving a 4-H project demonstration definitely carries over. I feel comfortable when we have to give a pop speech with CAP because I've already done that with 4-H," said Rumple.