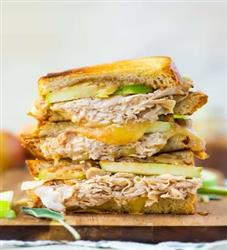 Happy Turkey Week!
Did you know, according to the USDA 2019 Indiana Agricultural Statistics report, Indiana ranks 4th in turkey production with over 20 million turkeys raised.    
Join us for another Virtual AG Experience highlighting turkey production. Watch this short video from the National Turkey Federation to virtually experience a Turkey Farm & Processing Plant Tour with Dr. Temple Grandin, Professor of Animal Science at Colorado State University.
Video Link—https://www.youtube.com/watch?v=852zxDEAR-Q
Healthy Turkey Recipe—
Turkey, Cheddar, and Green-Apple Sandwich
This nourishing turkey sandwich recipe is a genius use of Thanksgiving leftovers. Sliced roasted turkey is stacked between slices of cheddar, tart apple, and whole-grain bread. A twist on the grilled cheese sandwich. Use a sandwich maker, toaster for the bread or a pan on the stove. Enjoy!
Servings: 1
Ingredients:
2 teaspoons grainy mustard
2 slices whole-grain bread, toasted or use a pan or sandwich maker
2 teaspoons mayonnaise
4 slices cooked white-meat turkey
1 ounce thinly sliced extra-sharp cheddar cheese
4 thin slices green apple
2 pieces red-leaf lettuce
Directions:
Spread mustard on 1 slice of toasted bread and mayonnaise on the other slice. Layer the remaining ingredients on mustard, and top with second slice of toasted bread. Cut in half, and serve immediately.
If you prepare in a sandwich maker or on the stove in a pan, butter slice of bread and place face down to grill. Butter top of second slice. Flip once during grilling.
Thanksgiving STEM Activities for Youth—
https://thehomeschoolresourceroom.com/2018/10/24/20-thanksgiving-stem-activities/
Related Files