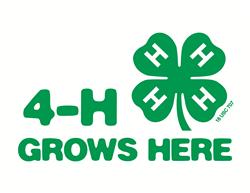 Need to enroll for 4-H? 
Enroll online until January 15th at
or by stopping into the Extension office. You may add or drop projects til May 15th (extended to June 15th).  
All livestock and Horse & Pony must be enrolled by April 1st for Steers and all other animals by May 15th (extended to June 15th).  
Need to connect with your club? 
4-H Club Leaders
Oxford- Dan Patch- Jason and Anna Grace, 270-608-5491
Fowler's Finest-  Anne Snodgrass, 765-543-4098
Earl Park- Helping Hands- Niccole McGinnis, 219-474-3696 and Mackenzie Sondgeroth
Boswell- Hometown Hubsters- Lisa Dowell, 765-869-4434 
Horse & Pony- Courtney Waling, 217-697-9271
Otterbein- Junior Farmers- Kristi Kretzmeier, 765-583-4889
Dunnington- Parish Grove- Lynn Lucy, 765-884-1853 and Carrie Buck 765-884-0956
Wadena- Lucky Pines- Ashley Bice 765-585-2751
Mini 4-H (Cloverbuds)- Maria Budreau 
Shooting Sports- Andrew and Amy Wilkinson, 765-413-7178
Where do I find project guidelines and requirements? 
Benton County 4-H Handbook- can be found here https://extension.purdue.edu/article/32338
If you are new to Benton County 4-H we also have a Family Guide found below in the files that is to help you get acquainted with our program.  
How do I find out about upcoming workshops, meetings, and events? 
Find the latest month's newsletter on the Benton County homepage of 4honline at https://in.4honline.com. 
College Savings Incentive Program- 
College Savings Incentive Program enroll for incentive here http://bit.ly/2lWXxHj
Related Files