William G. (Bill) Johnson, professor of weed science in the Department of Botany and Plant Pathology, impacts a wide audience through his work. Effective communication — with farmers, students, Extension educators, crop consultants, government officials, and crop production industry representatives — is at the heart of weed science, Johnson says: "The very nature of the discipline leads to broad interest because weeds are a problem on every acre, every year."
For his skills across research, extension and teaching to address these pervasive and costly weed issues, Johnson has received the 2023 Corinne Alexander Spirit of the Land-Grant Mission Award.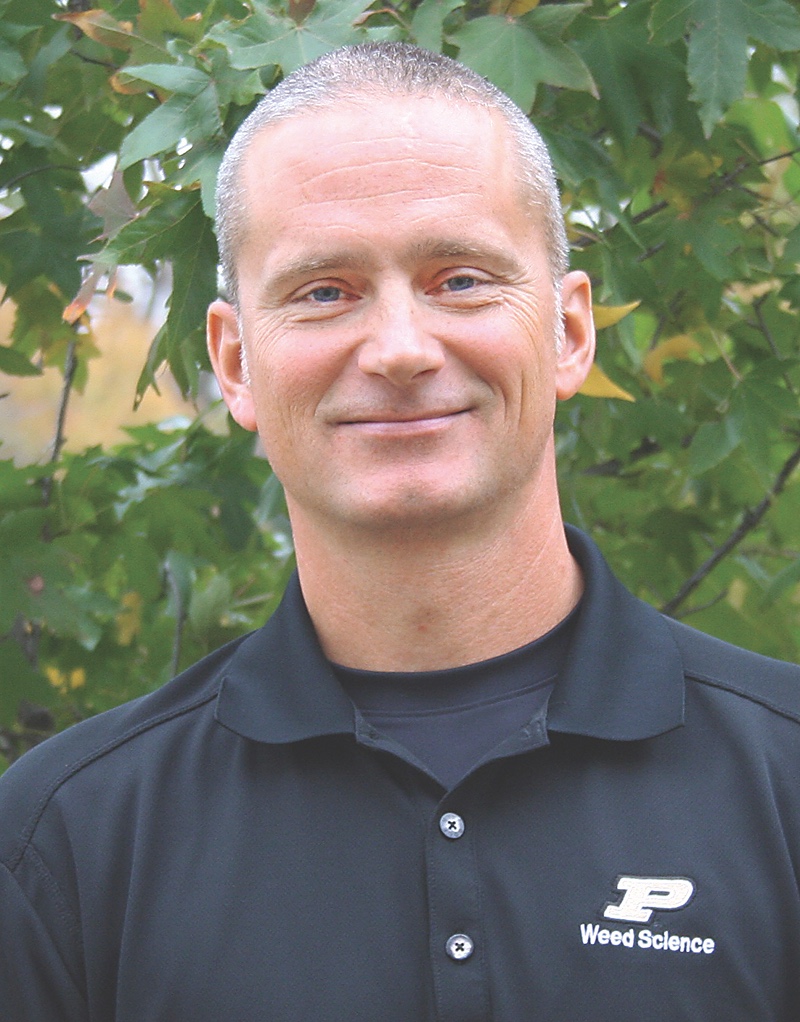 The annual award recognizes a faculty member in the colleges of Agriculture, Health and Human Sciences, and Veterinary Medicine whose work exemplifies the three pillars of the land-grant mission. Established in 2008, its name honors the late Corinne Alexander, professor of agricultural economics and Extension economist.
"Dr. Johnson leads an integrated research, Extension and teaching program that enables stakeholders to make weed management decisions based on current scientific data developed from his applied research," says Tesfaye Mengiste, department head of botany and plant pathology. "This approach has enabled farmers to successfully adopt effective weed control strategies, minimize input costs, and promote environmental sustainability and public safety."
In the U.S., weeds account for an estimated $10 billion loss in field crops each year. Johnson's research focuses on weed management in corn, soybeans, small grains, pastures and forages — agronomic crops served by a large industry.
"I've always looked at my role as the farmer being the end use of the information generated in my program, but I have to influence people all along that channel," Johnson says. "If I can have some impact on the industry that serves that farmer, the results of our research can be implemented on a broader scale."
Johnson counts himself as a farmer as well, having grown up on a grain and livestock farm in northwest Illinois. "I thought I was going to be a pig farmer when I graduated from high school in the early 1980s," he recalls. "But interest rates were high, and our farm didn't have enough room to bring in another operator."
Johnson instead went to Western Illinois University and after his freshman year, landed an internship on a contract research farm that tested herbicides, insecticides and fungicides. "I fell in love with the work," he says. After earning advanced degrees from the University of Arkansas at Fayetteville, he worked at the University of Missouri before joining the Purdue faculty in 2002.
Since then he has secured millions of dollars in grant support from federal agencies, commodity groups and the crop production industry that enables him to conduct ongoing and impactful research, outreach and training of future professionals.
Johnson emphasizes clear conveyance of scientific information, which he models in his own extension program and publications, field days, workshops and webinars. Through long-term working relationships with farmers, Extension educators and contacts in the crop protection industry, his program has become important to production agriculture in Indiana and throughout the Midwest.
"What drives me," Johnson says, "is my familiarity with and attraction to how our Midwest cropping systems can be productive, which ultimately helps to feed the world, and keeps our rural communities economically viable."
Johnson has observed that farmers expect industry to "turn on a spigot" to bring a new herbicide tool to the market for every weed problem. However, "they're also more willing to try things like cover crops, narrow row spacing, and some of these nonchemical tactics that they were reluctant to adopt to 15 years ago."
Johnson encourages growers to try these approaches to slow herbicide resistance. "If we want to preserve herbicides as a resource, we have to be smart about how we use them," he says. "By using other tactics with herbicides, we can extend the life of a herbicide."
He also cites changes in application technology, including robotics, to control drift and direct a herbicide more precisely to its target. "There's a lot of effort right now by the equipment industry to help how herbicides are applied," he says. "Some exciting, tech-related things may improve our ability to steward and manage herbicides and protect crop yields."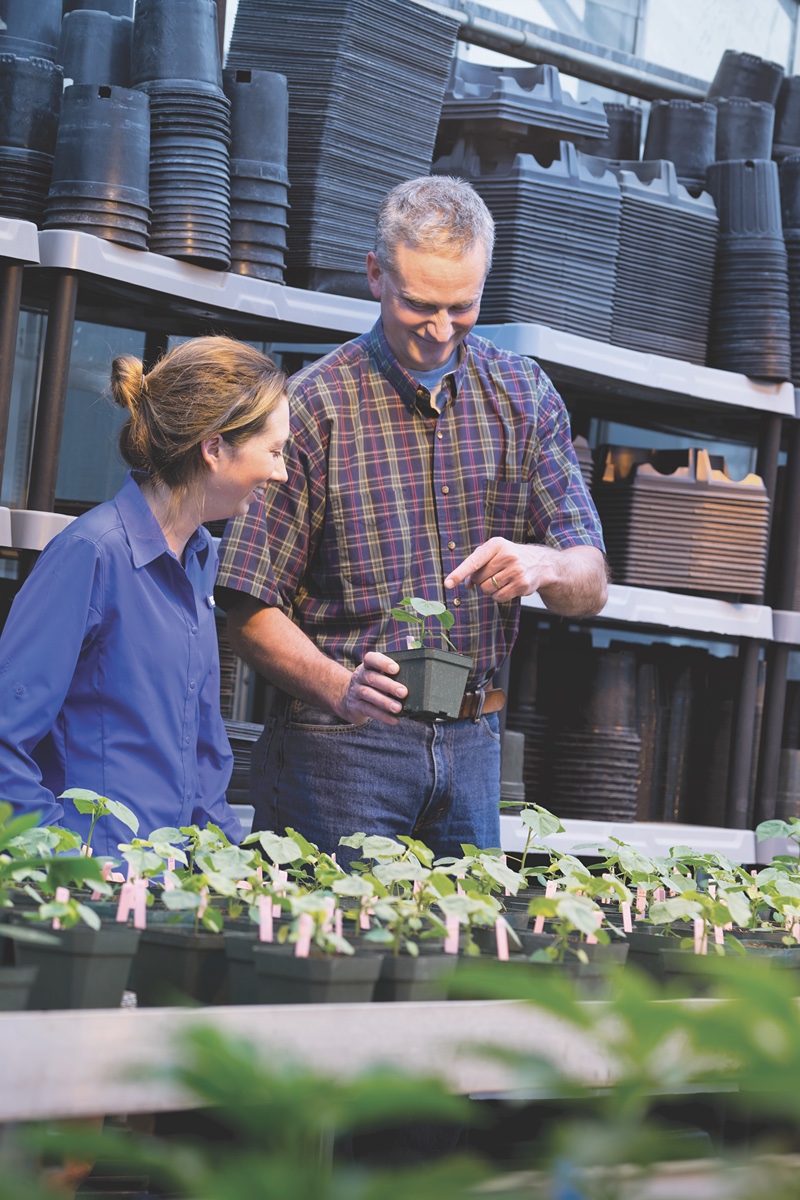 Although he doesn't have a teaching appointment, Johnson enjoys teaching courses and seminars to meet departmental needs. He is especially passionate about mentoring future weed scientists. "Graduate students have played such a huge role in my research program," he says of the individuals who come have come to work with him, from Indiana farms and from other countries. "The big thing I try to learn from them on the front end is, number one, can we communicate? And number two, what are you really interested in?"
While he tailors each graduate student's training to their interests and balance of research and communication skills — that means plenty of hands-on activities — Johnson keeps future employment at the forefront. "I tell them, 'Your competition is around you here at Purdue and also at other land grant universities, and you want to make sure that you stack up against that competition.'" To that end, Johnson encourages their participation at weed science meetings and in student organizations. "It's a good way for them to network and work on communication skills and start learning how to motivate others."
Collaborating with faculty colleagues has made his 20-plus years in Purdue's College of Agriculture especially fulfilling, Johnson says. "I've also had good administrative support, and funding agencies have been receptive to my ideas so I've had good financial support."
Johnson has received other awards, but this one is meaningful because it represents his proficiency in all three pillars of the land-grant mission and also recalls his interactions with 2022 recipient Eileen Kladivko and the award's namesake, Corinne Alexander.
Now it's Johnson's turn to be recognized for the results of his own integration of research, outreach and teaching: significant contributions to food and feed production and to the economic well-being of farmers.