On February 21, Purdue Extension hosted the Pulaski Crops Update at Bethel Bible Church. Participants received information on weed control, irrigation, and an Ag economic outlook. The Community Foundation of Pulaski County provided refreshments for the meeting. They also gave an update on the Foundation's activities to support agriculture in the county. They also provided information for people who might want to donate grain to the Foundation to support this work.
Bill Johnson, Purdue University Weed Specialist, discussed waterhemp control. He detailed the development of herbicide resistance in this weed through the years. There are some populations of waterhemp near Francesville that have developed resistance to dicamba. A big challenge in controlling this weed is that it will germinate through spring and early summer. This requires multiple herbicide applications to achieve control of this weed. He also detailed new research on when the best time to respray after an application failure.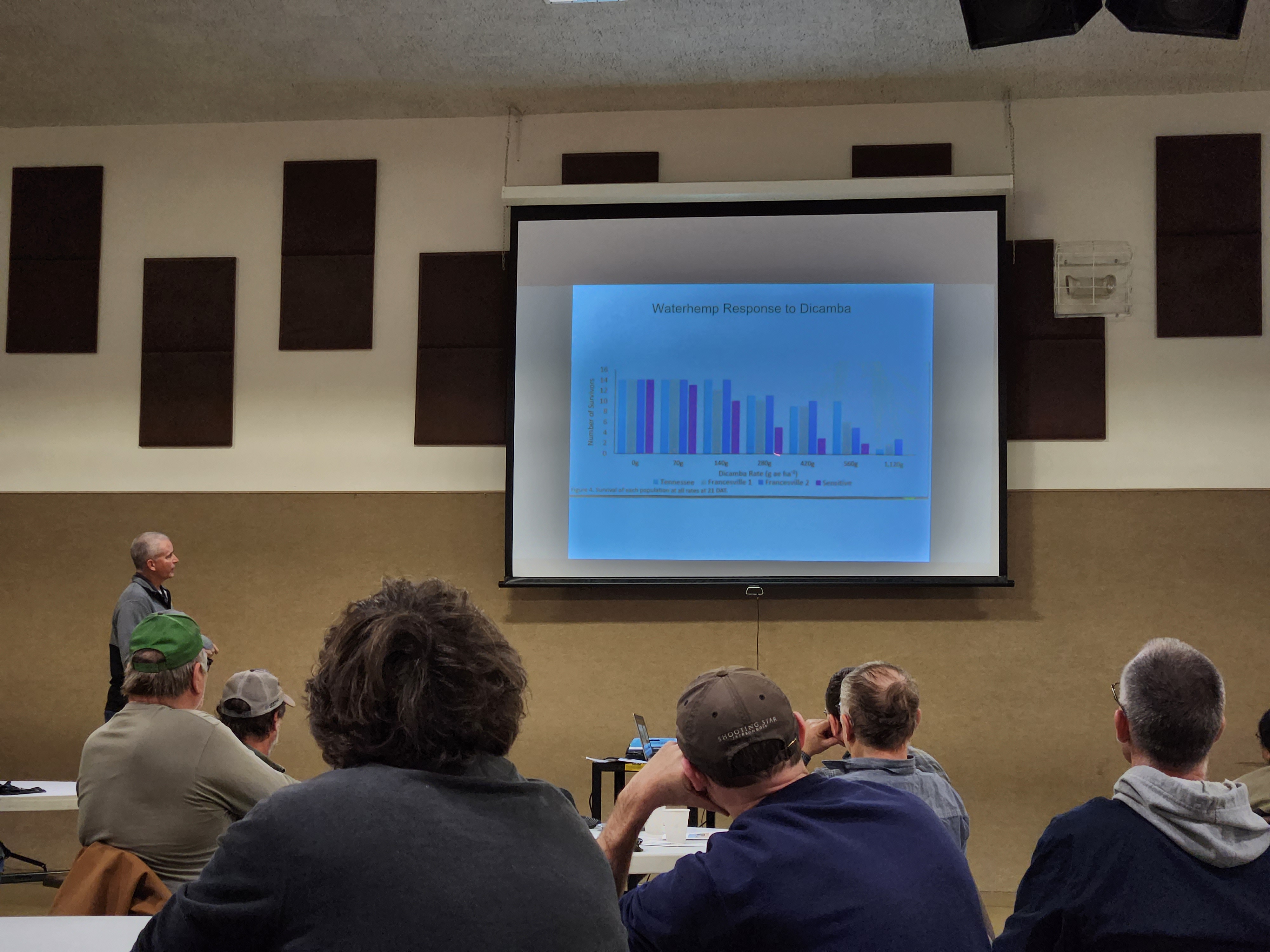 Lyndon Kelley, Irrigation Educator for Purdue and Michigan State University, gave an update on irrigation. In addition to supplying water to crops, irrigation can be used to apply fertilizers and chemicals to crops. By applying nitrogen with irrigation, you can reduce the risk of nitrogen loss by spreading out applications during the season. Chemical applications can also be done with irrigation equipment. Both of these applications will require the right equipment to do the do the applications correctly and safely.
Michael Langemeier, Purdue University Ag Economist, gave an outlook on the Ag economy. The high prices of 2022 were a product of lower corn acres and lower yields in the US. It is expected that corn prices will decrease in this year because of decreased demand from animal feed and corn exports. With good yields, corn prices should trend downward. Soybeans are projected to be better than corn. With lower stocks and higher exports, soybean prices should have less downside risk than corn. Fertilizer prices are coming down but are still expected to be high this year. With lower prices and high costs, breakeven prices have increased. Producers will need to look for opportune times to market grain above their breakeven price.
Producers were able to receive continuing education credits for their pesticide licenses. They received some new information on pesticide regulations. If you have any questions on the topics discussed at the meeting you can reach out to the Extension Office at 574-946-3412.