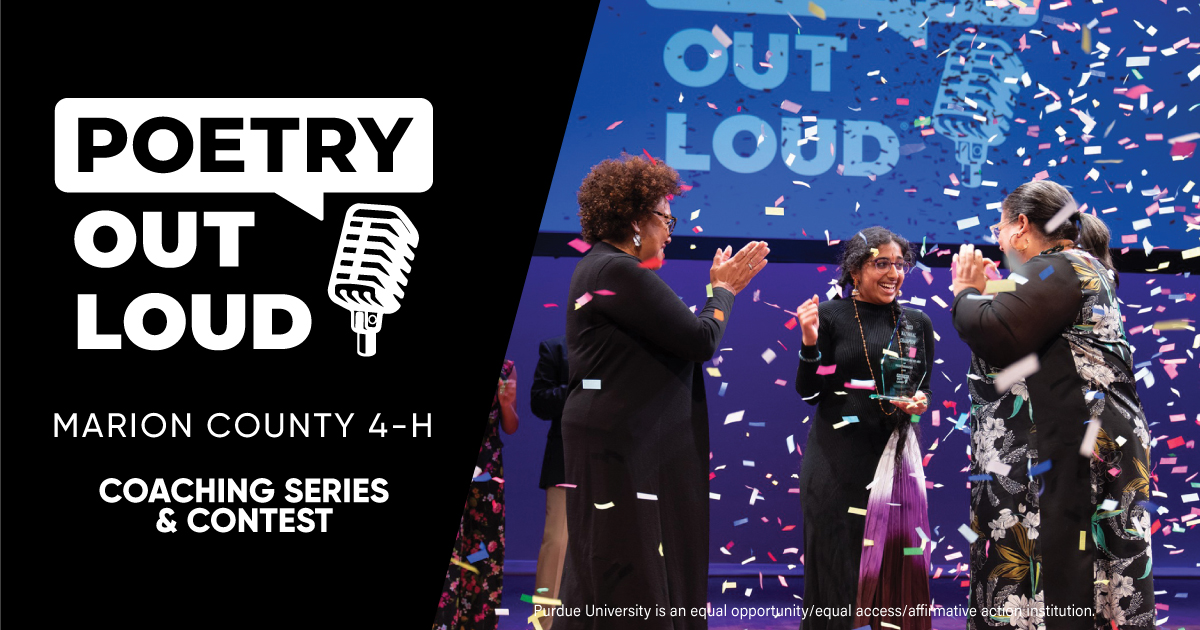 4-H Poetry Out Loud
A national arts education program that encourages the study of great poetry by offering free educational materials and a dynamic recitation competition for high school students across the country.

 
Local coaching series and contest led by Marion County 4-H.
---
coaching series
Join Marion County 4-H Educators and expert guests every Thursday evening, 6:30 - 7:30 p.m., from January 4 - February 1 for a Poetry Out Loud coaching series.
Over the course of this series, adult mentors will help students explore the official Poetry Out Loud anthology of poems and select 1-3 that they can memorize and recite. Students will want to find poems that they can relate to. The role of the coach in this program is to help students recite the poems in a way that conveys the poet's meaning. They are not 'acting' as a character or narrator of the poem. They are reciting the poem to convey the tone and meaning of the poem. Is it a poem about losing a loved one? Is it a sarcastic poem? Is it fierce and fiery? The way the student recites should convey these underlining feelings without being over the top.
---
 LOCAL COMPETITION
Practice public speaking skills and prepare for the State & National competition by competing in the Marion County 4-H Poetry Out Loud contest on Saturday, February 3. 
Compete in the local Poetry Out Loud competition to advance to state and (hopefully) nationals! Similar to the 4-H Verbal Communications contest, participants will recite their poems on stage for 3-4 expert judges. The finalists will advance to the state competition hosted by Indiana Humanities.
---
STATE COMPETITION
Compete against other state finalists on March 2nd for a chance to make it to the National Poetry Out Loud contest in Washington, D.C.
Each state champion will receive $200 and will advance to the national championship, where $50,000 in awards and school stipends will be distributed, including a $20,000 award for the Poetry Out Loud National Champion. The state champions representing a school or organization will receive a $500 stipend for the purchase of poetry materials. The first runner-up in each state will receive $100, with $200 for their school/organization. The Poetry Foundation provides and administers all aspects of the monetary prizes awarded and travel arrangements for the Poetry Out Loud National Finals.