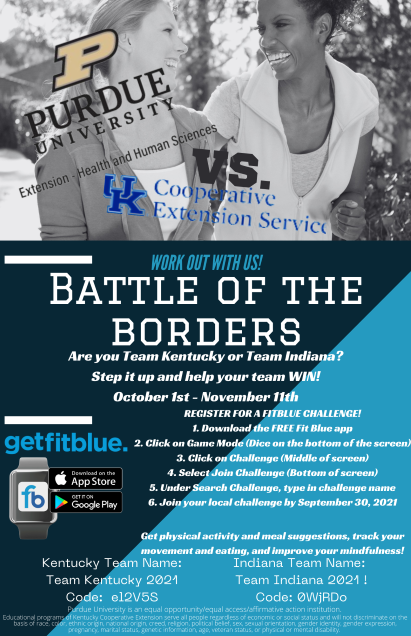 Battle Of The Borders
Are you Team Kentucky or Team Indiana?
Step it up and help your team WIN!
October 1st - November 11th
REGISTER FOR A FITBLUE CHALLENGE!
Download the FREE Fit Blue app (Apple Store  OR Google Play App Store )

Click on Game Mode (Dice on the bottom of the screen)

Click on Challenge (Middle of screen)

Select Join Challendge (Bottom of screen)

Under Search Challenge, type in challenge name

Join your local challenge by Septmeber 30, 2021
Get Physical activity and meal suggestions, track your movement and eating, and improve your mindfulness!
Kentucky Team Name:                                     Indiana Team Name:
Team Kentucky 2021                                        Team Indiana 2021!
Code: e12V5S                                                       Code: 0WjRDo