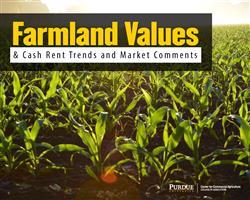 The COVID-19 pandemic will undoubtedly be the defining economic event of 2020 and beyond, and has brought uncertainty to markets around the world. How has it impacted farmland values around the state of Indiana? This and other economic issues in agriculture were addressed in Purdue's annual Farmland Value Survey, which is now available for viewing at Purdue's Center for Commercial Agriculture website at https://ag.purdue.edu/commercialag/
The period of data accumulation for the survey runs from June, 2019 to June, 2020 and COVID-19 impacts were certainly felt. Positive price movements occurred through December of 2019 when top, average, and poor quality farmland values increased by 5.5%, 5.0%, and 8.7%, respectively. However, between December 2019 and June 2020, top, average, and poor quality farmland values posted modest declines of 1.0%, 1.7%, and 2.2%, respectively.  
This brought the overall average land value to between approximately $6,707 and $9,308 per acre in West Central Indiana, depending on land quality. Cash rents increased from $212 to $293/acre, from poor to top farm ground in this region. For the purposes of the survey, farm ground is divided into the categories: top, average, and poor based on the average corn yield on that ground, with the standards being 217 bu/ac, 189 bu/ac, 163 bu/ac), respectively. Statewide, cash rents experienced an increase, with top quality farmland increasing by 4.0% to 5.4% to between $147/ac to $204/ac. Land values also increased statewide to the range of $5,746 to $ $8,579 per acre for corn ground that averaged between 152 bu/ac to 207 bu/ac.
The report also features results from a survey on Indiana pastureland, hay ground, and on-farm grain storage rent. The full report is available on the website above or if you would like a copy please call (219-984-5115) or stop by the Purdue Extension Office of White County located at the fairgrounds in Reynolds, or e-mail me at awestfal@purdue.edu.
The Purdue Ag Econ Report is a quarterly publication, which you can subscribe to by visiting the Center for Commercial Ag website. For more information on ag economics, I would recommend clicking around some more on the Center for Commercial Ag website. In addition to farmland values, you will also be able to access helpful information on ag policy, crop insurance, farm finance, business management, timely webinars and more.