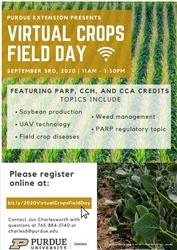 The annual Crops Field Day at ACRE (Agronomy Center for Research and Education) will be going virtual this year, providing farmers and agribusinesses an opportunity prior to harvest to hear from various Purdue specialists on timely agronomic updates as well as obtain PARP, CCH and CEU credit.
While we are disappointed we will not be able to gather at ACRE this year for the event, we are excited to try this format and still provide attendees with vital information as they look ahead to the fall. The format will look different from years past, but the content will still be very relevant with updates on the 2020 soybean season, field crop disease management, weed management, UAV technology and more.
The event is free and open to the public; those wanting to attend must register online at https://bit.ly/2020VirtualCropsFieldDay. Attendees wishing to acquire Private Applicator Recertification (PARP), Continuing Education Units (CEU), and Continuing to Certification Hours (CCH), will be charged a $15 fee with further information being sent upon registration.
Crops Field Day is scheduled to begin at 11:00 a.m. (EST) and conclude at 1:30 p.m. The day's program is as follows:
*11:00 a.m. – "Soybean High Yields are within Arm's Reach" with Shaun Casteel, Purdue Extension Soybean Specialist
*11:30 a.m. – "Field Crops Disease Update for Indiana" with Darcy Telenko, Purdue Extension Plant Pathology Specialist
*12:00 p.m. – "The Problem Weeds of 2020" with Bill Johnson, Purdue Extension Weed Specialist
*12:30 p.m. – "PARP Regulatory Topic" by Fred Whitford, Purdue Pesticide Programs
*1:00 p.m. – "2020 UAV Insights" – John Scott, Extension Coordinator for Digital Agriculture and Dennis Buckmaster, Dean's Fellow for Digital Agriculture
If you have any questions, including help with registration, please feel free to reach out to the Purdue Extension Office of White County at 219-984-5115 or e-mail me at awestfal@purdue.edu