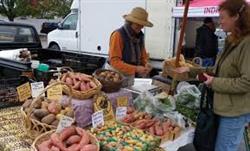 The COVID-19 pandemic has sparked an interest in gardening around the world. People are more interested in being able to take care of themselves, want more information on where their produce is coming from, and spending more time at home. It has also changed the way we communicate and get together with each other. In response to this, Purdue Extension will be offering its very popular "Master Gardener" series virtually on a state-wide level this coming fall. The series is expected to be held on Tuesday evening's beginning on August 25th and wrapping up December 1st. The proposed cost for access to the seminars is $175 per person, which will include a copy of the Purdue Master Gardener manual. More details on fee's and registration will be forthcoming.
The Purdue Master Gardener Program is a volunteer training program that provides a learning framework for participants to increase their knowledge on a wide variety of horticultural subjects. In turn, participants volunteer as representatives of Purdue University. As volunteers, participants grow by sharing knowledge while providing leadership and service in educational gardening activities within their communities. The Master Gardener program is intended for people of all gardening skill levels and experience. There are currently over 3,000 active Purdue Master Gardener Volunteers in Indiana offering their time by: providing educational programs, working with the elderly and youth, helping Habitat for Humanity, assisting with community gardens, donating to local food banks, participating in community beautification projects, and much more.
The classes will be taught each week by a variety of Purdue specialists and state experts with topics including: plant science, soil science, plant nutrition, and pest identification and control. Sessions will also be offered on: vegetable gardening, fruit production, landscaping, lawn care, and pesticide safety. Following the 2 hour-long state-wide learning session, each county will break off for a 1 hour meeting at a later time that week. This session will allow participants to get to know their local Master Gardeners and resources, discuss that week's topic in more depth, and be presented alternative gardening topics not covered in the core Master Gardener topics.
If you are interested in becoming a Purdue Master Gardener or have questions about the program, please contact the Purdue Extension Service of White County at 219-984-5115 or e-mail me at awestfal@purdue.edu to learn more. If you have already contacted me regarding the program, keep a look out for registration information soon.