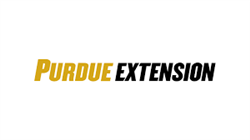 The Office of the Indiana State Chemist (OISC) is sponsoring a program that will allow Indiana businesses (farmers, agricultural dealers, cities and towns, nurseries, schools, etc) the opportunity to legally dispose of unwanted pesticides. The project is designed to collect suspended, canceled, banned, unusable, opened, unopened or just unwanted pesticides. These pesticides may include: weed killers, insecticides, rodenticides, fungicides, and miticides, among others. This disposal service is free of charge up to 250 pounds per participant. For amounts of over 250 pounds there will be a charge of $2.00 per pound, making this a great way for you to legally dispose of unwanted products at little to no cost.
Pesticide disposal locations will be set up at 6 different locations on different dates around the state, including the White County 4-H Fairgrounds on August 19th from 9:00am to 3:00pm. To participate, you must complete the "Pesticide Clean Sweep Planning Form" and return it to the Office of the Indiana State Chemist by August 10th . To obtain a form, visit the website: http://www.oisc.purdue.edu/pesticide/clean_sweep.html. Questions about the program can be directed to Garret Creason of the OISC at gcreaso@purdue.edu. Please note that pesticide materials should not be mixed and should be transported in a leak free, safe container. In case of an emergency, one should also bring a list of products they are containing along with a contact phone number. The OISC reserves the right to cancel the project if there is not adequate demand, but participants who have submitted a planning form by the deadline will be contacted immediately.
Due to COVID-19, when arriving to drop off the materials, participants are asked to stay in their vehicles and a OISC team member will check them in. Vehicles will be unloaded one vehicle at a time to maintain physical distancing. If vehicles must be exited face masks are encouraged.
On a related note, the Northwest Indiana Solid Waste District will collecting household hazardous waste free of charge at the White County Recycling Center (484 E US 24, Reynolds) on August 15th from 8:00 am to 12:00 pm. Examples of waste items include: oil, oil filters, mercury, antifreeze, poisons, chemicals, oil based paints, cleaners, herbicides, waste fuels, medications, CFL's, fluorescent tubes, and pesticides. Electronics will also be accepted. The Northwest Indiana Solid Waste District event is for household items only, business waste including from farms, will not be accepted, and should be disposed of at the OISC event on the 19th.