What is a 4-H Club?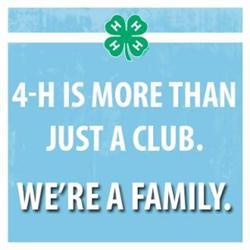 A 4-H Club is an organized group of at least 5 youth from three different families who meets regularly with adult volunteers or staff for a long-term, progressive series of educational experiences.
Club Purpose:
The purpose of a 4-H club is to provide positive youth development opportunities to meet the needs of young people to experience belonging, mastery, independence, and generosity- the Essential Elements- and to foster educational opportunities tied to the Land Grant University knowledge base. Research has shown that there are eight critical elements of positive youth development settings that need to be in place to ensure positive outcomes for youth. These include:
A positive relationship with a caring adult
Safety- physical and emotional
An inclusive environment
Opportunities for mastery and skill building
Opportunities for engagement in learning
Opportunities for self-determination
A sense of hope and belief in the future
Opportunities to value and practice service to others
Structure of a 4-H Club
Enrolls at least 5 youth members from at least 3 families.
Conducts a minimum of 6 regular club meetings per year.
Selects youth officers or youth leaders to provide leadership to the club.
Meets in any location-a home, community center, military installation, library, public housing site, school, after school program, and/or many other places.
Is advised by adult staff or volunteers who been screened, certified and trained.
Educational and Youth Development Principles of a 4-H Club:
Uses experiential learning- learning by doing- as a primary teaching approach.
Must provide the Eight Critical Elements of positive 4-H youth Development
Includes planned opportunities to learn and apply life skills such as leadership, citizenship, community service and public speaking.
Provides individual project experiences to develop in-depth knowledge about science, engineering and technology; citizenship; and healthy living and other topics.
Provides programs, curricula, and procedures that are based in research and are developmentally appropriate.
Provides members and volunteers access to resources of land-grant universities and to county, state and national 4-H opportunities.
Fosters youth-adult partnerships that encourage active involvement and participation by youth and adults.
Offers projects in a wide range of subject matter areas relevant to the Land Grant University knowledge base to meet youth needs and interests.
4-H Club Officer Training Materials
This page includes resources that can be provided to the 4-H members who have been selected to serve in a 4-H Club Officer role for the 4-H Club year.
General Workshop Materials
President/Vice President
Secretary
Treasurer
Health & Safety
News Reporter
Recreation Leader
Song Leader
Understanding Parliamentary Procedure 
Risk Management Forms
It is good practice to have copies of these forms in a binder on-hand at 4-H activities. 
4-H Member Special Trip/Field Trip Permission Forms
Non 4-H Member Field Trip & Activities Permission Form
Purdue Accident Incident Report
Youth Health Form
Youth 4-H Camp Health Form
Adult Health Form
Mini 4-H Liability Release Form
4-H Clipart and Graphics for Flyers/Publications
Use of the 4-H Name & Emblem
4-H Name & Emblem 4-H Professional's Handbook (Rev.2017)
Virtual Meeting Information​
Engaging Youth and Volunteers Virtually
Considerations for Staying Connected to 4-H Youth While Physically Apart 
Resources developed by Minnesota 4-H designed to help 4-H Volunteers and Extension staff take necessary steps to ensure safety of youth in an online setting:
Organizing a Virtual 4-H Meeting
Resources from multiples sources to assist 4-H Volunteers and Extension staff with organizing virtual meetings and other opportunities for 4-H youth:
Zoom Meetings
Resources to assist with setting up and operating a Zoom meeting:
Virtual Meeting Activities
Resources from multiple sources designed to encourage interactivity and engagement among participants during virtual meetings: