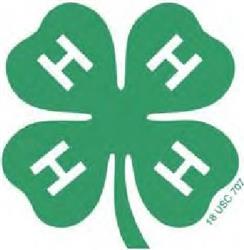 Below you will find helpful livestock information and resources. If you can't find something you need, let us know and we will add it!
State 4-H Project Information Page: https://extension.purdue.edu/4h/Pages/projects.aspx. Here you will find information for all livestock and static projects, including resource videos, vaccination forms, etc.  
State 4-H At-Home Activities: https://extension.purdue.edu/4h/Pages/4HHomeActivities.aspx. Here you will find resources put together by State 4-H staff, including animal science web series recordings and links for upcoming topics.
State 4-H Animal ID Information Page: https://extension.purdue.edu/4h/Pages/animal-id.aspx. Here you will find all current information and resources for 4-H animal identification requirements. 
The 4-H Horse and Pony Vaccination Webinar from March 11th can be found here.  Dr. Amanda Farr, Purdue University, overviewed the required 4-H vaccinations and defined the purpose for each.
Disease Prevention and Biosecurity for show rabbits.  Dr. Melissa Justice, Indiana Board of Animal Health shares how to keep rabbits healthy and the signs and symptoms youth should know before they show.  The recording can be found here.
 The Junior Pork Day sessions can be found here.
2021 YQCA - YQCA will be offered on April 8th and April 29th at the Root Building. There will be two available sessions on April 8th and one on April 29th. Each will have a capacity of 75 members, so be sure to register ASAP! You will use the following link to register: https://yqca.learngrow.io/Account/Login. You will use your 4-H Online credentials to sign-in and pick the appropriate course and date. We have coupon codes available in our office for the in-person sessions to be free of charge. Call us at 765-932-5974 to let us know you would like one. You may also do the online course at your own cost of $12. YQCA may also be completed in another county if these dates don't work for you. The sign-up process will be the same. As a reminder, YQCA is a program requirement for all poultry, rabbit, beef, dairy, swine, sheep, and goat members to show at the county and/or state fair level.
Animal Processing- We are getting some questions about how to send animals to packers after fair. Below are the resources we have for you at this time. In the link below will find a map formulated by Indiana Pork with contact information for local processors. The map also includes county fairs and licensed dealers. Please ignore the county fair dates listed on the map for June. Please keep in mind that processing appointments are very full, and it may take some work to secure a slot. If your refer to the map the orange dots represents processor locations.
Local Processors Map for Livestock: https://indianapork.maps.arcgis.com/apps/View/index.html?appid=28a5750837bc48d78b17be4ed4ad3e69
Another option: Hoosiers Feeding the Hungry has reached out to Indiana 4-H as an avenue for livestock processing. Hoosiers Feeding the Hungry encourages hunters and farmers to donate large game and livestock to their "Meat" the Need program, raises financial support to pay processing fees on these donations, and gives this nutritious meat/protein to hunger relief agencies. Hunters and farmers may donate through local participating meat processors. Donations are processed, packaged, and given to area hunger relief agencies for distribution back into the community in which it was donated. They pay all processing fees on these donations so that there is no cost to donors. They partner with 87 meat processors statewide and have paid to process over 1.5 million pounds of meat – providing over 6 million meals. You can learn more at https://www.hoosiersfeedingthehungry.org/.
Related Files