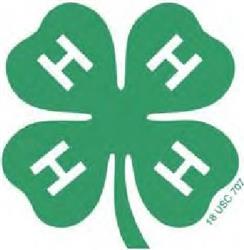 It's that time again! 4-H Online enrollment is now open, BUT we have switched to 4-H Online 2.0. This means there is a new website and more user-friendly setup! Other than that, all information for your family and 4-Hers should be the same. To enroll online, go to http://v2.4honline.com. Enrollment is open through January 15, 2021. RUSH COUNTY HAS SET A GOAL OF COMPLETING ENROLLMENTS BY JANUARY 5TH. We also want to increase our enrollment so please invite your friends to join you in 4-H and help us reach that goal! Enrollment instructions are included below.
It is important that you use the same email address and login you used in 2019 with 4-H Online version 1.0 and NOT create a new profile. If you aren't sure what that is, or wish to change your email or mailing address, please call the Extension Office at (765)932-5974 for assistance. If you have forgotten your password, click "Reset Password?" to receive an email with a link to set a new password. If you are new to 4-H Online and have never enrolled before please call and we can help you with enrollment. All projects are listed in the fair handbook online. You may see some unfamiliar projects or categories (we are working to fix this), but please continue to refer to our project list as it has not changed. If you have any questions, don't hesitate to call!
4-H is for ANY youth in Grades 3-12 and Cloverbuds (mini-4-H) is for youth in grades K-2. There is a programming fee of $20 for traditional 4-H but no fee for Cloverbuds, with scholarships available for those who need one. The fee can be paid online, which makes the turnaround time for approving enrollments quicker than paying in the Extension Office. Should you choose to pay by cash or check, the payment needs to be made within 10 days of enrollment, and your enrollment will not be active until that fee is received.
Please mark 4-H Online 2.0 as a favorite on your computer as the Extension Office utilizes the website for communication. You can also find meeting and event information as well as project information there as it becomes available, as well as on our website. Remember what email you enrolled with because A LOT of communication will be through email.
We look forward to another great 4-H year, and are excited for enrollments to arrive! Please call with any questions, and we'll be more than happy to help you! We are watching our computer and looking forward to seeing you this year!
Related Files