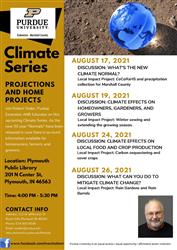 Marshall County will host a Climate Series in August. See the flyer for details. 
Join Robert Yoder, Purdue Extension ANR Educator on this upcoming Climate Series. As the new 30 year "Normals" have been released in June there is so much information available for homeowners, farmers, and growers.
Topics:
AUGUST 17, 2021
DISCUSSION: WHAT'S THE NEW CLIMATE NORMAL?
Local Impact Project: CoCoRaHS and precipitation collection for Marshall County
AUGUST 19, 2021
DISCUSSION: CLIMATE EFFECTS ON HOMEOWNERS, GARDENERS, AND GROWERS
Local Impact Project: Winter sowing and extending the growing season.
AUGUST 24, 2021
DISCUSSION: CLIMATE EFFECTS ON LOCAL FOOD AND CROP PRODUCTION
Local Impact Project: Carbon sequestering and cover crops
AUGUST 26, 2021
DISCUSSION: WHAT CAN YOU DO TO MITIGATE CLIMATE CHANGE?
Local Impact Project: Rain Gardens and Rain Barrels
For all up to date event and webinar information you can join our Facebook page at www.facebook.com/marshallanr LIKE AND FOLLOW or sign up for our weekly news letter at https://www.smore.com/u/purdueboilermaker 
Related Files